Another Tar Sands Activist Disrupts Houston Oil Conference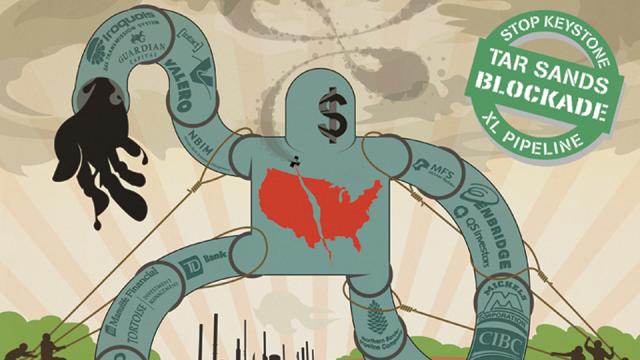 A protestor with Tar Sands Blockade on Thursday afternoon locked his neck to a projector screen in the middle of a TransCanada presentation at the North American Crude Marketing Conference in Houston. In taking direct action, Ethan Nuss confronted in-person Paul Miller, TransCanada's Executive Vice President of Oil Pipelines, and a ballroom of tar sands industry investors, demanding a halt to the toxic Keystone XL tar sands pipeline.
Nuss successfully disrupted the second annual conference hosted by Platts. Among other things, the gathering is intended for fossil fuel industry executives and their financial backers to collaborate on schemes to transport dirty and dangerous tar sands from Canada to the Gulf Coast so it can be refined and sold on the international market, thereby expanding the industry.
"TransCanada's 'business as usual' spells death and destruction for our communities," said Nuss. "My conscience won't allow me to watch this multinational corporation and their profiteers poison impacted communities from here in Houston's polluted East End to indigenous people at the point of tar sands extraction in Alberta, Canada. This must stop."
At last year's marketing conference, Paul Miller explained the necessity of the southern leg of Keystone XL through Oklahoma and Texas to the expansion of the exploitative tar sands industry. TransCanada's own fourth quarter report, released last week, revealed that the controversial pipeline is less than half completed, despite the Canadian pipeline corporation's previous projections for completion of the southern segment this April.
This revelation highlights that Tar Sands Blockade's sustained civil disobedience campaign since last August has been successful in delaying Keystone XL construction. Today's action is part of growing momentum for an upcoming national week of action called for by Tar Sands Blockade and allies from March 16-23, with over 60 actions currently reported nationwide.
"This is just a morsel of what TransCanada and other tar sands profiteers can expect in the coming weeks and months," said Kim Huynh, a spokesperson with Tar Sands Blockade. "All over the country, communities are gearing up to take to the streets, offices, extraction sites and public events to show that our movement won't relent until we've made this investment as toxic for TransCanada and its financial backers as the very tar sands being piped through Keystone XL. Our tar sands-free future begins now."
Earlier this week, 20,000 gallons of crude oil leaked into Otter Creek in Tyler County, Texas, from a pipeline owned by Sunoco Logistics. Otter Creek flows into Russell Creek, which feeds the Neches River. The leak did not trigger Sunoco's detection systems but was discovered by local residents reporting oil in their water.
And in another report this week, by Amy Mall of EcoWatch:
According to a new Natural Resources Defense Council analysis, at the end of 2011, seventy of the largest oil and gas companies operating in the U.S. held leases covering at least 141 million net acres of American land—an area greater than California and Florida combined.
Given the sordid environmental history of oil and gas development that has already occurred across the U.S., NRDC is extremely concerned about the additional harmful environmental, health and safety impacts that oil and gas development of this magnitude will bring in the future.
Since it has been reported that more than 90 percent of oil and gas wells are fracked, there is a lot of new fracking slated for our future—tens of millions of acres of new fracking. Clean air, clean water, healthy communities, wildlands and wildlife habitat are all threatened.
These astounding numbers illustrate just how much of America's land is already at risk from oil and gas development.In the face of this reality, clean air, clean water, healthy communities and the health of these lands across the country depend on the strongest possible state, local and federal rules, as well as the inspections, monitoring, and record-keeping needed to enforce them over such a large area.
On top of this, of the total acreage leased nationwide, 38.5 million acres—an area slightly bigger than Florida—were leased for federal oil and gas resources. This is worth noting because the Bureau of Land Management (BLM) is in the process of creating new rules for fracking that takes place under federal leases nationwide.
These new rules will determine how oil and gas companies are allowed to operate in a wide range of places. That's because the federal leases occur everywhere from national forests and public wildlands, to municipal and private drinking water supplies, on Indian land, and on private property when landowner's do not own the mineral rights below the surface.
Unfortunately, BLM's initial draft of the rules was woefully inadequate, and earlier this month a second draft was leaked to the press, revealing that the rules are becoming even weaker in some aspects. The BLM needs to dramatically strengthen its draft fracking rules in a number of ways to better protect public health and the environment.
The current leaked draft is unacceptable. NRDC's new analysis underscores how critical it is that the agency have strong rules; an enormous amount of land could immediately be impacted by this new rule because it is already leased for current or future development. (Not to mention there are hundreds of millions of acres of unleased public land that could be affected in the future).
Americans don't want the dirty energy future currently planned for us by oil and gas companies. And America's energy needs don't require or justify this level of widespread drilling. As a nation we must shift our reliance on fossil fuels to energy efficiency and renewable power sources as quickly as possible.