California Shuts Down Fracking Waste Sites Fearing Aquifer Contamination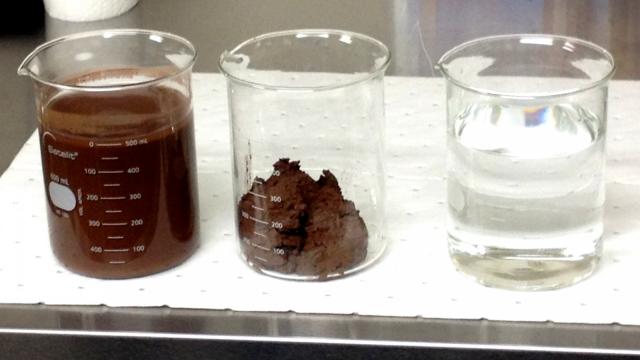 California officials have ordered an emergency shut-down of 11 oil and gas waste injection sites and a review of more than 100 others in the state's drought-wracked Central Valley out of fear that companies may have been pumping fracking fluids and other toxic waste into drinking water aquifers there.
The state's Division of Oil and Gas and Geothermal Resources on July 7 issued cease and desist orders to seven energy companies warning that they may be injecting their waste into aquifers that could be a source of drinking water, and stating that their waste disposal "poses danger to life, health, property, and natural resources."
The orders were first reported by the Bakersfield Californian, and the state has confirmed with ProPublica that its investigation is expanding to look at additional wells.
The action comes as California's agriculture industry copes with a drought crisis that has emptied reservoirs and cost the state $2.2 billion this year alone. The lack of water has forced farmers across the state to supplement their water supply from underground aquifers,according to a study released last week by the University of California, Davis.
The problem is that at least 100 of the state's aquifers were presumed to be useless for drinking and farming because the water was either of poor quality, or too deep underground to easily access. Years ago, the state exempted them from environmental protection and allowed the oil and gas industry to intentionally pollute them.
But not all aquifers are exempted, and the system amounts to a patchwork of protected and unprotected water resources deep underground. Now, according to the cease and desist orders issued by the state, it appears that at least seven injection wells are likely pumping waste into fresh water aquifers protected by the law, and not other aquifers sacrificed by the state long ago.
"The aquifers in question with respect to the orders that have been issued are not exempt," said Ed Wilson, a spokesperson for the California Department of Conservation in an email.
A 2012 ProPublica investigation of more than 700,000 injection wells across the country found that wells were often poorly regulated and experienced high rates of failure, outcomes that were likely polluting underground water supplies that are supposed to be protected by federal law.
That investigation also disclosed a little-known program overseen by the U.S. Environmental Protection Agency that exempted more than 1,000 other drinking water aquifers from any sort of pollution protection at all, many of them in California.
Those are the aquifers at issue today. The exempted aquifers, according to documents the state filed with the U.S. EPA in 1981 and obtained by ProPublica, were poorly defined and ambiguously outlined. They were often identified by hand-drawn lines on a map, making it difficult to know today exactly which bodies of water were supposed to be protected, and by which aspects of the governing laws. Those exemptions and documents were signed by California Gov. Jerry Brown, who also was governor in 1981.
State officials emphasized to ProPublica that they will now order water testing and monitoring at the injection well sites in question. To date, they said, they have not yet found any of the more regulated aquifers to have been contaminated.
"We do not have any direct evidence any drinking water has been affected," wrote Steve Bohlen, the state oil and gas supervisor, in a statement to ProPublica.
Bohlen said his office was acting "out of an abundance of caution," and a spokesperson said that the state became aware of the problems through a review of facilities it was conducting according to California's fracking law passed late last year, which required the state to study fracking impacts and adopt regulations to address its risks, presumably including underground disposal.
California officials have long been under fire for their injection well practices, a waste disposal program that the state runs according to federal law and under a sort of license — called "primacy" — given to it by the EPA.
For one, experts say that aquifers the states and the EPA once thought would never be needed may soon become important sources of water as the climate changes and technology reduces the cost of pumping it from deep underground and treating it for consumption. Indeed, towns in Wyoming and Texas — two states also suffering long-term droughts — are pumping, treating, then delivering drinking water to taps from aquifers which would be considered unusable under California state regulations governing the oil and gas industry.
In June 2011, the EPA conducted a review of other aspects of California's injection well program and found enforcement, testing and oversight problems so significant that the agency demanded California improve its regulations and warned that the state's authority could be revoked.
Among the issues, California and the federal government disagree about what type of water is worth protecting in the first place, with California law only protecting a fraction of the waters that the federal Safe Drinking Water Act requires.
The EPA's report, commissioned from outside consultants, also said that California regulators routinely failed to adequately examine the geology around an injection well to ensure that fluids pumped into it would not leak underground and contaminate drinking water aquifers.
The report found that state inspectors often allowed injection at pressures that exceeded the capabilities of the wells and thus risked cracking the surrounding rock and spreading contaminants. Several accidents in recent years in California involved injected waste or injected steam leaking back out of abandoned wells, or blowing out of the ground and creating sinkholes, including one 2011 incident that killed an oil worker.
The exemptions and other failings, said Damon Nagami, a senior attorney with the Natural Resources Defense Council in an email, are "especially disturbing" in a state that has been keenly aware of severe water constraints for more than a century and is now suffering from a crippling drought. "Our drinking water sources must be protected and preserved for the precious resources they are, not sacrificed as a garbage dump for the oil and gas industry."
Still, three years after the EPA's report, California has not yet completed its review of its underground injection program, according to state officials. The scrutiny of the wells surrounding Bakersfield may be the start.
Meanwhile, on Friday, Gregg Levine of Al Jazeera America reported that President Obama has agreed to open up the East Coast to further oil and gas exploration using dangerous sonic cannons that are "100 times louder than a jet engine" and which pose severe threats to endangered marine life:
Japan might still hunt whales the old-fashioned way, but the U.S. prefers killing them softly.
In a move that spells immediate trouble for marine life and problems for global climate in the long run, the Obama administration has approved use of sonic cannons to map the ocean floor off the eastern united states — a step toward eventually opening coastal waters to oil and gas drilling.
Sonic cannons paint a picture of the seabed by firing sound waves "100 times louder than a jet engine" through the water, then using hydrophones to measure how the waves are reflected back to the surface.
The "sonogram of the earth," as one petroleum industry spox called it, will be used to apply for drilling leases, which become available in 2018. The government plan is to open up waters from Florida to Delaware to fossil fuel extraction.
Sonic cannons have been used in the Gulf of Mexico and off the Alaskan coast, and were a matter of much debate for waters off California. What is not really in debate is that these sound blasters cause havoc with marine life — especially species dependent on sonic communication, like whales, dolphins, sea turtles and even some fish.
An environmental impact study conducted by the U.S. Bureau of Ocean Energy Management, the agency responsible for the approval process, estimates 138,000 sea creatures could be harmed, including "nine of the 500 north Atlantic right whales remaining in the world."
The whales spawn in waters off the coasts of Georgia and Florida. Right whale expert Scott Krause of the John H. Prescott Marine Laboratory in Boston told the AP that this amounts to a "giant experiment" on endangered species.
It is also a giant experiment on the planet, though one where the results are, at least partially, already known. Climatologists warn that in order to keep global warming anywhere close to an end-of-Century two-degree increase (considered the most the world can tolerate without catastrophic consequences), most of the planet's remaining hydrocarbon reserves should remain unexploited.
"We have to stay within a finite, cumulative amount of greenhouse gas emissions in the atmosphere," said U.N. climate chief Christina Figueres in an April speech. "We have already used more than half of that budget."
In order to do that, Figueres said, "Three-quarters of the fossil fuel reserves need to stay in the ground." Expanding U.S. offshore drilling is not a step in that direction. Quite the opposite, in fact. Even with current rates of extraction — and this is of the known reserves — the world is expected to max out its carbon "budget" in only 32 years.
While the administration made a big show of proposing new limits on carbon emissions last month — a show coal, oil and gas producerswere quick to pan as too harsh — those limits are what serious climate scientists might call "marginal changes." It is hard for the U.S. to play the role of climate leader if it is unwilling to attack the problem at its core.
The Obama administration likes to tout its "all of the above" strategy in an attempt to keep corporate stakeholders and environmental advocates within reach, but continuing to map and exploit new oil and gas reserves isn't a strategy so much as it is politics as usual.
The sea life off the Atlantic coast will find that out sooner; terrestrial residents sooner or later. Carefully managing known reserves as part of a rapid transition to truly GHG-neutral, truly renewable resources the only kind of "all of the above" the earth can tolerate.