Clashes Break Out As Thousands of Teachers Protest in Mexico City
This article originally appeared on
Al Jazeera America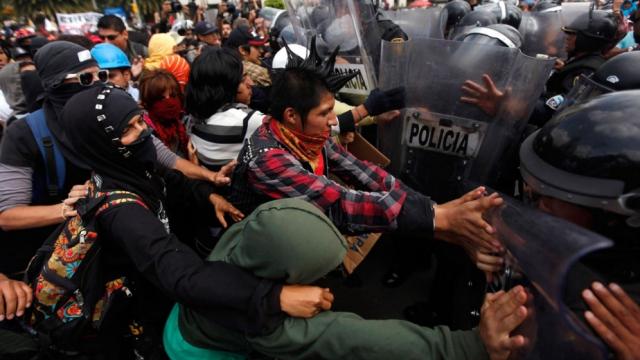 Clashes broke out between demonstrators and riot police in Mexico City Sunday as protests in opposition to proposed reforms by President Enrique Pena Nieto turned violent. An estimated 10,000 teachers have been camped out in the capital's Zocalo square for two weeks as part of action against the president's plan for an overhaul to the educational system.
Protesters scuffled with police near the Congress building where Mexican Interior Minister Miguel Angel Osorio Chong was presenting a written state of the union report to Congress. Pena Nieto decided to deliver his speech on Monday instead of Sunday to avoid raising tensions at the planned protests.
Riot police could be seen firing tear gas and advancing on protesters, who responded by throwing rocks and Molotov cocktails.
Congress has already passed changes to the constitution to overhaul the education system and they are now due to vote on implementing the new rules requiring teachers to undergo mandatory standardized performance tests to get jobs or promotions and end the unions' power over hiring.
As well as teachers and students opposed to Pena Nieto's educational reforms, protesters also took to the streets Sunday to show their discontent over the president's controversial energy reforms.
Pena Nieto wants to reform Pemex, the state-owned oil company, to allow private companies to explore and potentially exploit Mexico's vast oil and gas reserves. To do this, the president wants to change the constitution to give private companies incentives to invest alongside flailing state oil monopoly Pemex.
Groups of protesters could be heard chanting, "Pena Nieto is going to fall, going to fall, going to fall," as they marched to show their opposition to the reforms.
The city's public security department said four people were detained after a group of protesters clashed with police in a demonstration against the president's plan to open the state-controlled energy sector to foreign investment.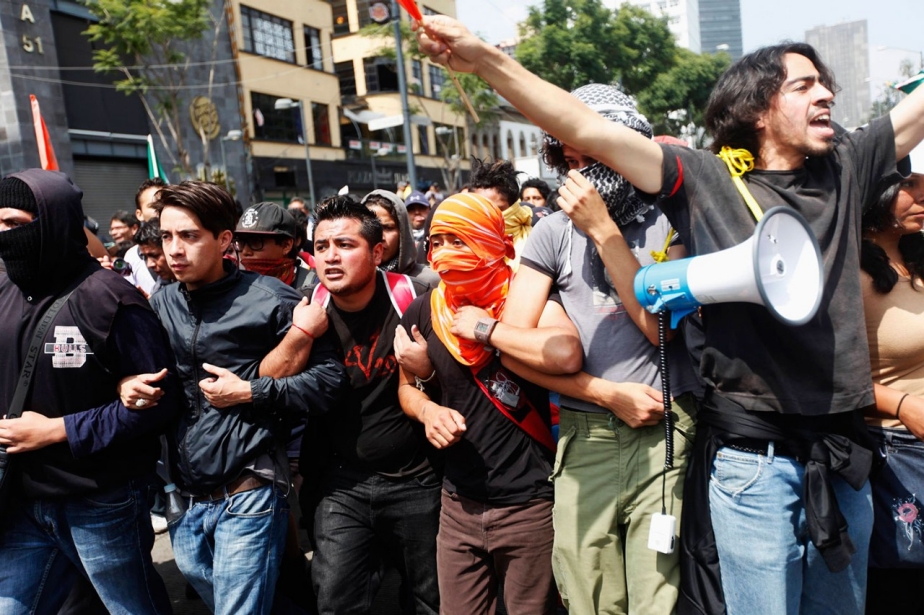 No Turning Back
Pena Nieto hopes to spur growth in Latin America's second largest economy by attracting foreign investment in the oil industry. He also aims to increase tax revenue and is expected to tax food and medicine.
Leftist politician, and 2012 presidential candidate, Andres Manuel Lopez Obrador has vowed to stop Pena Nieto's plan. He called the oil reform the biggest theft "of all time."
"We are not going to allow it because we see it as a robbery of the Mexican people and the nation," he told Reuters in an interview on Friday.
Masked protesters clashed with hundreds of riot police; the student protest group #YoSoy132 said six of their members were detained.
Some 10,000 teachers have camped out in the capital's historic Zocalo square for the past two weeks, leading protests that have snarled traffic in the congested city, disrupted air travel and forced two soccer league games to be postponed.
Last week, lawmakers were forced to meet in a convention center after teachers circled Congress, but Pena Nieto has warned that there would be no turning back on the reforms.
Even without a majority in Congress, Pena Nieto managed to seal a pact with opposition leaders to negotiate reforms.
"Even with people on the street, we need to push through the energy and tax reforms," said Jose Trejo, a senior lawmaker from the opposition conservative National Action Party, or PAN, who heads the finance committee in the lower house.
Pena Nieto won the 2012 presidential election with 38.2 percent of the vote. The president's approval ratings so far, around 50 percent, have been surprisingly low for a new president in Mexico, where 70 or 80 percent popularity is not unusual.