Communities Of Color Tackle Climate As "Our Power" Movement Heats Up Richmond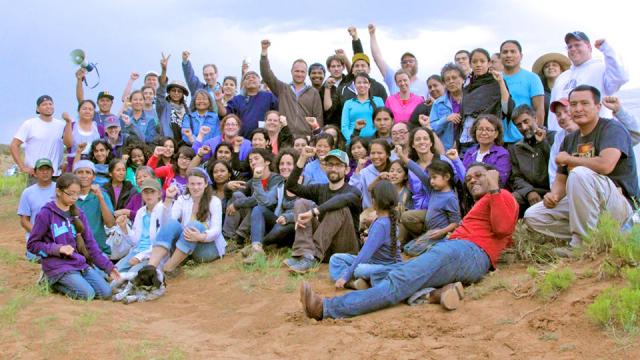 RICHMOND, Calif. – It's home to one of the world's largest oil corporations, Chevron, whose 2012 refinery blast and fire sent 15,000 residents here fleeing for emergency medical treatment. It's also ground zero in the nationwide fight of homeowners to reclaim and refinance their underwater mortgages through eminent domain.
Now, Richmond, a city of 106,000 in the East Bay just north of Oakland, is hosting the third Our Power National Convening, bringing social activists together from across America to share strategies that tackle the economic-environmental crises facing this city and so many like it.
"The fundamental question is: what do we, as vulnerable communities, do to be resilient?" said Stephanie Hervey, a social justice advocate and one of the organizers of the Convening, which runs Aug. 6-9. "We have the expertise, we have the communities. We're not going to wait for [the] legislature – we're going to do it on our own."
The first Our Power gathering happened last year in Black Mesa, Ariz., and the second one took place this past June in Detroit. The prime focus, said Hervey, is to bring together urban and less advantaged "frontline communities" to discuss ways that they can impact – and create local solutions to – issues ranging from energy use and food scarcity to homelessness and corporate abuse of communities.
"Corporations are going to be following us – the communities that are on the road to this, taking better stewardship of resources, conservation, restoration, transformation, cutting down consumption, recycling – making this more of a national movement so that we can catch up with the rest of the world," said Hervey, a former business intelligence analyst for corporations like Boeing and Oracle, and more recently the founder of The Artisan Hub and a member of the Black Mobilization Organization for Education in Richmond, or BMOER.
Like Detroit, where community groups rose up in recent weeks to defend thousands of residents facing water shutoffs because they were late on bill payments, Richmond seeks to lead with a "transformative perspective" as it addresses the dual economic and ecological challenges that it and cities everywhere are facing.
"Both of our cities have very distinct ways of resolving our problems, but the same goal: we're trying to build solidarity and bring [issues] to a national forefront so other communities affected like us will ally their power," added Hervey. That means "cities where there's fracking, or water contamination in West Virginia, or tar sands development in Utah."
"This is about showing the difference between what we can do and what corporations can do" to unite communities, she continued. "This is culturally diverse, indigenous, self governance-based. It's dealing with vulnerable communities, communities of color, multi-cultural communities [including] Asians, African Americans, indigenous people," and more.
The Our Power National Convening includes dozens of organizations grouped under the Climate Justice Alliance, whose mission is "to forge a scalable and socio-economically just transition away from unsustainable energy towards local living economies," rooted in the new realities of climate change.
Organizations participating in the Convening range from Rich City Rides, which promotes more bike use and less fuel use in Richmond's communities of color, to [Urban Tilth],(http://www.urbantilth.org/) whose youth apprenticeship program trains inner city youth to grow their own food and manage land independently; The Watershed Project, which focuses on restoring and conserving local watersheds, and Solar Richmond dedicated to growing the green collar economy through solar installation programs.
In the past, and still in many places today, the enormous fears and implications of climate change have taken a backseat to more immediate, bread-and-butter economic issues facing poor and working class communities. But this is starting to change, said Hervey.
Gatherings like this "help them wake up and be aware and say, 'Wow, if I don't have electricity, I know lights can get cut off,'" she said. "It's a culture shift [that's] very difficult for low-income communities of color, seniors, LGBT, disabled and homeless people."
Wednesday and Thursday, Aug. 6-7, will include workshops at Peres Elementary School, where some 400 participants are expected to attend. On Friday, Aug. 8, the community and organizations will create strategies to implement moving forward, and Saturday, Aug. 9, will be a day of direct action.
"It's community resilience," added Hervey. "It's people organizing to empower ourselves – to generate our own energy and economic solutions."
Find out more about the Our Power National Convening here.