Dear Secretary Clinton: Reject the Keystone Pipeline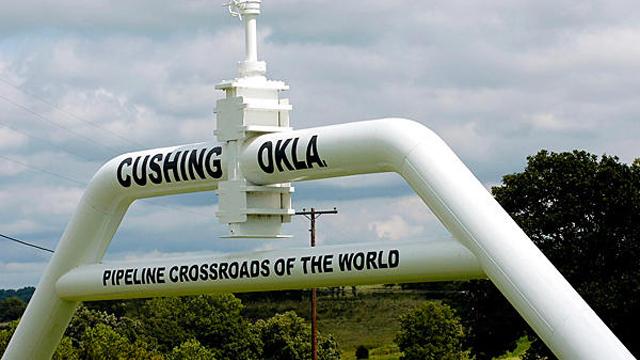 A group of prominent American climate scientists sent a letter to Secretary of State Hillary Clinton on Tuesday urging her to consider the climate impacts of developing the Keystone XL pipeline.
Last summer, Secretary Clinton said she would "leave no stone unturned" in the State Department's review of the pipeline. However, in its report on the project last August — released before President Obama denied the permit and encouraged TransCanada to choose another route — the State Department made almost no mention of climate change.
That's a pretty big stone left unturned, say the nation's top scientists.
The letter, which includes signatures from James Hansen and Michael Mann, says that avoiding climate change in an environmental review is "neither wise nor credible."
This lack of serious consideration of climate change isn't much a surprise. The Obama Administration has created a double standard on climate through both the Keystone XL pipeline and its support for Arctic offshore drilling.
In the case of Arctic drilling, the Interior Department noted in its environmental review of Shell's drilling plans that the region is "experiencing variations that are accelerating faster than previously realized." But the Interior Department did not use this assessment to question the prudence of drilling for more fossil fuels that will only accelerate that warming trend.
In a recent interview with Rolling Stone, President Obama said he believes "that we're going to have to take further steps to deal with climate change in a serious way." But when asked to respond to NASA Climatologist James Hansen, who said that opening up tar sands is "game over" for the climate, the President avoided making a direct connection between Keystone XL and climate change:
"James Hansen is a scientist who has done an enormous amount not only to understand climate change, but also to help publicize the issue. I have the utmost respect for scientists. But it's important to understand that Canada is going to be moving forward with tar sands, regardless of what we do. That's their national policy, they're pursuing it. With respect to Keystone, my goal has been to have an honest process, and I have adamantly objected to Congress trying to circumvent a process that was well-established not just under Democratic administrations, but also under Republican administrations," said the president.
"The reason that Keystone got so much attention is not because that particular pipeline is a make-or-break issue for climate change, but because those who have looked at the science of climate change are scared and concerned about a general lack of sufficient movement to deal with the problem."
However, even with the President admitting that people are frustrated about inaction on climate, the White House and the State Department have largely avoided examination of the climate impacts of building the pipeline — a project that would bring up to 800,000 barrels of tar sands crude into the U.S. each day. The Environmental Protection Agency estimates that tar sands emit up to 82 percent more greenhouse gases that average crude.
In that Rolling Stone interview, President Obama said he believed climate change would be an election-year issue. Encouraging the State Department to take a serious look at the climate impacts of the Keystone XL pipeline would be a great start.
Below is the letter sent this morning to Secretary Clinton:
Dear Secretary Clinton, We are writing to ask that the State Department conduct, as part of its evaluation of the Keystone XL pipeline proposal, a serious review of the effect of helping open Canada's tar sands on the planet's climate. At the moment, your department is planning to consider the effects of the pipeline on "recreation," "visual resources," and "noise," among other factors. Those are important—but omitting climate change from the considerations is neither wise nor credible. The vast volumes of carbon in the tar sands ensure that they will play an important role in whether or not climate change gets out of hand; understanding the role this largescale new pipeline will play in that process is clearly crucial. We were pleased that President Obama saw fit to review this project more carefully; it would be a shame if that review did not manage to comprehensively cover the most important questions at issue. Sincerely, John Abraham Associate Professor, School of Engineering University of St. Thomas Ken Caldeira Senior Scientist Department of Global Ecology Carnegie Institution James Hansen Research Scientist The International Research Institute for Climate and Society The Earth Institute, Columbia University Michael MacCracken Chief Scientist for Climate Change Programs Climate Institute Michael E. Mann Professor of Meteorology Director, Earth System Science Center The Pennsylvania State University James McCarthy Alexander Agassiz Professor of Biological Oceanography Harvard University Michael Oppenheimer Albert G. Milbank Professor of Geosciences and International Affairs Woodrow Wilson School and Department of Geosciences Princeton University Raymond T. Pierrehumbert Louis Block Professor in the Geophysical Sciences The University of Chicago Richard Somerville Distinguished Professor Emeritus and Research Professor Scripps Institution of Oceanography George M. Woodwell Founder, Director Emeritus, and Senior Scientist Woods Hole Research Center.