Defeats and Victories for Public Banking, Cooperative Economics In 2018 Election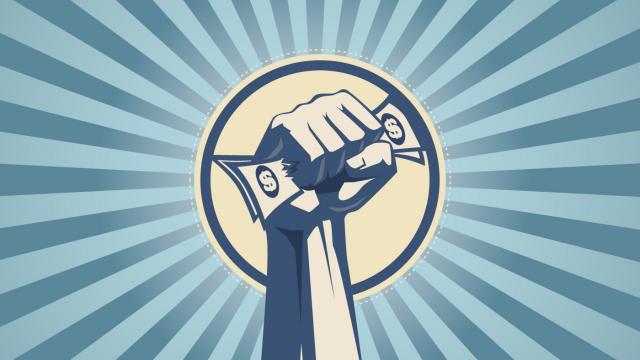 The Defeat
Folks in the public banking, new economy, economic justice and democratic socialist movements had high hopes for Los Angeles this election year. Measure B in Los Angeles would not have amended the city's charter to allow it to operate a municipal financial institution – it only would have allowed such an amendment to be proposed. The measure nevertheless failed by 58 to 42 percent.
I'd been present when the first coalitions around divestment and public banking took shape at a long meeting at L.A.'s First Unitarian Church. The campaign was confident, aggressive and included a cross-section of economic justice, policy reform, anti-racist, environmentalist, poor people's campaigns and other groups, and captured national attention. It stung to see them come up short.
Three factors were decisive in the defeat of B:
First, there wasn't enough time to create deliberative spaces for public education about a public bank. As a result, when, the day after the election, I asked a handful of Angelinos whether they'd voted for the measure and what they thought of the campaign, many said they'd voted for it, but hadn't talked to anyone about it or heard much about it from anyone. Others said the language on the ballot and in the explanations was confusing and they could understand why even smart folks could have been confused.
Second, there's widespread distrust in government institutions, even among progressives. Marc Armstrong, my former colleague at the Public Banking Institute and Commonomics USA, and a key organizer of the LA campaign, spent many weeks in the city during the campaign. He told me he was surprised at the anti-government attitude of many progressives. He wondered about the dynamics between some white L.A. liberals and people of color championing financial democracy from the city council and other places.
Finally, there was the hit job by the editorial board of the Los Angeles Times, which argued that creating a public bank for the city would be "expensive, complicated and risky business" that would invite corruption (as opposed to the squeaky clean private alternatives we have now). The editorial sidestepped all the problems with private banking and simply defended the Wall Street status quo.
Ellen Brown, author of key texts around public banking and co-founder of PBI, said that "obviously the LA Times editorial calling it the most half-baked measure the City Council had ever come up with was a deciding factor. I suspect the City Council threw in the towel after that, figuring it was hopeless." There were other media hit jobs against the proposal and public dialogue would have benefitted had more time and resources been available to respond to those arguments, all of which have been refuted adequately in other contexts.
The failure of the measure also starkly illustrates one of the most important lessons the public banking movement must internalize in order to win. If you slogged your way earlier this year through my 10-part series on public banking here at Occupy.com, you know that, like a broken record, I kept repeating that a public banking campaign will not succeed without a mass movement.
Why? Because private banks will push back with all their might and they'll make terrible, easily refutable arguments designed to scare people. Those arguments will basically accuse public banks of being susceptible to corruption or market failure. Even if public banking's future is not in referenda like the one in L.A., we still need to get the public on board before pushing for legislation. A mass movement is the only force capable of answering the power of capital.
The Success
Still, there are many successful takeaways from the Los Angeles campaign. The coalition convinced 42 percent of voters for a fraction of the cost that is normally spent in initiative campaigns, and in a fraction of the time. Marc Armstrong thinks other cities and states can learn from that example.
Trinity Tran of Public Bank L.A. said: "We took charge on a city-wide ballot measure campaign without funding or infrastructure and had the unique two-pronged challenge of both educating voters on public banking and securing a Yes vote. Ballot measure initiatives are typically won with at least $750,000. We moved mountains with just $60,000 raised within the last month." Getting that many votes with so few resources is the most impressive thing to me about the campaign.
Armstrong also wonders whether the financial industry fixated on the ability of private banks to loan to small businesses without the so-called "unfair competition" of a public option. Of course, there might not be a public banking movement at all if banks actually did lend to small businesses. All too often they don't, not because of the risks but because they can't make windfall shareholder profits on the backs of small proprietors. Still, would jettisoning the idea that a government-owned bank could lend to start-ups make public banking more attractive?
A public bank of some kind seems inevitable in California, where serious campaigns are underway in about a dozen medium and large cities. State Treasurer-elect Fiona Ma appeared to be supportive of the idea during the Cannabis Banking task force meetings held throughout 2017. Despite asking tough (and occasionally good) questions, Treasurer John Chiang ended up recommending serious exploration of public banking models in his final recommendations for cannabis banking. (This was after Armstrong and myself laid out an argument that California should stare down the federal government on cannabis by proposing a California-owned bank.)
But again, such an institutional solution will only be as viable as the public demands it to be. There are a whole lot of half-assed not-actually-public banking approaches officials may take, and under all those models, powerful private interests will constantly threaten public goods.
The rough but emerging consensus
The power of money was visibly present in other economic justice-oriented initiatives in California and around the U.S. on Tuesday. Proposition 10 to expand rent control failed because the financial industry and rental industry spent tens of millions of dollars to defeat it. But on the other hand, the City of Baltimore voted to protect water from privatization.
We're in a very mixed and unpredictable political world right now. But there is a slowly emerging consensus that we can do better than raw capitalism. I hope Public Bank L.A'.s Phoenix Goodman was correct when he told me that movements like public banking were "world-historical," and that such movements might "elevate the consciousness" of humanity in relation to money and finance. That's some lofty Hegelian talk. We're certainly going to keep trying.
Matt Stannard is the Director of Solidarity House, a policy research and media cooperative. He has worked with Commonomics USA, the Public Banking Institute, and Farm Commons. He writes and produces podcasts on cooperative economics, law and farming.