Feed Them Cake: A British Group Challenges Inequality and Stolen Wealth
"To fight injustice we need to tackle extreme wealth," Nick Dearden, the director of the World Development Movement, told me. And "there is no better example of the power which big business and the super-rich exercise than the current 'trade' agreement being negotiated between the E.U. and U.S.: the the Transatlantic Trade and Investment Partnership."
As the head of the U.K.-based organization that campaigns against the root causes of poverty and inequality, Dearden asserts the TTIP is "almost nothing to do with trade. Rather it's an agreement which will give corporations much greater wealth through control over our laws and public services."
In addition to its current focus resisting the giant trade pact, WDB advocates for African food sovereignty, attacks the fossil fuel industry and fights corporate power on different fronts in its effort to reduce inequality and tackle poverty.
So as both an activist and a long-time campaigner on the issue, Dearden is an ideal person to ask: How have 85 people the same wealth as the poorest half of humanity?
"The current economic system encourages the monopolization of resources by the few, relying on accumulation and 'investment,'" he explains. He suggests the economic system was far fairer before neoliberal ideology came to dominate global markets in the 1970s; prior to that, resources were more equally distributed through taxes, welfare spending, minimum wages, control on capital and big business.
"It was possible for many more people to live reasonable lives," he says, unlike today when "wealth is being sucked from ordinary people and the planet. Controlling resources massively enriches some and takes away others' means of existence."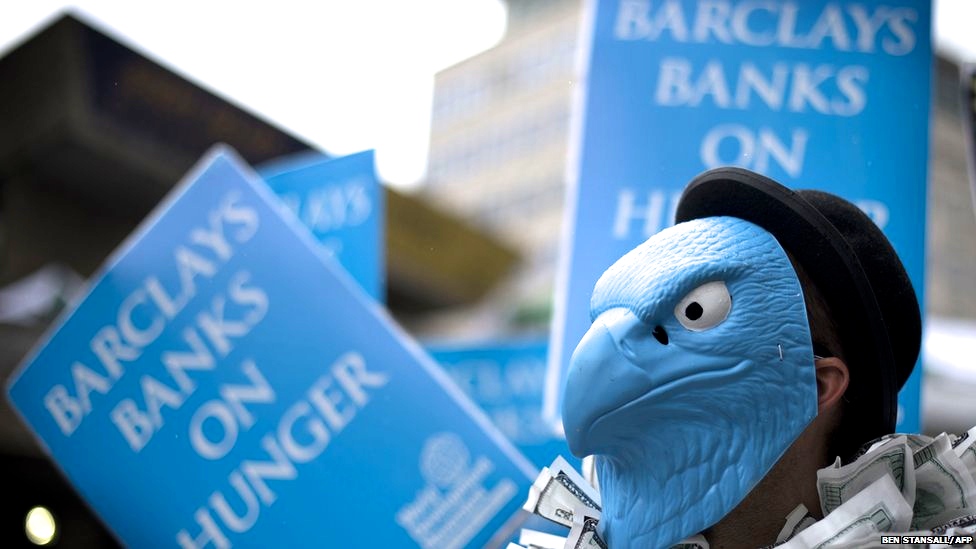 But now, adds Dearden, it's no longer just the consolidation of resources and capital but the very foundations of democratic society that the markets are absorbing – from food and healthcare to energy, education and even water and air.
"Profits are derived from [what] was previously communally owned," he says. In Africa in particular, "we are working to expose the way that British aid, under the guise of feeding people, is being used to facilitate the further corporate takeover of Africa's food system."
"A few mega-corporations control this and make billions trading food, whereas those who actually grow the food don't have enough to eat."
Another WMD campaign focuses on the Cerrejón coal mine in northern Colombia, which has devastated local communities and ecosystems for the enrichment of global mining firms operating with foreign investment.
"We're told that 'the global economy has no global government,' but of course it does," says Dearden. "A range of institutions and laws embed corporate power, like the TTIP agreement, [so] corporations can monopolize more resources."
For example, in the event of an agreed upon Transatlantic Trade and Investment Partnership, fracking companies would be able to sue governments where the practice is banned, such as France. The agreement also threatens to undermine food safety.
In democratic terms, Dearden says that neoliberal economic frameworks like the TTIP are a direct assault on trade unions, anti-racist groups, women's movements and other organizations that to make society fairer for the majority. It represents "the hugest transfer of power in history," he says, "and it will not end unless we stop it."
The anti-globalization movement has come a long way since the Seattle WTO protests in 1999, adds Dearden. "We have moved on from talking only about the very poor, to understanding where poverty comes from: that it is deeply political and inseparable from talking about wealth."
"Why are the poor the problem? Surely the wealthy are the problem."
The New Economics report A bit Rich makes a key contribution to this issue, comparing highest and lowest paid workers and analyzing why the most economically rewarded people are also the ones who bring the most financial ruin to society – for example, in the form of corporate tax accountants and investment bankers – while nurses, waste workers, cleaners and others contribute real and present value.
In addition, Vanessa Bird's recently published book The Feral Rich offers a scathing critique of extreme wealth – describing how today's richest people made their money by privatizing state industries, working in finance, rent seeking, exploiting moments of crisis capitalism, engaging in political corruption and strengthening corporate monopolies.
Taking the opposite stance, London Major Boris Johnson has publicly defended the super-rich, calling them a "put upon minority, like the homeless." Instead, he proclaimed the elites deserve our thanks due to the taxes they provide and the jobs they supply through ultra-high levels of consumption.
I put Johnson's assertions to Dearden, who responded:
"Those comments come from trying to back an ideology as good citizenship, which in a different society should be regarded as criminal. Thanks to movements like Occupy, the conversation has shifted and Boris is trying to regain ground. But he is struggling. Nearly everyone now has to express their horrors at the level of inequality, and that's a very good start."
I suggested whether we could consider that illegitimate, odious or unjust wealth be redistributed.
"It's very interesting," Dearden said. "We talk about illegitimate debt to politicize debt. [But] the argument is not that we are too poor or need charity. The argument is that we should not pay the debt because it is a scam, totally unjust, and has redistributed enough money from the bottom to the top already."
Rather, he added, we should further politicize wealth. "The problem we encountered with debt was if you define it too narrowly – for example, just illegal acts as in odious debt – it prevents you critiquing the system as a whole, as there is an assumption that all other debt or wealth is legitimate."
And he's not just talking about weapons sales or tax evasion, which should be covered by existing laws but most of the time are not. He also means laws pertaining to the very use and ownership of land.
"What's the legitimacy of getting wealthy by grabbing land from people in Africa and then selling them back the goods you produce on that land, [while] they don't have anywhere else to grow food now?" he asks. "Or what if you make wealth taking government contracts to reduce the [health] benefits received by people who cannot work because of illness or disability?" which is happening with Britain's private healthcare company ATOS.
To redistribute wealth and increase equality, many more questions still need to be asked – and many more campaigners, like Dearden and his World Development Movement, need to keep helping define the solutions.
View Steve Rushton's Commons page to learn more about him or read his other articles.