For the First Time, Majority of Congress is Worth $1M or More
This article originally appeared on
Al Jazeera America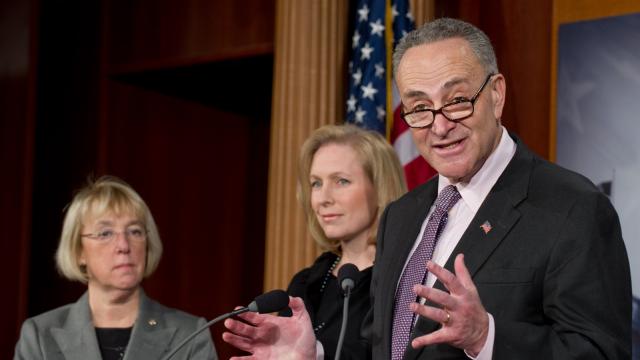 Financial-disclosure forms show that a majority of Congress members are millionaires, and experts say there is a growing concern about the disconnect between lawmakers and average Americans.
At least 50 percent of current members of Congress reported an average net worth of $1 million or more in 2012, an increase of two percentage points, based on financial disclosures analyzed by the Center for Responsive Politics (CRP) that members must file by May 15 of each year. (Lawmakers report asset and liability values by range; the CRP used accurate figures when possible and averaged the net maximums and minimums.)
Sarah Bryner, research director at CRP, told Al Jazeera that while it isn't new that members of Congress are wealthy, people are more aware of the growing gap, and it's more important now than ever as the future of food stamps, the minimum wage, unemployment benefits and changes to the tax code are being debated by lawmakers.
"I think that it's a classic transparency issue," said Bryner. "Over time, we have seen Congress get wealthier and wealthier, and it certainly begs the question as to whether we have an elected body that represents everyone."
Median net worth for all members of the House of Representatives was $896,000; in the Senate it was $2.7 million. On average, Democrats are wealthier than their GOP counterparts in the House, and Republicans are wealthier in the Senate, with Senate Democrats the only group to report a drop in net worth because two of their wealthiest members — former Senator John Kerry, the current secretary of state, and Senator Frank Lautenberg, who died in June of 2013 — are no longer on the list.
By comparison, median family net worth in the U.S. has been on a steady decline, dropping 40 percent in 2010 to just $77,300, in the face of the greatest economic crisis in the nation since the Great Depression.
The sharp decrease is tied to home values, which have plummeted substantially but are just beginning to rebound. Because of the complicated disclosure rules, it's hard to get an exact figure for how much a member of Congress is worth, Bryner says.
Calculating net worth — the value of assets minus liabilities — is tricky when it comes to lawmakers because they do not have to disclose exact dollar values. Instead, assets and liabilities are reported by range. For example, a member of Congress could say a home is worth $200,000 to $500,000. The higher an asset's value, the wider the range.
The wealthiest member of Congress, Darrell Issa, R-Calif., reported his net worth at $330 million to $597 million.
Recent changes to disclosure rules in the STOCK Act allow lawmakers to report high-value assets in a range starting at $1 million, with no upper limit, and disclosure reports no longer have to be digitized, making it much more difficult to review the data.
Previously, regulations required a much more specific value report, which could explain how Rep. Michael McCaul, R-Texas, dropped from the top spot last year, at $500.6 million, to fifth, at an average of $143 million.
The disclosures also include assets that belong to a spouse or dependent children.
Bryner said it takes six months for the CRP to translate complicated forms and financial reports into understandable information and then manually enter the information into their database.
"We're in the 21st century. These should not be handwritten forms that we can only make sense of months and months after," she said.
There is growing concern about the disconnect, since members of Congress write and vote on laws that affect people who live on drastically different financial levels from theirs — something many of them may have never experienced.
But just because a lawmaker is wealthy doesn't mean he or she doesn't understand the plight of the masses, Bryner told Al Jazeera, pointing out that there are several wealthy members of Congress in both parties who focus on populist issues like welfare.
Still, she says the public has reason to be concerned.
"What we have now is a Congress that is very different from the American people, and that doesn't mean they can't understand the plight of the people, but members may be writing laws about issues that they have never had to personally experience," Bryner said.