From France to Ethiopia, A Global Fight Grows Against Ivory and Illegal Poaching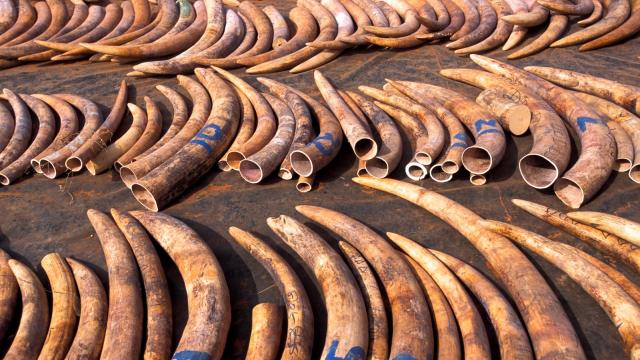 Mohamed Abijian, an Ethiopian anti-poaching activist, has worked tirelessly in Tanzania and Kenya to educate youth on the horrors of the ivory trade, the destruction of natural habitats and illegal poaching of elephants in East Africa. While he spends much of his time battling local "cultural" customs, the past year has seen progress in the global fight against ivory.
"We have seen a lot of movement by governments to end their complicity in the global ivory trade," he told Occupy.com from Kenya, where he was on a teaching expedition to local schools in remote villages. "It is a positive step in the right direction and I believe this is the beginning of the end of elephants being targeted and killed, because if we take away the market there will be few people to buy the tusks."
But that is just part of the battle, Abijian says. While education is vital to the "future of African elephants and the youth that will be able to care for our wildlife," he also believes the global movement led by international organizations and activists is key to the overall change in many people's attitudes toward the ivory trade.
"We must work and work and work towards ending the unnecessary killing of elephants for their tusks and ivory because it is destroying the natural wildlife and landscape that makes this part of the world so amazing and beautiful," he argues.
Abijian's comments came after both the United States and France agreed to destroy their entire inventory of illegal ivory. France's move was met with great fanfare in mid-November, after activists expressed doubts the French government would support the global action against ivory.
"It is a beautiful moment for France because we had been seen as not wanting to really make a stand, but the government has done it and we are excited about this move," said one former museum curator turned international activist, Francois Garboult.
Garboult believes France's destruction of its illegal ivory inventory will send a message to would-be poachers: that ivory belongs to the animal and can no longer be treated as a commodity to murder for.
"This is a sign that the international community is ready to engage and help Africa deal with the poaching problem," Garboult argued.
An inventory of France's illegal ivory storage places, and the quantities held, is currently in the making; it will include court registries, natural history museums and border police storage facilities. The total amount of ivory could reach dozens of tons. Officials said that only a few pieces of ivory are to be kept for scientific and pedagogical reasons.
History of Poaching
While the past year has seen an increased cutdown on poaching, experts feel it will still take major efforts to end poaching after decades of illegal hunting, which became entrenched as a form of livelihood in financially desperate communities.
In the early 1970s, demand for ivory soared and the amount of ivory leaving Africa rose to levels not seen since the start of the 20th century. Most of the ivory leaving Africa was taken illegally and, according to the World Wildlife Fund, over 80 percent of all the raw ivory traded came from poached elephants.
"This illegal trade was largely responsible for reducing the African elephant population from 3 to 5 million to current levels. In the 1980s, for example, an estimated 100,000 elephants were being killed per year and up to 80% of herds were lost in some regions," said the WWF in a press release on the subject.
Poaching was generally well-organized and difficult to control because of the availability of automatic weapons. But in 1989, the Convention on International Trade in Endangered Species of Wild Fauna and Flora (CITES) banned the international trade in ivory. It was the beginning, albeit a small one, to combating the illegal trade that had grown dramatically over the past two decades.
"As the ban came into force in 1990, some of the major ivory markets were eliminated," continued the WWF report. "Some countries in Africa experienced a steep decline in illegal killing, especially where elephants were adequately protected. This allowed some elephant populations to recover."
Poaching Continues
Despite efforts in the 1990s and 2000s to bring an end to poaching, local law enforcement agencies often lacked the strategic means to do so, and thus found it difficult to tackle the problem on a large scale. As a result, the killing of elephants has continued.
According to statistics published by National Geographic, thousands of elephants are slaughtered annually so their tusks can be traded on the black market in far away areas of the world, notably China and Southeast Asia. But for Abijian, the past year has produced dramatic international success. And he believes these victories coupled with continued efforts of local activists like himself can continue to have a major impact.
"We have to take advantage of the situation and show our young people that there are other ways to support and care for the natural world. This is what I and others do on a regular basis and we see so many young kids ready to join the fight against the killing of elephants," Abijian says.