At the Heart of an Occupation: Brian Douglas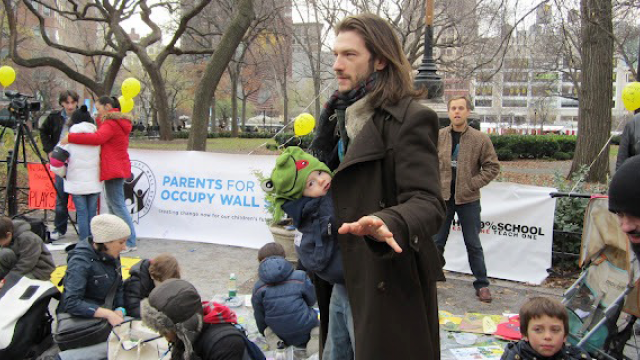 At the Heart of An Occupation is photographer Stacy Lanyon's photo journal of the people who comprise Occupy Wall Street. On March 29, she presented Brian Douglas, in his own words.
I voted for Obama and just hoped he wasn't full of shit on a lot of things that I cared about, and he's proven that his words don't mean anything anymore. What he's done is extend all the Bush policies, like civil liberties and foreign policy and the bailouts. I became completely politically cynical, and I was resigned to, "Well, I guess the status quo is going to run its fuckin' course, and it's going to be horrifying, and I don't know what I'm going to do, but I'll just hunker down and weather the storm." Then, Occupy Wall Street came, and I was like, "That's what needs to happen." It's just people talking. That's the coolest thing.
I proposed to my girlfriend at Liberty Square. Then, I got contacted for interviews by the Daily News. I suddenly had this little bit of a microphone to use to talk about all these issues I really care about. That's what made me see how cool Occupy Wall Street was. None of these reporters from these different places were caring about my views before that. I didn't have a voice in any sort of national media platform, and now tons of people I see are having their voices heard. I have friends who, just because of going and tweeting things, they get to write up major pieces about their experience getting arrested, and these are stories that people need to hear. A lot of people don't know what goes on when you get arrested these days, with retinal scanning and stuff like that.
I guess what drew me to the Occupy Movement was that I was just waiting for something like this to happen, and it's not about electing someone. This is cool because everyone is trying to talk about what the core problems are that exist outside of the bipartisan consensus. If I show up at an Obama rally with an "end corporate personhood" banner, like I do at these things, I'm this lefty lunatic who's not being pragmatic. Now, with Occupy, people are like, "Yeah, good, I want to talk about that too."
I was there the night of the eviction. The first time I was ever scared was when the cops showed up to get rid of everybody. It was terrifying, and what Occupy has done and why it's so important is because it's showing the police state for what it is. You read newspaper articles about the NYPD spying on Muslim students and working with the CIA. Just replace the word "Muslim" with "Occupy," because it's very easy for them to do that right now, and that makes it touch home in a way that it hasn't before. What happens if the war machine and the media spins Occupy as something treasonous? That terrifies the hell out of me, and that's why I say that Occupy has to succeed to some degree, because if these things are allowed to perpetuate - corporate personhood, indefinite detention, having the media completely owned by corporate interests and being controlled by very few people - that will lead to totalitarianism.
The main thing is that all of our institutions are not serving us, and this is people stepping up to articulate that and hearing others do the same. People are finding out that they're not alone in the things that they feel strongly about. We were sold an advertising slogan for change in the last election. It doesn't matter what the real motives were. What does matter is that they have to sell the people on the idea that they should be free, that change is necessary. That's what makes me optimistic.