Hundreds of Thousands Flood Ukraine's Streets In Largest Protests Since Orange Revolution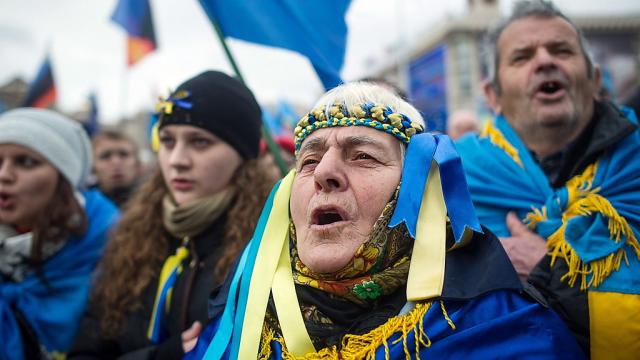 Ukraine saw its largest popular protests since the 2004 Orange Revolution on Sunday, when hundreds of thousands of people took to the streets calling for the resignation of the president, Viktor Yanukovych.
Furious at Ukraine's 11th-hour decision to back away from an E.U. integration pact in favor of closer relations with Russia, Ukrainians defied a court ban on protests. On the fringes, the mood turned violent, as small groups of protesters stormed government buildings and clashed with riot police outside the presidential administration. One group commandeered a mechanical digger and attempted to break through lines of armor-clad riot police.
The angry mood was galvanized by the violent break-up of a sit-in protest on Independence Square early on Saturday morning, when several hundred riot police dispersed the 1,000-strong crowd of mainly students. They were the final few who had not gone home after earlier protests, and the riot police moved in, causing a number of casualties. The city authorities rather implausibly claimed they needed the square empty in order to erect a giant Christmas tree.
Early on Sunday, in an attempt to dampen the unrest further, a Kiev court banned all rallies at Independence Square, but the move had the opposite effect, with people flocking to the square in their thousands. The incomplete Christmas tree was hung with Ukrainian flags, and the vast square gradually filled up with people until they spilled out on to neighboring streets.
The protesters waved yellow-and-blue Ukrainian and E.U. flags, and many adorned their cars with the same symbols, honking horns in support of the protest rally. Chants went up of: "Glory to the nation, death to its enemies," and: "Out with the criminal," referring to Yanukovych's Soviet past as a petty criminal, as well as allegations of corruption in his inner circle.
Pavlo Tumanov, 38, a doctor from Kiev, had stripes in the colors of the Ukrainian and E.U. flags tied to his hands.
"I came to support the students who were brutally beaten yesterday. I'm sure Yanukovych ordered that, and was advised by Putin," he said, adding that it would be hard to oust this regime peacefully.
Opposition leaders spoke to the crowd from a small, hastily constructed stage, on which was written: "Ukraine is Europe."
"This is not a meeting. This is not a rally. This is revolution," Yury Lutsenko, the opposition leader and former interior minister told the crowd. People responded shouting: "Revolution."
The Polish politician Jacek Protasiewicz, vice-president of the European parliament, told the crowd: "You are part of Europe." The crowd roared back, approvingly.
"Yanukovych is a political corpse," said Oleg Stavytsky, a 49-year-old engineer from Kiev, brandishing the E.U. flag. "After he spat in the face of Ukraine and Europe he should realize that the only solution for him is to resign."
Tatiana Troshkova, a 55-year-old economist from a town on the outskirts of Kiev, was holding a placard that read "Ukraine, Rise!"
"The west of Ukraine is already at this square. We want people from the Donbas [Yanukovych's stronghold in the east] to join us," she said, adding that she would be coming back to the streets every day for as long as she had the strength.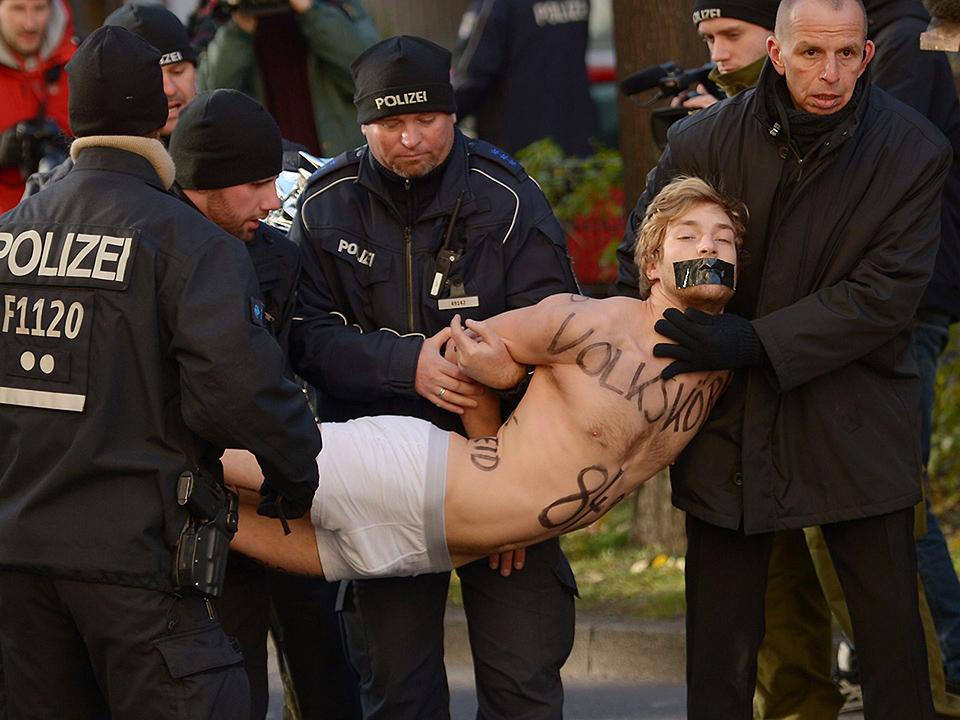 The protests demonstrated once again how divided Ukraine is, with the country's southern and eastern regions largely supporting closer relations with Russia, while the west and most of the center is focused on European integration.
The E.U. pact, due to have been signed at a summit in Vilnius last Friday, was designed to give Ukraine freer trade with Europe, but Yanukovych said it took no account of the ailing state of the country's economy, and Europe did not offer financial help of the order that would be required to perform the necessary modernization. Russia had been staunchly against the deal, and it is believed that Moscow offered financial incentives for Ukraine not to sign, along with threats of punitive measures if it did.
Yanukovych's imprisoned rival Yulia Tymoshenko released a statement from her hospital cell railing against the president and calling on Ukrainians to take to the streets until his regime was toppled.
"I appeal to all Ukrainian people to resist and rise up against Yanukovych and his dictatorship," she wrote.
Tymoshenko led the Orange Revolution, which stopped Yanukovych coming to power, but after years of disappointment and infighting, Yanukovych won presidential elections in 2010. Shortly afterwards, Tymoshenko was jailed on charges widely believed to be politically motivated, and she is in a prison hospital in the eastern city of Kharkiv. She announced a hunger strike after Yanukovych said he would not sign the E.U. deal.
Other opposition leaders announced a national strike and called on people to block government buildings, demanding the resignation of the government and president. However, these calls appeared to backfire as the protest turned violent.
At one stage around 200 mask-wearing protesters took over a mechanical digger and attempted to drive it through cordons of riot police near the presidential administration building, as well as using gas, knives and smoke bombs against police lines.
Around 100 police officers had been injured in the clashes close to the presidential administration by Sunday afternoon, according to the interior ministry, and 12 soldiers were also injured.
With Tymoshenko in prison and marginalized, Vitaly Klitschko, the heavyweight boxing champion who is one of Ukraine's main opposition leaders, is now seen as the main threat to Yanukovych at the next presidential elections in 2015. On Sunday evening, he called on his supporters to remain calm, and denounced the attempts to seize buildings by force.
All the opposition leaders claimed they had nothing to do with the violence, and accused the authorities of using thugs for hire to create provocations.
Arseniy Yatseniuk, leader of the Baktyvshchina party, told journalists he believed the clashes were provoked as an excuse for Yanukovych to declare a state of emergency on Monday.
Inna Bohoslovska, a former ally of Yanukovych who left the president's party in protest against the bloody crackdown on protests in recent days, accused the Russian president, Vladimir Putin, and his Ukrainian ally Viktor Medvedchuk, leader of the Ukrainsky Vybor group, of masterminding provocations in Kiev.
Yanukovych's next move will be key. Over the weekend he criticized the violence, and insisted the country was still on the path to European integration in the medium term. He was believed to be meeting his advisers at his country residence outside Kiev. Aides to Yanukovych said he still planned to travel to China on a long-planned trip on Wednesday, after which he is due in Moscow.
Originally published by The Guardian