India's New Video Journalists: Empowering Communities and Reshaping Media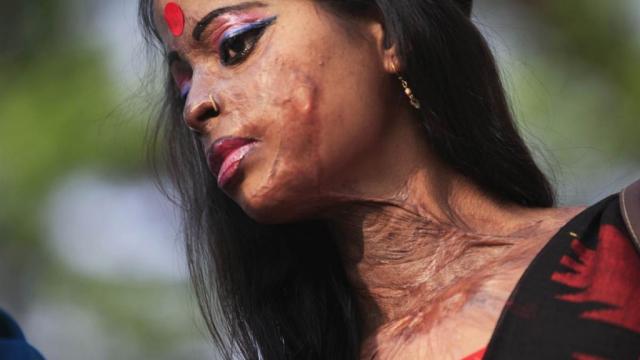 Savitha Rath's voice sounds excited when she answers my call. "You are not going to believe what I am working on now," she says. "The National Highway 216 that connects Chhattisgarh to Jharkhand is a mess. It's a true road to hell full of potholes, water and jagged stones. I am dong a report on it. It's time we made some noise about this."
Rath isn't the usual breed of journalist found in India. She has no college education nor does she speak English. "My father couldn't afford my schooling any more after class 10," she says very matter of fact. But the desire to be an activist and to do something about the many problems ailing her state of Chhattisgarh was always strong.
And today, as a proud community correspondent of the IndiaUnheard project, Rath is armed with her camera as she prepares to document one of the many issues that don't make it into the mainstream media in her country.
Launched in early 2010 by the organization Video Volunteers, which works in India and Brazil to help poor communities empower themselves through self-made media, IndiaUnheard is a community news service training people with little access to journalism education to record video stories unique to their lives.
Established seven years ago by Jessica Mayberry, a former Clinton India Fellow, Video Volunteers has now trained hundreds of people, most of whom had never seen the insides of a school. While the project is geared toward women, a lot of the correspondents are also men.
"Our reporters provide a view, from the ground, which is often contradictory to official statements" in the India media, says Mayberry.
Video Volunteers works with local NGOs to source out interested people who are trained to shoot video and conduct interviews. The group then sells the locally produced videos to mainstream media channels, connecting thousands of viewers in different parts of the country to stories they might never have seen otherwise. For example, News X, a popular English language news channel in India, carries 30-minute segments from IndiaUnheard, whose correspondents earn Rs 1500 ($30) to Rs 2000 ($40) per piece they produce.
India has nearly 70,000 newspapers, over 700 television channels and an active radio scene. Most of the media is controlled by giant media corporations, usually based in the capital Delhi. And most of the consumers of the country's mainstream English-language publications come from a small privileged class.
"The vigor of the Indian media is not in doubt, but its inadequacies are large when it comes to the reach, coverage and focus of news, opinions, perspectives — and entertainment," say Nobel Laureate Amartya Sen and Jean Drèze in their book "An Uncertain Glory: India and Its Contradictions," which was published this year.
The goal of a project like IndiaUnheard is to help address these inadequacies. And the stories produced by the group have already had sizable impact.
In May of this year, Vrinda Aazad, a reporter from the district of Bilaspur, filed a story about Jairamnagar Primary School where children had no access to drinking water because the school's hand pump — the only source of clean water — wasn't working. The children, aged five to 11, had to cross the busy road outside their school to reach a water tank, and were in the danger of getting run over. The district's Public Health Engineering Department paid no attention in spite of many attempts the school made to get heard.
Aazad wanted to show her video to the officials and see if they would respond. When the village headman heard about her plans, he got scared of the impact the video might make and repaired the pump in five days.
Education and children, in fact, are often reported-on subjects for IndiaUnheard. Bhan Sahu's story on the trauma of corporal punishment in school was designed to rally parents and guardians to raise their voice against the crime.
"The Right to Education Act states that no child should be physically or mentally harassed by teachers," Sahu says. "As it is, education is difficult to come by and then if children are hurt, do you think they will even want to go to school?"
But the aim of the project isn't always to get policies changed or tangible goals accomplished. Sometimes, the journalists are motivated on a very personal level, too. Rohini Powar, a Maharashtra correspondent, files hard-hitting reports about how certain so-called castes are treated in the country. Powar has five siblings, all of whom are farm hands. Her subjects motivate her, but another source of pride is the way her family perceives her now.
"When my brothers see me, they say, 'We want our children to follow you, become like you,'" she says.
And in fact, IndiaUnheard has enabled some, like Mukesh Rajak, to become journalists and right the many of the wrongs they couldn't raise their voices against when they were young. Born poor and Dalit (a social category deemed 'untouchable' in modern day India) Rajak had little access to school. But as a correspondent he is trying to ensure that the students in his area get a better opportunity. His recent story about students being cheated out of their scholarships brought official attention to an issue that wasn't otherwise covered by any media.
Still, funding for Video Volunteers and its IndiaUnheard project are a struggle. Philanthropic and individual donations largely sustain the group, which won the 2010 Knight News Challenge. Thirty percent of its budget comes from the trainings and consultancies it does, and it's also trying to raise more revenue by selling news content to broadcast channels. "We welcome media who would like to collaborate with us," says Mayberry.
Meanwhile, Rath waits for her video to ensure that the road in Chhattisgarh is made safer. In the glittering media scenario in the country, its reporters like her that act as conscience keepers, connecting viewers to an India that would have otherwise remained unheard and unseen.