May Day Protests Staged Worldwide, with Police Clashes in Turkey and Cambodia
This article originally appeared on
Al Jazeera America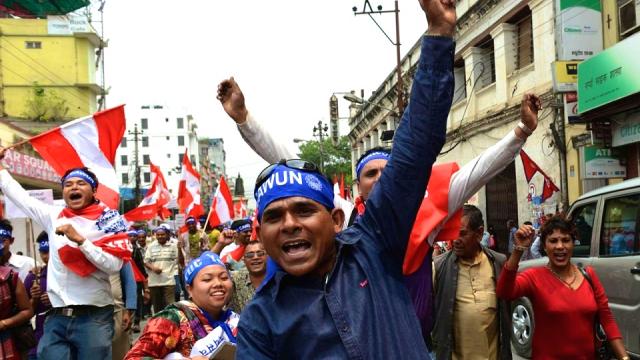 May Day demonstrators denounced low wages and called for reforms in rallies that turned violent in Cambodia and Turkey, where police cracked down on participants defying a ban on public protests. In Russia, the Philippines, Malaysia, Iran and Iraq, demonstrators marched peacefully in support of International Workers' Day, calling for higher wages and decrying government corruption.
Clashes erupted in Istanbul between May Day demonstrators and riot police as crowds determined to defy a government ban tried to march to the city's iconic Taksim Square.
Security forces pushed back demonstrators with water cannons, tear gas and rubber bullets. Protesters retaliated by throwing objects at police. The Istanbul governor's office said it had received advanced information that "illegal terror organizations and their extensions" would resort to violence to stoke unrest.
But the security measures failed to deter thousands of people from marching to mark May Day at spots throughout the city, as well as in other cities in Turkey. About 40 people were hospitalized and around 160 detained, according to the Progressive Lawyers Association. In the working-class Okmeydani district, members of leftist groups threw fire bombs and fireworks at security forces, who responded with rubber pellets.
Before being declared a national holiday in 2009, May 1 was a day of conflict that often led to violence across Turkey. In 1977, 34 people were killed in Taksim Square during a May Day event when shots were fired into the crowd from a nearby building.
In the Cambodian capital, Phnom Penh, nearly 1,000 factory workers and supporters of the opposition Cambodia National Rescue Party gathered outside the city's Freedom Park, which had been sealed off with barbed wire with hundreds of police on guard. The event was held both to mark the labor holiday and to kick off the opposition's campaign for local elections.
Witnesses said civilian auxiliary police — which are often used by the government to break up protests — armed themselves with clubs and turned on the demonstrators after opposition leaders spoke to the crowd and left the rally site. The assaults appeared to be random and limited, and they were over in less than an hour.
At least five people were hurt, said Om Sam Ath, an officer of the human rights group Licadho. "These security forces seem to be addicted to beating people," he said. "Every time they disperse protesters, they beat people, and not one of them has been arrested."
A ban on demonstrations has been in place since January, following numerous labor protests for a higher minimum wage and opposition demonstrations denouncing last July's general election as rigged.
Cambodia is officially democratic, but Prime Minister Hun Sen's authoritarian government has been in power for almost three decades, and his opponents have complained of intimidation.
Opposition leader Sam Rainsy, speaking before the violence, condemned the government for banning workers from holding a May Day rally. He said he supports labor's demands for a higher minimum wage for garment factory workers. Textile exports are Cambodia's main foreign exchange earner.
Peaceful Protests
In Moscow about 100,000 people marched through Red Square, past the red granite mausoleum of Soviet state founder Vladimir Lenin. It marked the first time the annual parade has been held on the vast cobblestoned square outside the Kremlin since the fall of the Soviet Union in 1991.
In keeping with Soviet-era traditions, Thursday's parade was organized by trade unions and honored working people. But some banners were directly political and alluded to the crisis in the neighboring former Soviet republic Ukraine, where Russian troops seized and annexed the Crimean peninsula in March, precipitating the biggest confrontation with the West since the Cold War.
The crowd held signs reading "Let's go to Crimea for vacation" and "Putin is right." Russian flags fluttered through the crowd. In past years, communists and others have tried to keep up the May Day tradition with parades and rallies in central Moscow, but their numbers have steadily dwindled.
In the Philippines, thousands of workers marched peacefully in Manila to protest low wages and employers' practice of replacing regular employees with temporary hires who get low pay and little or no benefits. The protesters also decried what they said was the failure of President Benigno Aquino III to deliver on his anti-corruption and pro-poor reforms.
"Raise wages, bring down prices!" members of labor groups chanted as they marched under the sweltering sun toward a historic bridge near the presidential palace, carrying colorful steamers. One of the banners said: "It is not moral, it is not right, it is unjust if progress is only for a few!"
"There is growth in this country, but none of the working class has actually benefited from this growth," said Joshua Mata, one of the rally leaders.
Thousands of Malaysians, meanwhile, held a peaceful protest in downtown Kuala Lumpur against a looming goods and services tax that they fear will increase the cost of living. Anwar Ibrahim, who heads an opposition alliance, said the rally was a clear message that the people are against the new tax, "which is only going to make the cronies richer."
And in Iran, President Hassan Rouhani told thousands of laborers gathered to celebrate International Workers' Day in Tehran that he supports the establishment of unions "free of any interference by the state."
"Workers' organizations and unions should be formed freely," Rouhani said. "The government should not interfere in these associations."
Rouhani's predecessor, Mahmoud Ahmadinejad, had dissolved many unions, leaving only a few perfunctory and powerless organizations.
In Iraq, dozens of people, mostly members of the Iraqi Communist Party, held a rally near the party headquarters in downtown Baghdad, raising Iraqi flags and those of the former Soviet Union.