New York Sex Trade Filling with In-Debt Graduates and "Average Everyday Women"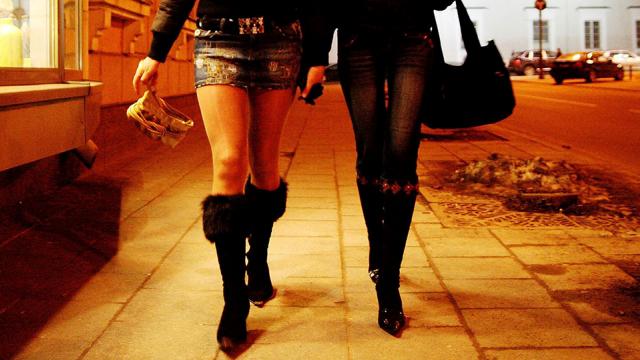 As the "lost generation" clamors for minuscule job opportunities, the informal economy has become a vital source of income. This is particularly true of New York City residents, where even those earning $100,000 a year aren't living comfortably. It is also true for women.
Last year, the National Women's Law Center noted that the number of unemployed women now surpasses that of men and that women have been exiting the labor force at alarming rates since 2009. New York in particular has been a difficult city for women to find work in: from 2009 to 2011, the city's public sector shed 20,000 jobs, a portion of whose workforce is 61% women.
Add the fact that women are more burdened by student loans than men – since their salaries tend to be less, leading post-education debt to be labeled "a women's issue" – and with limited opportunities comes a greater willingness to do the "unthinkable" for money. All of this, coupled with the ease of securing unconventional methods of work via the internet, has led more women to enter the sex trade.
"When we talk about the common image of someone who participates in prostitution, there's this assumption that it's either the person working the street who's drug-addicted or it's this very high end woman, lounging around saying, 'I don't get out of bed for less $1,000,'" says Kate D'Adamo, a community organizer for the New York-based Sex Workers Outreach Project (SWOP).
But, "those are very extreme social narratives. The vast majority of those involved in the sex trade are in the middle."
As the number of people choosing – or forced – to be self-employed steadily rises, it's hardly a shock that sex work now has a more entrepreneurial edge. Those who are economically inclined can find work without having to walk the streets or give over a percentage of the money they earn to a pimp.
"A lot of people that we come into contact with are, very often, supplementing other things that they want to do," D'Adamo says. "Some people are out of work, some are freelancers and it's just not paying the bills. So, to make ends meet at the end of the month, sometimes they take a client here and there. That's pretty common."
"If you're a working mom and you don't want to send your kid to a really expensive daycare or have someone else watch them for the nine hours that you're going to be at work plus a commute, how do you do that?"
The Best Option
While the job calls for intimate labor and can be risky, in some cases it's the most suitable option.
"I've been a community organizer for five years at this point and I've never met someone in the sex trade that didn't have some other horrible employment situation to look back on," adds D'Adamo. "A lot of people are spurred into the sex trade because they just came through something really horrible that they don't ever want to do again, and so this is their option."
She notes that organizations abroad, like the Cambodia-based Asian Pacific Network of Sex Workers (APNSW), offer a striking example of lesser work alternatives.
"Their symbol is literally a sewing machine with a circle and a line through it because the garment industry is huge there. A lot of these organizations go in and 'rescue people' from the sex trade and send them to even lower wage, harder, more exploitative factory jobs."
D'Adamo continues, "If we really want to get people who don't want to be in the sex trade out, then we need to give them a better option. Right now, for a huge number of people this is still the best option."
Graduates Needing to Pay off Debt
Take Anna, a young woman with an Ivy league education who has worked in the sex industry to makes ends meet. She's currently paying off $47,000 in student debt – an amount that would be much higher, she says, if she hadn't had the supplemental income sex work provides.
"What sex work offers is a very fast turnaround time and an ability to move in and back out of it quickly," Anna says. "So if the end of the month is coming and you're low on rent, you can post an ad, take a few clients, and make ends meet – then not place another ad until you fall short again."
Anna recalls one of her first jobs out of college in which she worked 60 hours a week as a personal assistant for $24,000 a year.
"The truth is, I don't especially like sex work but it's less difficult and degrading than many other jobs I've held, and some of the flexibility of who I interact with, and for how long, makes it more bearable."
A woman who asked to be identified as Janet has a similar story. A single mother, she owes $74,000 in loans since graduating college.
"I started in college and continued because there wasn't any work," she says about her job providing erotic services. "The bills aren't going to stop coming, so I just keep working. I have no other way to survive."
"The job market being what it is," adds Janet, "I'm noticing that more and more 'average, everyday' women and housewives are doing it."
Robert Kolker presented a similar picture in his June 2013 New York Times piece, "The New Prostitutes," in which he discusses the women who were murdered at the hands of the Long Island serial killer – all of whom were involved in the sex trade at the time of their deaths.
Kolker delves into the case of Maureen Brainard-Barnes, a 22-year-old single mother who struggled to hold down a job and support herself and her daughter. After stumbling into escort work, she began placing ads for sexual services on Craigslist, meeting clients in hotels and earning roughly $2,000 a day.
What victims Brainard-Barnes, Melissa Barthelemy, Amber Lynn Costello, Shannan Gilbert and Megan Waterman had in common was that they each used Craigslist to find clients, and eventually their killer. The five women, all in their 20s, are the only victims of the still-at-large murderer who have been identified after their remains were found along the Ocean Parkway and in places like Gilgo Beach.
"[I]n the two years I've spent learning about the lives of all five women, I have found that they all defied expectations," wrote Kolker. "They were not human-trafficking victims in the classic sense. They stayed close to their families. They all came to New York to take advantage of a growing black market — an underground economy that offered them life-changing money, and with a remarkably low barrier to entry. The real temptation wasn't drugs or alcohol, but the promise of social mobility."
No Shortage of Venues
The murders, along with actions taken by anti-trafficking organizations, were among the prime reasons why the "Erotic Services" section of the Craigslist was shut down. But the change made a paltry dent in the way sexual services are publicly advertised: one needn't be a Sherlock Holmes to find the personals section brimming with ads promising sex in exchange for compensation. The web is also saturated with ads, on places like Backpage.com and even social media.
And then there's SeekingArrangement.com, which allows women to make a "sugar baby" profile that includes often seductively staged photos of themselves and the amount of money they would like to receive each month in the hopes that a wealthy (and typically older) man will provide them the financial resources they need.
Alarmingly, the site is now marketed as a source of college funding – coming up in google results for terms like "financial aid." Those who need help paying off the cost of their education seek what has become known as the Sugar Daddy Scholarship.
Women who agree to such a setup must typically consent to rather arduous demands. If their "sugar daddy" calls and wants to meet, they are expected to drop what they are doing and oblige. In many cases, sugar daddies expect to forgo practicing safe sex.
In July 2011, the Huffington Post's Amanda M. Fairbanks offered a rather unsettling narrative involving a young, in-debt college student from the South Bronx who was so desperate to keep up with her bills that she agreed to take the train to Greenwich, Conn., to have sex with a man she had met on the site who was 30 years her senior.
Fairbanks detailed the types of men who frequent the site – like one 70-year-old with a $22,000 a month penthouse overlooking Central Park South, who spent $2,400 a year to belong to Seeking Arrangement's Diamond Club – giving him access to many more women.
Anna is all too familiar with these kinds of men, or what she calls "Wall Street guys."
"High earning clients fear stigma more than arrest, [and] it doesn't seem to cross their minds that they're engaging in a criminalized activity if the services that they purchase are 'upscale' enough," Anna observes. "They use real names and addresses, they leave out the mail. I think they feel protected by the workers' fear of getting caught but don't really experience the fear themselves."
Plummeting Rates
Though many men are able to drop thousands on "intimate services," rates have dwindled since the recession. "After the Spitzer scandal and the economic implosion, the upscale sex industry in New York City never really bounced back," Anna says.
"There's this idea that you can just start escorting and making $1,000 an hour, but the upstart costs of that are huge. You need a designer wardrobe, a list of references and an expensive website. And even then, there are plenty of very attractive escorts working for half that or less."
"It's bottoming out the business," adds Janet. "I'm barely scrapping by. Prices [for sex services] are in the shitter and yet the cost of living has gone up. A lot of girls are dirt cheap. I guess they believe that volume is better. "
In addition, the staunchly enforced criminalization of sex work has made finding and securing work that much more difficult. Janet notes that she no longer advertises online since law enforcement responded to one of her ads and attempted to set her up a couple of years ago.
"Criminalization also has the impact of really pushing things underground and making them more dangerous," notes D'Adamo of the Sex Workers Outreach Project. "If you know you're engaging in a criminal activity, you become a target population, because you're a population that everyone knows is not going to go to the police when your victimized."
"We don't have anyone to protect us," Janet adds. "You can't go to the cops because the cops aren't going to do anything. They make things worse. They don't stop to think that we're somebody's daughter or mother or that we're doing this for survival reasons.
"There's kids getting shot in the street because of the drug game and they're putting this much time and money into prostitution?"