#Occupied: Reports From the Front Lines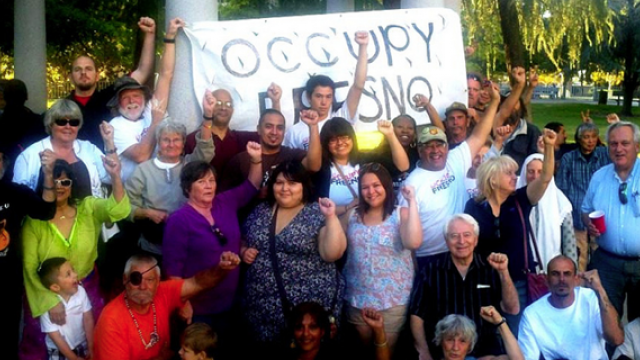 This week in Occupy, Scott Walker is sadly still Wisconsin's governor, a judge ruled the indefinite detention provision of the NDAA to be unconstitutional, Occupy won major victories in New York and Seattle, Occupy Fresno became the longest-running encampment in the country and everyone who was anyone wrote the Movement's obituary.
#On the eve of the vote to recall Wisconsin Governor Scott Walker, the Overpass Light Brigade made one last visit to the Ring Street pedestrian bridge in Milwaukee with an illuminated message. Nevertheless, in an election so heated one in three Wisconsinites reportedly stopped speaking to each other because of political disagreements, union-busting governor Scott Walker held onto his post. And no wonder: he had 14 billionaire donors, 13 of whom were from out of state. Make no mistake: the 1% is spending billions to squash organized labor.
#This is why we need unions.
#A federal judge has ruled that the White House cannot use the NDAA to indefinitely detain American citizens.
#U.S. District Judge Jed Rakoff ruled that a lawsuit brought by Occupy Wall Street demonstrators against NYPD for the arrest of 700 peaceful protesters who tried to cross the Brooklyn Bridge last October can proceed, but Mayor Michael Bloomberg, police commissioner Raymond Kelly and the city cannot be defendants in the suit. Rakoff said that video shows the NYPD leading protesters onto the bridge and toward certain arrest, adding that the films "show what should have been obvious to any reasonable officer, namely, that the surrounding clamor interfered with the ability of demonstrators as few as 15 feet away from the bullhorn to understand the officer's instructions." He opened his opinion with this rather eloquent paragraph:
"What a huge debt this nation owes to its 'troublemakers.' From Thomas Paine to Martin Luther King Jr., they have forced us to focus on problems we would prefer to downplay or ignore. Yet it is often only with hindsight that we can distinguish those troublemakers who brought us to our senses from those who are simply troublemakers. Prudence, and respect for the constitutional rights to free speech and free association, therefore dictate that the legal system cut all nonviolent protesters a fair amount of slack."
#Occupy Fresno celebrated 246 continuous days of occupation in Courthouse Park, making it the longest-running encampment in the country. Another reason for celebration: Fresno County reached an agreement with the occupation, ending a long and costly legal battle that saw more than a hundred peaceful protesters arrested over the last eight months. In exchange for protestors dropping their lawsuit over free-speech violations, the county will allow demonstrators to protest overnight in the park and pay $37,000 in legal fees.
#Officers trying to serve an eviction notice shot a St. Louis homeowner after lobbing tear gas into his home, prompting him to barricade himself inside. Wounded in the elbow, the victim unbelievably faces criminal charges.
#A Seattle judge has ruled that 16 activists were not trespassing after they occupied a vacant Capitol Hill building in December. Charges have been dropped.
#A number of obituaries were written for the Occupy Movement. RT asked, "Is this the End of Occupy?" Adbusters said, "Yes, and we'd better think of something else, fast. I know – flash mobs!" Reuters agreed that we'd jumped the shark, while Salon suggested we ditch the "Occupy" label. But Policy Mic proclaimed us alive and kicking, and Bill Maher, who'd previously minimized the Movement, broke down and admitted that we're the nation's only hope, we just need some discipline. Others asked if anarchists are the second generation of Occupy – or does the future of the movement belong to enterprising DIYers focused on the environment? (How about both?)
#Occupy Wall Street protesters showed up in Albany to present Governor Cuomo with a fake $2 million check.
#In Jersey Shore, Pennsylvania (not to be confused with that Jersey Shore), residents joined forces to blockade the entrance to town in an effort to stop Aqua America from displacing homes and ruining the environment with a new fracking facility. Occupy Cleveland drove in from four hours away to help.
#Two activists on a hunger strike #occupied a Denver campaign office of President Obama to demand that he sign the DREAM Act, which would allow children of illegal immigrants to attend college or join the military as a way to achieve legal citizenship. President Obama's campaign released a written statement saying that he wants the DREAM Act to pass, and that he would sign it, but it is stalled in Congress and passing it would require that "Republicans stop standing in the way."
#Five members of Occupy Milwaukee were arrested after they allegedly disobeyed police orders to stay on the sidewalk during a downtown protest that drew roughly 40 protesters (who were naturally flanked by 30 officers). Later, as the police chief briefed reporters about the arrests, protesters shouted him down.
#100 members of Occupy Chicago took to the streets to protest police infiltration, targeted repression and the use of entrapment tactics by law enforcement of activists involved with Occupy and the NATO summit protest. Some carried photos of suspected infiltrators. In addition to accusations of COINTELPRO-like tactics employed by law enforcement, protesters also criticized the money the city spent on security measures for the summit, saying that it could be better spent elsewhere.
#In an action supported by Occupy Houston, 3,200 union-affiliated Houston janitors voted to strike over threats and misconduct by janitorial contractors for some of Houston's biggest corporations. Janitors in the city earn about $9,000 a year.
#Occupiers in Hong Kong have been asked to leave the premises of the Asian headquarters of HSBC Holdings, where 50 have pitched tents and laid out couches. They've refused. Occupiers also offer music and photography instruction and give away books. "We don't normally talk about sharing anymore in this capitalistic society, everything needs to be exchanged at a certain cost. We don't like this idea," said Jojo Wong, a 22-year-old bookstore clerk who drops by the site before and after work. "That's why we offer free music, books and lessons at the very heart of the financial center."
#25,000 teachers walked off the job in Victoria, Australia, forcing about 200 primary and secondary schools to close, as they marched for better pay and conditions from the state government.
#Occupy LA members, housing rights advocates and local homeowners rallied outside the district office of State Senator Ron Calderon to urge him to support legislation enacting the California Homeowners' Bill of Rights, which would extend more protections to homeowners who face foreclosure. Calderon has mixed views on the bill, wanting it to be both "strong" but "workable." Occupiers are worried that "workable" may turn into "weak."
#Ivonne Quiroz #occupied her graduation at San Francisco State University, sporting a ball and chain around her ankle to symbolize her student debt.
#Walmart workers have banded together to form the Organization United for Respect at Walmart, or OUR Walmart, to secure better wages, affordable benefits and reasonably reliable schedules. Walmart is notoriously anti-worker.
#Here are some highlights of Target's illegal union-squashing tactics.
#To Verizon, paying out the $22 million salary of one CEO is worth firing 1,700 workers.
#The Yes Men have returned with a hoax video of a private party purportedly hosted by Shell Oil atop Seattle's Space Needle. If only that PR disaster had been real…
#Nearly 300 Mormons marched in a gay pride parade, holding signs that read "God Loves His Children" in a unique display of support from believers of a religious tradition that has long opposed homosexuality.
#F the Banks countered an Obama fundraiser with a demonstration of their own.
#On June 5, Rev. Corey Brooks, known as "the rooftop pastor," embarked on a 3,000-mile walk across America to call attention to the violence plaguing Chicago and to raise money to build a community center. He set out this week from Times Square before heading to Newark and onto Philadelphia. He plans to be in Chicago by July 15, ending the walk in Los Angeles in about four months.
#The Oakland Police Department's nine-year-long struggle with federal oversight took a significant turn, as a federal judge demanded an investigation by court-appointed monitors into police shootings involving OPD officers and speculated openly about placing the department under federal control.
#Of the nine Occupy the Farm protesters who were arrested for occupying the U.C. Berkeley-owned Gill Tract, two will be facing charges. Several of the protesters are facing off with the U.C. Regents in civil court. The Gill Tract was raided May 14.
#An independent report concerning police response to last Fall's U.C. Berkeley protests found that officers strayed from campus policies and norms in their use of force against protesters and called on the university to better explain when the use of force is appropriate. Members of the campus's independent Police Review Board were particularly "disturbed" by the swift use of batons.
#In July, eleven students and one professor at the U.C. Davis will stand trial for the "willful" and "malicious" act of protesting peacefully in front of a U.S. Bank branch on campus, which they successfully shut down. They face 11 years in prison.
#After being convicted by a district court of impeding traffic during a November protest, Occupy Asheville member Lisa Landis, who claimed she'd been targeted for filming the demonstration, was sentenced to time served. Unhappy with the ruling, she appealed to have her case heard by a jury, which  took less than 10 minutes to acquit her.
#Marc Moran, a photographer who just wanted to snap a photo of this week's demonstration in Chicago, was arrested along with a dozen protesters, and his film was confiscated. "It looked like a photo opportunity," he said."So I went to go snap a picture and next thing I know I was being apprehended in cuffs."
#Occupiers in Providence have been banned from the local Providence Place Mall for a year after they rallied there in support of higher taxes for the rich. Police handcuffed the demonstrators and removed them from the mall, only releasing them when they accepted the one year ban. Occupy Providence stated in part, "Using handcuffs on peaceful protesters exercising their rights to free speech was clear intimidation and completely unnecessary."
#Evicted families in Seville have #occupied an empty apartment complex that lacks power and water, and they want more to join them. Evictions have run rampant in Spain, with as many as thirty to a block losing their homes. The complex was completed in 2010, but because of the financial crisis none of the apartments were ever rented out. Shades of Caracas.
#Stop-and-frisks do nothing to lower shootings. But you wouldn't know that by listening to police commissioner Ray Kelly, who said in defense of the racist policy, "We're saving lives. Mostly young men of color." Someone needs a fact-checker before opening his mouth. And he's not the only one: NYPD spokesperson Paul Browne told the Queens Chronicle that the arrest of multiple journalists covering Occupy Wall Street is "a total myth." Which is, of course, a total myth. Josh Stearns sets the record straight regarding journalist arrests via Storify.
#In case you're ever stopped and frisked, there's an app for that.
#In another blow to the NYPD, eight Muslims filed a federal lawsuit to force the department to end its surveillance and other intelligence-gathering practices targeting Muslims in the years after the 2001 terrorist attacks.
#Trinity Church, one of the largest landholders in New York City, is cooperating with the prosecution in the case of protesters – among them a retired Episcopal bishop – who attempted to occupy a parcel of vacant land on December 17. A hunger striker has tried to appeal to the church's mercy, to no avail.
#If the FBI wants you to be an informant, say yes or risk getting put on the No-Fly List.
#Senate Republicans blocked a pay equity bill, twice.
#This is how Stand Your Ground laws swept the nation.
#Private prisons profit from immigration crackdowns, which is why their corporate owners are desperate to tilt immigration detention policies in their favor.
#Here's how Louisiana became the world's prison capital.
#Despite the passage of the Dodd-Frank Wall Street Reform and Consumer Protection Financial Act, banks still gouging people with fees. Meanwhile, Dodd-Frank has been a boon for lobbyists.
#Here's how Bank of America executives hid losses, in their own words.
#A former attorney who worked for some of the country's most prestigious law firms was sentenced to a record 12 years in jail for an insider trading scheme which lasted 17 years and netted more than $37 million between 1994 and 2011.
#Young Turks host Cenk Uygur shows us how to buy a politician. This is why we need to flush money from politics.
#The states with the worst income inequality are Florida, Massachusetts, Louisiana, Connecticut and – no surprise here – New York.
#Tens of millions of children are living in poverty in the world's richest countries.
#Unpaid internships are a way for wealthy companies to extract free labor. So dump your internship and head to the beach.
#Good news, activists: Google has hit back against state-sponsored hackers who may be reading your Gmail.
#The Department of Homeland Security has reportedly detained a developer of an anti-surveillance app on multiple occasions.
#A new generation of computerized cameras are able to spot if you are a terrorist or a criminal before you even commit a crime. Because life has apparently become Minority Report.
#600 protesters crashed the Canadian Grand Prix in Montreal. Pepper spray was deployed and a line of riot police advanced, arresting 28.
#The Mexican student movement is ascendant, buoyed by the political bias of the mainstream media. If only Americans would feel similarly compelled to action over our slanted, corporate media.
#Following her exclusive interview with Bashar al-Assad last December, Barbara Walters tried to use her influence to help one of the Syrian dictator's former aides get a job. Here are the incriminating emails.
#Members of Deep Green Resistance, Unoccupy Albuquerque, Occupy Lincoln and Lakota organizers attached U-Locks to their necks and strung a chain between pairs of activists, blockading the road running through Whiteclay, Nebraska, to bring attention to the town's infamous liquor industry.
#A charitable group called Chosen 300 will pay your fines if you ignore Philly's new ban on feeding the homeless. That's right – Philadelphia has instituted a ban on giving poor people food.
#The number of PhD recipients on food stamps and other forms of welfare more than tripled between 2007 and 2010.
#The fight for women in Egypt is far from over, as a mob of hundreds of men assaulted women holding a march demanding an end to sexual harassment. Attackers overwhelmed the women's male guardians and groped and molested several of the female marchers in Tahrir Square. From the ferocity of the assault, some of the victims said it appeared to have been an organized attempt to drive women out of demonstrations and trample on the pro-democracy protest movement.
#In happier Egypt news, protests are turning into occupations throughout the country.
#Vladmir Putin passed a law fining protesters $9,000 – as if this quasi-dictator even needs a law before throwing people in prison.
#Spain will be bailed out to the tune of $125 billion, while Greece is still going broke. But Greeks are engaged and stronger than ever in their fight for a new society.
#Striking Spanish coal miners set up burning barricades and fought running battles with riot police as they protested harsh austerity cuts to coal subsidies.
#A new bank study suggests the average Canadian household is more than $100,000 in debt and that Canadians have ramped up borrowing in the past five years.
#An oil spill in Alberta sent 125,000 gallons of crude spilling into a tributary of the Red Deer River.
#Monsanto corn has been linked to organ failure in rats. Meanwhile, five million farmers are suing the GMO purveyor for $7.7 billion because the company has been reportedly taxing the farmers into financial ruin with hefty royalty charges.
#Ben Cohen of Ben and Jerry's and Move to Amend want to stamp money-is-not-politics messages on dollar bills.
#Immortal Technique said in an interview that our ignorance hurts the world.
#Want to put the Department of Homeland Security's list of suspicious keywords and phrases to use? Here's the online terrorist keywords poetry contest!
#Here's the latest issue of the Occupied Vancouver Sun.
#There are three days left to raise enough money to get Michael Chapin, a U.S. Army veteran and a key member of the Occupy SF community, out of jail.
#Here's a tribute to the Occupy women of Texas.
#On June 15, Occupy London will stage the first-ever Carnival of Dirt, whereupon 30 activist groups from London and around the world will highlight the illicit deeds of mining and extraction companies.
#Anonymous is planning to march on Parliament on November 5.
#Join 1199 SEIU, the NAACP, National Action Network, civil rights, faith, labor and community groups and Occupy Wall Street in a silent march in New York City on June 17  to protest stop-and-frisk.
#On June 25, join a march to the California state capitol to call for a moratorium on foreclosures.
#The Occupy National Gathering will take place in Philly on July 4.
#Also on July 4, Occupy Austin is planning a day of demonstrations at the Texas State Capitol.
#Occupy Detroit will host another Occupy the Midwest Conference from August 23 to 26.
#Members of Occupy Austin OccuQueers and GLITUR (affiliated with Occupy Seattle) are reaching out to all Occupy Queer and LGBT working groups to form a national (or international) network of radical queers.
#Looking to connect to other occupations? The Occupy Directory is here.
#Occupy Arrests counts 7,280 arrests since the birth of Occupy Wall Street on September 17.