An Olive Branch from the Tea Party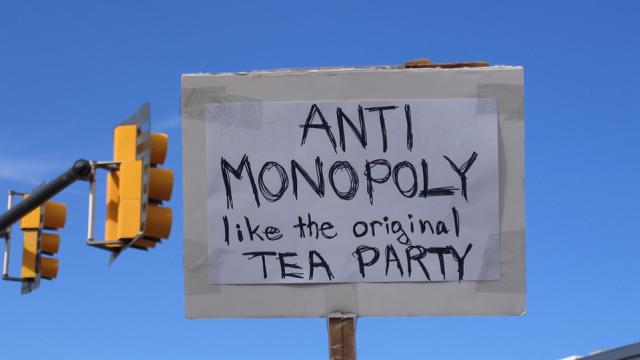 As a self-described Tea Partier – and one of the younger Americans to identify with the movement – I'd like to submit my thoughts to the Occupy Movement in an attempt to commence with an amicable dialogue that seeks to identify and discuss the important and often overlooked commonalities of the two groups.
This is a particularly important discussion because of the distorted portrayal by many in the media who have created a false narrative that frames the two movements in a dichotomous relationship, placing each at the polar extremes of both the ideological and political spectrums.
To start, the Occupiers' outrage about the abuse of power by many wealthy Americans is a perfectly valid concern from the Tea Party perspective. For far too long in American politics, the behavior of many wealthy Americans - what the Occupy Movement deems the "one percent" crowd - has been deplorable. Many of the most affluent members of society have used government channels not accessible to average Americans to further their own interests and self aggrandizement.
Personally, I am distraught by the never-ending tax credits and corporate welfare that top income earners are able to secure for themselves and their companies. However, I would note that this despicable behavior is not an indictment on true free-market capitalism, but rather is demonstrable proof of the disastrous impact created when big business and government unite forces to promote a centrally-planned economic structure.
I cannot speak for the Occupy Movement, but having spent a considerable amount of time going to Tea Party events and talking to fellow Tea Party members, our movement is not partisan-based. At its core, it's an ideological movement that rose up in an effort to put restraints on a growing and pervasive federal government that for decades has taken more control over individuals' lives.
Inherent in this attempt to define the legitimate role of government in a free society, was contempt for rich Americans who refuse to play by the same rules as everyone else.
Both Republicans and Democratic lawmakers are guilty of this transgression against ordinary Americans. It doesn't matter if tax credits or subsidies are directed towards oil, solar, or any other companies. Our taxpayer dollars should not be transferred to wealthy proprietors of companies just because they give large donations to the influential politicians and know how to play the inside-the-beltway game.
We don't know what the future holds for any given industry. Therefore, we should resist with all our might the attempt by the political establishment to transform us into automatons of "the cause," whether it's tax credits and subsidies for big oil, or green energy initiatives.
Many people, because of issues of self interest, want the Tea Party and Occupy Wall Street to duke it out because it fits perfectly into our two-party system's "us-against-them" mentality. And while it's true that we may have widely divergent views on particular issues, certainly we can agree - whether we're conservatives, progressives or libertarians - that the current political system is broken and tilted in favor of rich Americans.
As our Founding Fathers recognized, factions are inevitable in politics. Debating each other on the merits of our arguments is a healthy exercise for our republic. But let's take a moment to pause and reflect on the broader and more salient point about who our enemy really is – establishment politicians and their lackeys.
In the interest of our nation, let's focus a considerable amount of our energy on targeting the main source of our problems rather than each other.
J.D. Thorpe is a libertarian columnist who writes for townhall.com, American Thinker, Tea Party Review Magazine and other publications.