Tar Sands Protesters Shut Down Keystone XL in Oklahoma as #FearlessSummer Begins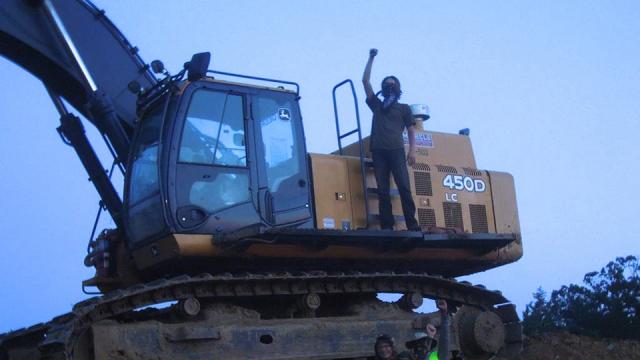 Seminole, OK — Early on Monday morning, eight protesters blocked construction of a pump station for TransCanada's controversial Keystone XL pipeline on Seminole lands by locking themselves to equipment — the largest-scale action yet taken by the Great Plains Tar Sands Resistance to halt the project. Overall 10 people were arrested on the day.
The group's lock-down kicked off a nationwide week of coordinated actions against fossil fuel extraction industries — from tar sands to fracking to coal exports — called Fearless Summer.
"As a part of a direct action coalition working and living in an area that has been historically sacrificed for the benefit of petroleum infrastructure and industry, we believe that building a movement that can resist all infrastructure expansion at the point of construction is a necessity," said Eric Whelan, spokesperson for Great Plains Tar Sands Resistance.
"In this country, over half of all pipeline spills happen in Texas, Louisiana and Oklahoma. Looking at the mainstream Keystone opposition, this fact [remains] invisible—just like the communities affected by toxic refining and toxic extraction," he said. "We're through with appealing to a broken political system that has consistently sacrificed human and nonhuman communities for the benefit of industry and capital."
There is staunch continent-wide resistance to the expansion of tar sands mining and infrastructure in Alberta, Canada — and opposition has been steadily growing across the U.S. heartland in areas long considered sacrifice zones, including Oklahoma and Nebraska. Native American resistance to the project has also strengthened through the Idle No More movement which emerged last winter in Canada and quickly spread south, and the Great Sioux Nation along with many other tribal governments on American land that have vowed to halt the northern segment of the Keystone XL.
Also on Monday, dozens with the Detroit Coalition Against Tar Sands stopped dump trucks in their tracks from adding to the massive mound of toxic petcoke, a byproduct of tar sands mining, that is piling up along the Detroit River. And in Marshall, Michigan, an activist climbed into a segment of Enbridge pipeline to protest the company's failed clean-up of the biggest tar sands spill in U.S. history in Kalamazoo, Michigan — and its plans to expand construction on the very pipeline that spilled.
"The pipelines that poisoned the Kalamazoo River and Mayflower, Arkansas, were not the Keystone XL. Tar sands infrastructure is toxic regardless of the corporation or pipeline. For that reason we are opposed not only to the Keystone XL, but all tar sands infrastructure that threatens the land and her progeny," said Fitzgerald Scott, who was arrested in April for locking his arm inside a concrete-filled hole on the Keystone XL easement, and who locked himself to an excavator Monday.
"While KXL opponents wait with baited breath for Obama's final decision regarding this particular pipeline, other corporations, including Enbridge, will be laying several tar sands pipelines across the continent. The Enbridge pipelines will carry the same volumes of the same noxious substance; therefore, Enbridge should get ready for the same resistance."