There's An East African Refugee Crisis – Why Aren't We Discussing It?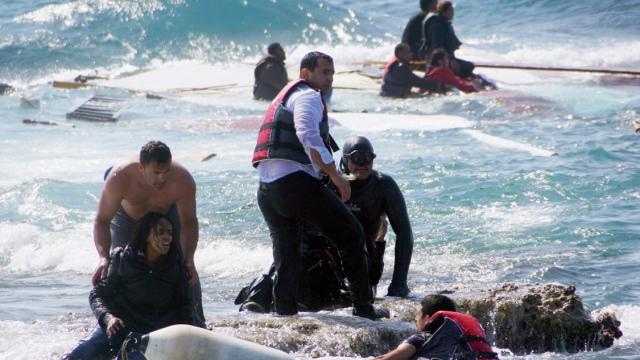 When we hear "immigration issues" or "refugee crisis" these days, we instantly think about the Middle East, ie. Syria. That shouldn't be a surprise; Syrians have been through so much these past months and years. But unfortunately they aren't the only ones.
Being from Somalia and living in the West, I have yet to hear someone bring up the refugee crisis my own community faces. It's not something that fazes me. After all, black lives have low value in the society we live in. What's really astonishing is the number of black lives that have to pass away in order for the world to notice them.
A week ago, on April 17, 400 East Africans drowned in the Mediterranean Sea after their boat capsized on the way to Italy. When numbers get big, we seem to forget that they are individual lives that are lost and we automatically turn them into a statistic. That's why the Somali community took it to Twitter and other social media platforms and created the hashtag #400LivesnotJustNumbers. They wanted to make sure their voices would be heard – and that black lives truly matter.
As a high school student and aspiring journalist, I feel this is the time to be a voice for my community. I had heard the stories regarding the refugee crisis but never understood why they succumbed to their temptations to flee despite such great risks. As a Somali-American, I didn't understand why, because I've never been to Somalia to witness the lives of my people: to witness how desperate they were to leave their homes in order to find new lives and new stories to tell. I have this privilege of living an American dream and never faced the struggles and trials they went through. From my point of view, It was easy to say, "That's not right. You should stay where you are." One week ago, it became hard to say that, and I wanted to test my beliefs and privilege.
So I interviewed Somali people who have grown up with and seen those struggles and trials on a daily basis, to have a better understanding of why people risk so much to leave for other countries. I also interviewed diaspora members to understand their stances on the issue. Some of the things I learned were that most of the refugees leaving Somalia are the youth, ages 12 and up. Ahmed Ibrahim, a resident of Mogadishu, said there were three main reasons he and others were fleeing: widespread unemployment in Somalia, the belief that life in Europe is easier, and the constant conflict, instability, tribalism, and corruption that dominates their lives.
The big question people should now be asking is just how thousands of people are going to Europe from Somalia and other East African countries. Something I learned in my reporting was that it is a huge and complex process that takes months to make happen. It's also a dangerous business that makes enormous sums of money for smugglers. Many East Africans connect with smugglers from North Africa through a simple exchange: they pay a fee and then wait their turn to leave. But it's never so simple once the process of travel begins.
They start by migrating, through great struggle, to the Sahara desert. Muna Ismail, from Ottawa, told me about instances in which smugglers held migrants for ransom and demanded family members send money in return for the migrants' "safe" travels. If migrants survive this part of the journey, they then reach the boats that will take them to Europe – but this is another struggle in itself.
What is evident is that the entire migration process has become a business – and money has become more valuable than people's lives. The deaths that occur in the Sahara aren't counted; if you investigate the migrants who died while traveling across the desert, you're unlikely to find any data.
After the tough migration through the dessert, people are taken into boats with hundreds of people. My aunt went through this journey, and said one begins the trip seeing so many deaths and great sickness. She left from Egypt and got to Italy in a week. It was the longest week of her life but she was one of the few who were lucky to make it alive.
A further issue has emerged from the migrant crisis: organ trafficking. Cases have been reported where people en route to Europe got killed and their organs taken from them and sold. In the eyes of Abdirashid Dahir, a civil engineer based in Ethiopia, the trend in organ trafficking has become just another business: a way of making a profit from the most desperate and defenseless.
Muna Ismael added: "I think the Egypt organ trafficking case isn't surprising, considering the previous cases of Somali migrants having their organs removed in the desert and their bodies left in their wake." All of which again raises the point that black lives, when it comes to trafficking, don't matter.
As a member of the Somali diaspora and someone who, to an extext, feels guilty about what's going on overseas, I asked my interviewees what people like me can actually do – and what responsibilities we should take on. The engineer Dahir told me, "On diaspora, they can invest thousands of dollars in high-quality education so that youth [don't lag behind. Diaspora community members can launch grassroots campaigns, and they can show youth back in the country that they can earn more [with] better-paying and decent jobs in Somalia, that are even attractive to [those in] diaspora."
Ahmed Ibrahim of Mogadishu stated, "I advise the diaspora community, instead of feeding families in Somalia, let them create jobs so one person can cover the family bills. Let them invest one idea – not them to make money on their own, but to employ their families in Somalia. Do not give fish but teach them how to catch the fish to survive."
Muna Ismael, on the other hand, concluded, "I feel like as members of the diaspora, we have a responsibility to show that life in Europe isn't worth risking your life and going through the smuggler and migrant process."
The East African community clearly has lots of work to do. We can't watch 400 people die every week and remain silent. We have to speak out and produce action behind our words. As a Somali diaspora, we need to understand that we now come from two nationalities – the United States and Somalia – and not forget about the motherland. We also need to figure out solutions to the crisis so that more of our country members don't keep dying.