Walmart Workers Strike in 15 U.S. Cities to Demand Better Pay
This article originally appeared on
Al Jazeera America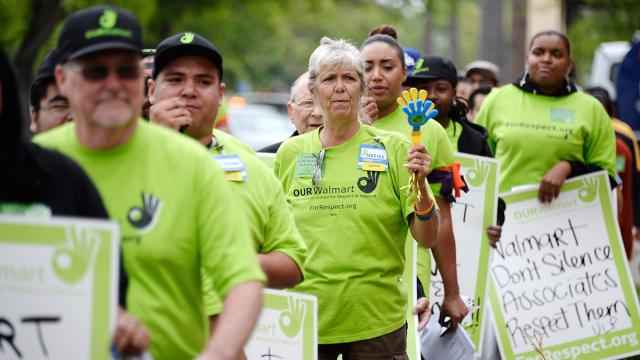 Thousands of Walmart employees went on strike Thursday in cities across the United States, demanding better pay and protesting the firing of those who previously demonstrated against the company, the largest private employer in the country, with 1.3 million workers.
The strike comes just one week after fast-food workers staged walk-outs at fast-food restaurants in 60 U.S. cities to call for hourly pay of $15 instead of minimum wage, signaling a trend of worker unrest at non-union companies. According to strike organizers, many Walmart workers earn the minimum wage, which varies from state to state but typically hovers near $7 to $8 per hour.
In New York City, where demonstrations kicked off at 10 a.m., current and former Walmart workers protested along with advocacy and union groups. They were flanked by a band featuring a trumpet, trombone and saxophone, outside the office of Walmart board member Christopher Williams, CEO of Williams Capital Management.
Three protesters were arrested by the New York Police Department after sitting on the ground and locking arms in front of the building where Williams' office is located. They had been protesting outside the building with the aim of handing Williams a petition that organizers said had 200,000 signatures of people demanding Walmart commit to providing full-time work with a minimum salary of $25,000 and reinstate workers who were fired for previously striking.
Among those arrested Thursday was Barbara Gertz, an overnight stocker at the Walmart store in Aurora, Colorado. She told Al Jazeera that many workers were illegally penalized for striking in June outside Walmart's headquarters in Bentonville, Ark.
"When we went to Bentonville on strike in June, we wanted Walmart to hear our voices and to hear our concerns and not only did they not hear our voices, but when got back to our stores, many of us were retaliated against, were fired or we were written up and were harassed by management," Gertz said.
She said she and others want to see Walmart change its ways.
"We want them to change. We want them to start treating their associates fairly and give them the ability to support their families. When you get a full-time job, you get that to be able to have a house or home and support your family," she said. "You can't do that at Walmart."
According to a news release from the Organization United for Respect at Walmart (OUR Walmart) and the United Food and Commercial Workers Union, which back the strike, the workers are seeking a "wage floor" of $25,000 per year.
Strike organizers also charge that the company benefits from federal social-welfare programs by paying wages too low for workers to live on or by not providing health insurance, forcing employees to sign up for food stamps or Medicaid.
The organizations said the strikes follow Walmart's failure to meet a Sept. 1 deadline for reinstating employees fired for leading protests against the company. Strike organizers say that the firings violate U.S. labor law, which prevents reprisals from employers against workers who attempt to form a union.
"Rather than providing good jobs that American workers need and deserve, Walmart is trying to silence workers who are standing up with their co-workers to live better and spending its time and money trying to deny workers a decent day's pay," the press release said.
Walmart denies the labor organizers' charge that workers make minimum wage, saying that the average wage at the company is about $12 per hour, and that most employees work full-time and receive health insurance.
Kory Lundberg, a spokesperson for the company, said the workers allegedly fired for protesting the company were let go for attendance reasons.
"Many of these associates did not show up for work without any notice. It's pretty disrespectful to their co-workers, because it disrespects those who now have to pick up that extra work," Lundberg told Al Jazeera.
The release cites a congressional study finding that Walmart receives a government subsidy in the form of welfare for its workers, but Lundberg decried the report as "politically motivated" and subject to flawed methodology because it only examined one Walmart store in Wisconsin.
Other cities where Walmart employees went on strike on Thursday included Baton Rouge, La., Boston, Chicago, Cincinnati, Dallas, Denver, Los Angeles, Miami, Minneapolis, Orlando, Fla., Sacramento, Calif., San Francisco, Seattle, and Washington, D.C. Thursday's action was expected to be the largest strike since Black Friday of 2012 which spanned at least nine cities, organizers said.*
*Walmart Protesters Arrested In NYC While Trying To Deliver Petition
By Lauren Evans, Gothamist
Three Walmart workers were arrested this morning after attempting to deliver a petition to the offices of Christopher Williams, an NYC-based member of the mega chain's board of directors and CEO of the investment bank Williams Capital Management Trust.
According to the advocacy group Making Change At Walmart, the petition demanded that "the company publicly commit to provide full-time work with a minimum salary of $25,000, reinstate workers who were fired for striking and agree to stop all retaliation against workers calling for better jobs." The petition reportedly garnered more than 200,000 signatures.
The protest is spanning 15 cities around the country, including San Francisco, where participants plan to gather outside the apartment of Yahoo CEO Marissa Mayer, who was appointed to the company's board of directors in 2012, USA Today reports.
The average annual salary of a Walmart sales associate is just $15,500, according to the group's website, and the average hourly wage is just $8.81.
Wal-Mart spokesperson Brooke Buchanan denied that figure, telling the paper that the company's average for full-time associates is around $12.80.