When Your World Comes Apart: An Immigrant's Story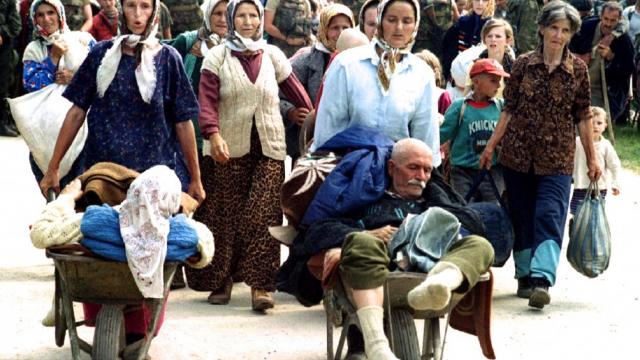 The scariest feeling a human can experience is to feel alone in the midst of a complete disaster – to feel like humanity is just a word on a piece of paper, a buzzword that big players in the world's political scene use in their speeches. It is to hope that someone will find your life and your world worth saving, only to realize that your life merely became just quick news for the world and nothing else.
Being a refugee means being stripped of identity, stripped of all human rights, stripped of any kind of ownership, and coming to the realization that you do not even own your life anymore. Overnight you become nothing. It's hard to remain sane when you lose it all, and I'm not talking only of material things. Much worse than losing material things is the feeling that you do not matter, that your life is not worth saving, and that you as a person are just a pawn in someone else's game.
I was a refugee once, and sometimes I feel like I will forever have that label in my mind. My country was facing the biggest disaster that happened in Europe since World War II. I made a decision to flee that calamity, and try to find a shelter somewhere else. There was no time for planning; there was only time to make quick decisions in order to survive. Life showed me that once you face death, you also face yourself, and that the battle for survival and zest for life become your leading forces.
At the time, the USA opened up a program for Bosnia's refugees and I arrived here with a 20-month-old daughter, my husband, and elderly mother. We were so happy that this door opened for us at the moment when fate stripped us of everything we had: from our comfortable lifestyle, lifelong friends, and familiar streets. Everything we had ever known became just a dream, and our only reality was this country that gave us a new home and strength to carry on.
I always felt welcomed here – no doubt about that. I rebuilt my life here, and this is our new home. However, these days I feel afraid to speak up, feel afraid of so much division that I see around us. I understand the desperation that all refugees are facing: the feeling when the world wants you to pay the price for something you didn't do.
We should all take only the side of humanity and justice. I came to realize that the big players on the world scene care only about oil wells, profit, and power struggle on this planet. We, the masses, are left to take care of each other, to unite and realize that our future will remain the same if we don't stand up together and protect each other.
These days I hear so many saying how they have "many Muslim friends," and this reminds me of those who say that they have "many African-American friends" but keep defending police brutality and so many killings of innocent African Americans in this country. We all should be friends and should label each other as human beings and nothing else.
In the end, we have nothing to fear but our own fear, our own consciousness. At the end, we will face ourselves and regret that we made a decision to live in our own little boxes, instead of standing up for each other, standing up for the victims of so many global struggles. Those innocent lives will haunt us one day, will haunt our future. How can we hope for peace when our only weapons continue to be fear mongering, more wars, and more fears of those who are different from us?