After "Grad Tax" Success, Graduate Students Find Their Voice – and their Power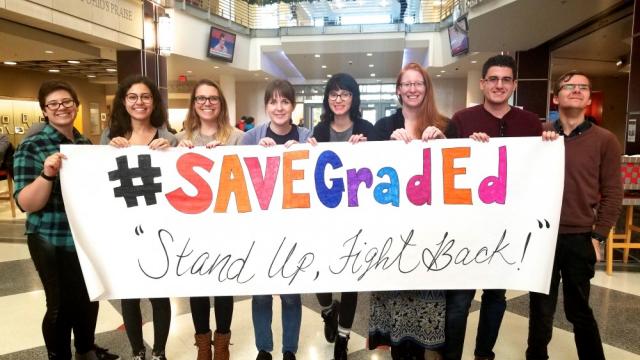 The resistance is alive and well. On Jan. 20, millions of Americans joined in the streets for the second year of the Women's March, protesting for fair and equal pay, fighting for the #MeToo movement, and united in opposition against President Donald Trump and the GOP. The Women's March has become one of the largest grassroots movements in the country. But for all its success in mobilizing angry and inspired participants, many argue the protest is still struggling to clarify its broader purpose as it evolves. It is a problem the march shares with some of its activist peers.
In that sense, Women's March organizers would do well to look to one of the most successful grassroots political groups to seize the stage in 2017: graduate students. No, really. Though you might not know it, graduate students have been at the forefront of numerous campus protests in recent years. Last year's successful campaign against the "grad tax" may be their most significant victory yet.
Consider this: As the GOP rushed last fall to force the tax bill through the House and Senate, graduate students across the country organized – in days, not weeks – nationwide walkouts, rallies, phone banks and mailing barrages. The Grad Tax Walkout was born just one day before the original bill passed; within days it had grown to include dozens of campuses. In the following weeks other universities followed suit, with walkouts and popup phone banks that made hundreds of calls to congressional representatives in the days between the bill's final passage.
The thing is, their strategy worked.
Thirty-one House Republicans flipped, killing the tuition waiver changes and calling the tax "unfair" in a letter to congressional leaders. The signatories represent districts from across the country but share one thing in common: The majority represent districts with at least one major university. Putting pressure on representatives is no easy task, but graduate students succeeded because they found their message, and with it, their coalition.
"We wanted to bring a variety of groups together to see the ways in which we're all together. What are our common policy goals? How can we bridge the divide separating groups with different ideological or partisan views?" said Maggie Nettesheim-Hoffmann, a graduate organizer from Marquette University.
That common policy goal – ending the grad tax – became the central focus of protests at hundreds of universities nationwide. The Grad Tax Walkout, the largest of the early protests, leaned heavily on issues of affordability, highlighting the massive 400 percent increases in income taxes that came with the original GOP bill.
"This would be devastating, my taxable income would more than double," said Hannah Khoddom, a USC graduate student, in a statement from the Grad Tax Walkout.
This line of attack helped organizers like Khoddom and Nettesheim-Hoffmann reject political polarization, arguing instead for cooperation from students across the political spectrum in order to preserve their common interest: graduate programs. "We really didn't see a political divide between Republican and Democrat or liberal and conservative regarding this particular provision because it was going to impact all graduate students," Khoddom added.
The message resonated especially in Milwaukee, where students from Marquette and UW-Milwaukee converged on the steps of Milwaukee's federal courthouse, with support from members of the Democratic Socialists, the Not One Penny campaign, Indivisible, and the March for Science. It's also the message that galvanized students nationwide.
"It was important to us that our message be non-partisan," Nina Jhaveri, a USC graduate student, told The Atlantic. According to Jhaveri, who is an outreach coordinator for USC's national protest campaign, the non-partisan approach helped protests spread to 68 campuses – including 32 in red states.
This is no small feat. Major campus protests in the past have often devolved into infighting and scorned potential allies. Others have simply lost their narrative as a university struggles with whiplash generated from their message. Some protests asked for things that couldn't be given in the first place.
In protests against the grad tax, organizers carefully avoided tactics that would disrupt university operations – in other words, tactics that excite the attention of right-wing media and, in many cases, turn off the public.
"We take our responsibility as teachers very seriously," said Reed Heintzkill, a graduate student organizer from UW-Milwaukee. "The disservice to our students that an all-out walkout would cause is not in anyone's interest. Grad students are unique in being both suppliers and consumers in higher education, and we very much want the university to continue its operation."
Protesters across the country followed this logic, sparing their respective universities the need to shut down or suspend classes, which in turn made it all the easier for administrators and alum to back their graduate students, even in Trump states like Pennsylvania and Oklahoma.
The lesson to draw for big-tent protests appears clear: Political purpose and policy goals give a protest purpose. And when it comes to politicians, they respond to pressure. With GOP incumbents in increasingly perilous standing in 2018, there may be no better time to learn a few lessons from the past in order to win some big battles that are just around the corner.