Berkeley's "Uncharted" Festival Brings Big Minds and Ideas Together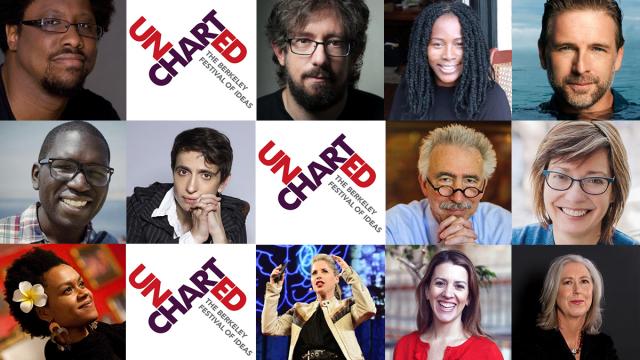 BERKELEY, Calif. – The city that birthed the Free Speech Movement and was the staging ground for America's cultural revolution of the 1960s is now building on that past with a festival to reinvigorate the spirit of active political and intellectual debate.
"Uncharted: The Berkeley Festival of Ideas" runs Oct. 16-17 in the Bay Area city's historic Arts District and features nationally recognized thinkers and innovators hosting forum discussions, workshops and debates around critical social issues – from criminal justice and drug policy reform to drone use, GMO foods, Black Lives Matter, the housing crisis, free speech and globalized education.
"Just like somebody who stages a music festival for people who love music, we're staging an ideas festival for people who love ideas," said Lance Knobel, co-founder of the independent news site Berkeleyside which is organizing the festival, now in its third year. "There's a really strong constituency out there of people who want to engage with ideas on the edge. They may be interested in politics, technology, economics, health – they're the people I sometimes call infovores, people whose diet is information and ideas."
Knobel said Uncharted belongs in Berkeley because of the city's "extraordinary tradition" of activism and its pioneering work as a thought leader driving American culture. "We're this region where so many of the ideas, movements, trends get established. It's where the disability movement started, where community and neighborhood policing had its origins in the 1920s, where busing was first used to integrate schools and [more recently] cities subsidizing solar panels for residents."
Unlike the TED talks, he added, this ideas festival isn't shy about confronting politically controversial themes.
"To say the least we're not afraid of politics," Knobel said. In fact, "we're really eager to discuss the politics of things that aren't always seen to be political – that may be science or technology, or Black Lives Matter, or the coming election, or economic policy, or the role of higher education, or where the feminist movement is now. All of these things have deep and profound political aspects to them, and we're eager to talk about that."
What's on tap
The participants and forum discussions at Uncharted include among others the following debates:
Alex Kozinski, a judge on the Federal 9th Circuit Court, discusses flaws in the criminal justice system with First Amendment expert and UC Berkeley Media Studies professor William Turner.

Ethan Nadelmann, one of the nation's most recognized supporters of drug policy reform, talks with journalist and Berkeleyside co-founder Frances Dinkelspiel about alternatives to the War on Drugs.

Pastor Michael McBride ("Pastor Mike"), a national leader in the Black Lives Matter movement who was recently named member to President Obama's Advisory Council on Faith-Based and Neighborhood Partnerships, discusses racial justice tensions and solutions with journalist and KQED newscaster Joshua Johnson.

Journalist, robotics pioneer and DIY Drones founder Chris Anderson talks about the brave new era of drone use with Reinvent CEO and tech innovator Peter Leyden.

Wild water advocate and nature activist/writer Wallace J. Nichols discusses humans' changing relationship to water with Uncharted festival founder Lance Knobel.

RightCare Alliance founder and "Overtreated" author Shannon Brownlee talks about the consequences of medical overtreatment in the healthcare system with KQED health journalist Lisa Aliferis.

Author and New Yorker journalist Masha Gessen talks with festival founder Lance Knobel about human rights and political issues in Russia under Vladimir Putin.

Culture writer Scott Timber discusses the crisis of the creative class with theater activist Patrick Dooley.

Food safety advocate and Small Planet Institute co-founder Anna Lappé talks about current issues in the GMO-free food movement with author and Butcher's Guild co-founder Marissa La Brecque.
Other highlighted "pop-up" events at Uncharted include a social-political comedy performance by W. Kamau Bell, whose show United Shades of America debuts on CNN. And in direct response to the housing crisis that has gripped the Bay Area, a 90-minute hands-on workshop entitled "The rent is too damn high" features experts engaging with the community to devise policies, approaches and solutions for tackling the region's ever-rising cost of rent.
"Housing and gentrification are big issues relating to the Bay Area," said Knobel, so Uncharted seeks to provide a "laboratory" kind of framework for the public to "work on actual solutions where the housing market has gotten so crazy, and the diversity and composition of neighborhoods is so very much up in the air."
Knobel added: "In a 90-minute workshop you're not going to solve all the ills of the world – but you might experience working with people and it's extraordinary how taking a different approach, [through] design thinking to solve really complex, knotty problems can open up possibilities that maybe people hadn't seen before."
Issues like economic inequality, money in politics and corporate corruption will interweave throughout the festival. As author Brownlee recently told the Bay Area News Group: "Medical overtreatment is a disease that is driven by a health care system driven by money. The more treatment is given, the more money somebody makes."
But aside from its political draw, Knobel said the ideas fest is ultimately about bringing brilliant individuals together to share what they know with the widest audience possible – sparking discussions that carry beyond the two days of Uncharted.
"Really interesting thinkers are very interested in telling people what they think," he said, "and we provide a platform and opportunity" for them to do that.
Go here to purchase tickets and learn more about Uncharted: The Berkeley Festival of Ideas.