Britain Seeing Wide Gender Pay Gap As Company Reports Trickle In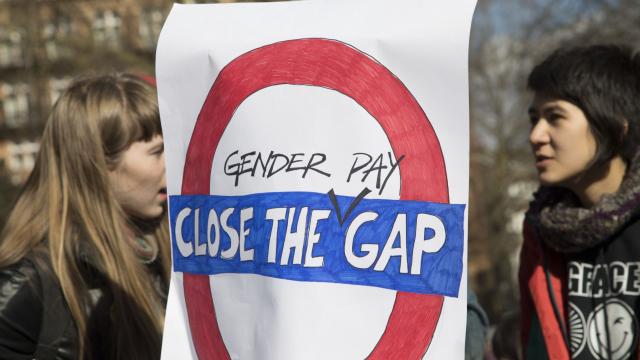 The #MeToo movement recently alerted people to injustices and abuses occurring in the workplace, but until now the gender pay gap in the U.K. has failed to receive similar attention. All this has now changed, with every company employing more than 250 people required to submit data on their gender pay gaps as of last week.
The results have been shocking, to say the least, revealing that fewer than one in seven women earns more than her male counterpart in the same company. Men also take home, on average, £1 in bonuses for every 27 pence that women earn. More than 1,500 U.K. companies didn't even bother to report their gender pay gaps despite the fact that the pay "census" was compulsory.
HSBC Bank, which reported a median bonus gap of 86 percent, admitted that its female employees were paid on average 60 percent less as a basic rate than their male counterparts. When confronted with the discrepancy, the bank said it was the result of far fewer women occupying senior roles within their company – despite the fact that 54 percent of its employees are female.
The civil service sector is another, more unlikely industry that has fallen under scrutiny after confessing to a median gender pay gap of 15 percent. The "explanation" its spokespeople gave was the same: "The main reason for the gender pay gap is that there are more men in higher grades," according to a report issued by the Department of Business, Energy and Industrial Strategy.
Even the media, an industry traditionally more associated with high-level female employees than may other large industries, has revealed skeletons in its closet. Women working at the Telegraph Media Group were revealed to earn 35 percent less on average than men at the same company, the highest reported discrepancy at any U.K. media outlet.
"While we are moving in the right direction, we have much to do," Telegraph CEO Nick Hugh said in a statement on the company's website. "Our gender pay report shows an unacceptable gap between the average pay for men compared with women. The main reason for this has been a lack of female representation at the most senior levels, something which we have already started to address."
According to Jemina Olchawski, head of policy and insight at the Fawcett Society, the fact is that across the board, "women are much more likely to be in low paid work."
"Often that might be because they need flexibility or part-time work to meet caring responsibilities that they just can't find in better paid roles," said Olchawski. "It's also because society undervalues women and the work they do. Jobs dominated by women, such as caring roles, are consistently amongst the lowest paid. We'd urge larger employers to take the opportunity of pay gap reporting to look closely at the nature and causes of the gap in their organization and make an action plan to close it."
Meanwhile, Rebecca Hilsenrath, chief executive of the Equality and Human Rights Commission, brought up the important question of why so many companies haven't yet reported on their gender pay gaps.
"This legislation is in place to bring about better gender equality in the workplace and any employer not complying needs to ask themselves tough questions, re-think their priorities, be prepared for serious reputational damage, and be ready to face a very unhappy workforce," Hilsenrath said.
No one seems sure yet what the companies that don't report their gender pay gaps will suffer as a consequence, but Hilsenwrath said she believes they will at least be named and shamed publicly for their actions.
Until now, gender pay gaps have largely been revealed on an individual basis using evidence gathered from whistleblowers. It is seen as an unusual move for a Conservative government to enforce strict, universal transparency laws such as those now in place.
So far, data from many of the companies that have reported – information which is publicly searchable on the Equalities Office website – have already raised concerns. Multiple entries of zero, figures that don't quite add up, and a failure to offer information across the whole organization are recurrent themes.
As inconclusive as the early results may be, many think those companies that honestly report gender pay gaps, alongside a clearly outlined commitment to change their policies, should perhaps be given another chance to put their money, quite literally, where their mouths are.
The question people now might start asking isn't whether there is a gender pay gap, but why there is one. To blame it solely on women occupying different roles is naïve, with many women reporting that they do the same jobs as their male counterparts (albeit often under a different job title), yet are paid less. On a deeper level, it seems, employers know that even in 2018 they can still get away with saving money at their female employees' expense.