Campus Chill: How Freezing Tuition Became the Latest Move in the Austerity Playbook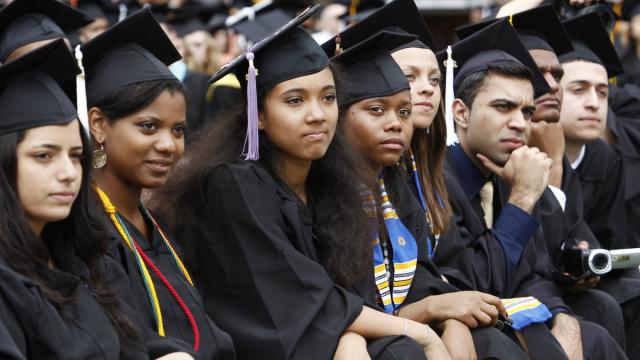 The price of college tuition is too damn high. That goes without saying, though there are few politicians or pundits arguing that the $29,000 owed by the average college student is fair or reasonable. Despite article after article telling students that high tuition and debt is their problem – and their fault – the debt crisis has accelerated to the point of prompting a response from legislators on both sides of the aisle.
Now, one particular strategy to combat rising tuition costs is taking hold of state-level politics: the tuition freeze.
Governors Jay Nixon (R-MO), Scott Walker (R-WI) and Mark Dayton (D-MN) have all signed bills mandating a tuition freeze in their respective university systems. Meanwhile, South Dakota, Illinois and Maine have approved similar measures through their systems or at select campuses. In fact, it's difficult to find a state legislature that hasn't floated the idea of a tuition freeze, especially in the Midwest.
At first glance, the appeal of a tuition freeze is obvious: the bills directly benefit students and can be written, passed and enforced in just months. But while politicians gather behind the promise of the tuition freeze, not everyone is on board.
Nick Fleisher, an English professor at the University of Wisconsin-Milwaukee and vice president of the school's American Association of University Professors chapter, has criticized the state's use of the freeze in his blog, where he chronicles the power struggle between the state and universities in Wisconsin.
In Fleisher's eyes, the state has weaponized the tuition freeze, using it against an already cash-strapped university system. "A massive budget cut combined with a tuition freeze… [is] very clearly designed to squeeze the university from both sides," Fleisher said in reference to the $250 million cut from the UW system in 2015.
The freeze, when employed as it has been in Wisconsin, works to further corporatize the university while depleting cash balances and atrophying academic departments and resources. But the motive behind the freeze is, to Fleisher, all part of the "austerity playbook."
Calling the State Out, Though, Comes with Serious Risks.
Wisconsin's public universities have some of the weakest tenure protections in the country, and legislators in Wisconsin take an unsettling delight in belittling faculty.
Fleisher, who's been teaching in Milwaukee since 2011, noted that "what [faculty have] seen over and over again is that it's really very easy and, for a lot of Republicans, especially, politically expedient, to demonize faculty as being out of touch and lazy and overpaid."
He pointed to the recent dustup between the state and professors – in which several campuses declared no confidence in the state – as an example of the state positioning itself as the protector of students' interests. As professors protested the suspension of tenure, Fleisher said, the legislators attempted to characterize faculty as self-interested and greedy.
"The angle the Walker administration and legislative Republicans are taking is to drive a wedge between faculty and students," added Fleisher. "Its classic divide and conquer."
The tuition freeze, in this case, has become useful propaganda to rationalize the destruction of the traditional university – academic freedom, tenure, shared governance, collective bargaining – while simultaneously diminishing the school's quality. Tuition freezes are temporary, and Wisconsin's tuition freeze may be dead by 2017.
But by that time, the effect of the prolonged cuts may take decades to reverse, thanks in large part to the state's policy of "position control," in which outgoing professors will only be replaced in extreme circumstances. The shortage of full-time faculty, according to Fleisher, helps reinforce the administrative impetus to move to "just-in-time" staffing, where "if you have 'x' number of butts in seats, you hire someone to teach this class, and if not, shut it down."
"It's obviously not conducive to doing the research and teaching that the university needs to do," he said.
Despite all of this, Fleisher believes a tuition freeze can still be done right, arguing that the key to a healthy university is to restore public funding. To Fleisher, both the uncertainty of tuition prices and the precariousness of university employment can be attributed to the institutional dependence on tuition as a source of revenue.
Wisconsin, for instance, supported 43 percent of its university system budget in 1974. Today, the state covers just 15 percent of the UW system budget.
But while a small, vocal group of Democrat legislators in Wisconsin are already demanding increased university funding, Fleisher is wary of the university system's role as a "political football."
"[University funding] needs to not be a partisan issue. If it becomes a thing where Republicans hate the university and Democrats support it… that will kill us," Fleisher said. Instead, he proposes that students and faculty go public with their support of the university in order to put pressure on legislators to rethink university funding.
"Faculty and students have a shared interest in a healthy university, where students can get the courses they need and the support they need without going into massive debt. Part of the challenge is to get people to see when you've crossed that tipping point. And I think we have crossed that point, a long time ago," he said.