With Chavez Victory, the Bolivarian Revolution Continues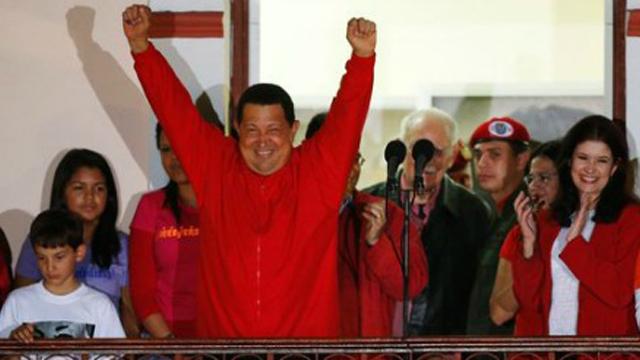 Capturing an estimated 54 percent of the vote in national elections, President Hugo Chavez has won re-election in Venezuela, according to an announcement by the nation's official electoral council.
National Electoral Council president Tibisay Lucena said Monday that with most votes counted, Chavez handily defeated challenger challenger Henrique Caprile and will now serve another six years as President.
"The revolution has triumphed!" Chávez told the crowd that gathered at the Presidential Palace in Caracas. "Today we've shown that Venezuela's democracy is one of the best democracies in the world, and we will continue to show it," he declared. "Venezuela will continue along the path of democratic and Bolivarian socialism of the 21st century."
Voter turnout reflected a huge interest among the Venezuelan electorate, as over 80 percent of eligible voters went to the polls on Sunday.
Capriles conceded defeat at his campaign headquarters, but promised his supporters that would "continue to work for Venezuela."
"I gave it my all and I'm proud of what we built," he said.
It was Chávez's third re-election victory in nearly 14 years in office and though the challenge from Capriles seemed to gain steam at times, the election results affirm that a majority roundly support the brand of socialism which has marked Venezuela under his leadership.
"Hugo Chávez' re-election to another 6-year term shows that Venezuela, like the rest of South America, prefers governments of the left that have improved living standards and greatly reduced poverty and inequality," said Mark Weisbrot, Co-Director of the Center for Economic and Policy Research (CEPR) in Washington, D.C.
"Chávez is often portrayed as though he were from Mars, but really the similarities between what he has done and what his neighboring left governments have done are much greater than the differences," said Weisbrot.
Other left governments, including Argentina, Brazil, Ecuador, and Bolivia have also reduced poverty and inequality and at the same time taken more control over their energy resources. Weisbrot noted that all of these governments are closely aligned and have similar goals for regional economic integration – Venezuela was recently admitted to Mercosur at the first opportunity – and all have become much more independent of the United States.
"It's really not surprising that all of these governments get re-elected, and generally despite most of the media and the wealth and income of the country being in the hands of the opposition," said Weisbrot. "These governments have delivered on a number of their promises."