Cheaper, Faster, Better: The Time for Postal Banking Is Now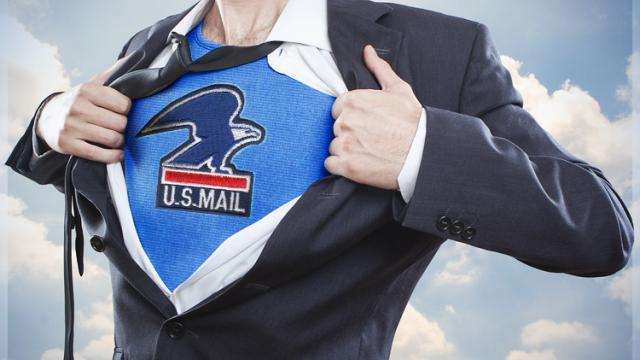 Contract negotiations began last week between the American Postal Workers Union (APWU), representing 200,000 postal workers and retirees, and the United States Postal Service (USPS). Postal banking is on the table and, as a utility that could provide affordable banking services in every community, it represents a national nonprofit public option to the private, for-profit banking system.
One out of four American families are underserved by the existing system of private banking. The number is worse for working minority families, with 53.6% of African-American and 46.4% of Latino households unbanked or underbanked. The financially underserved pay an average of $3,029 per household each year in interest and fees for money transfer and credit services provided by Alternative Financial Service Providers (AFSPs), which are typically for-profit and unregulated.
In 2013 the number of federally-insured financial institutions fell to its lowest level since 1934. Many of these were community banks. AFSPs, better known as "check cashing" stores or "payday lenders" have taken their place. There are now more check cashing and payday lending storefronts in the USA than there are Starbucks and McDonalds combined.
And, there is no public banking option in the United States. The opportunity in these contract negotiations is for the APWU to win the right to affordable banking for Americans.
The most common reason people are unbanked is that they don't have enough money to meet minimum balance requirements and/or avoid overdraft fees. This can be uniquely addressed by a postal bank, something widely available in other developed countries. While the U.S. Postal Service has provided money delivery services since the Civil War (and even provided savings deposit accounts from 1911 to 1967), it has limited its services to the physical delivery of payment claims for money orders and remittances.
Automation of this process – much like the new Digital Wallet program partnership with Dwolla and Paypal, announced on Feb. 18 by the U.S. Treasury Department's Bureau of the Fiscal Service – could provide near real-time settlements of person-to-person payments, bill payments, account transfers, and other fee generating services. This would ensure that the existing money delivery – what the banking industry calls "payment" services – provided by the USPS remain relevant, safe, and cost-effective.
Automation of money delivery services and near real-time settlement would go a long way towards putting money into the accounts of people who need it the most, and may even alleviate the need for credit services. After all, payday loans are based on the idea that money has been earned and is owed to a person, but they have yet to receive it.
However, short-term credit will always be needed by some and, should the USPS offer basic credit products, there is an opportunity to help the underbanked re-establish their credit. Successful repayment can go a long way towards credit repair for those who need it. The USPS could begin developing new products in partnership with regional non-profit credit unions that would help to move people from being underbanked to being full participants in our banking system.
Full participation would consist of having a basic bank account with the postal service, using electronic payment services to transfer money and to pay bills, and use of a public/private partnership with other non-profit organizations for credit services. The USPS can even get back in the business of selling savings bonds, with this money used to fund state infrastructure projects. This kind of vision and leadership, oftentimes lacking by our politicians, is what the USPS management can provide to our communities.
At the beginning of the negotiations the APWU issued a statement supporting, along with issues such as fair wages and benefits, "bold improvements in customer services, such as postal banking, the sale of licenses, and the addition of public notary services, along with a proposal for longer and more convenient hours for customers to allow USPS to capture a greater share of the growing ecommerce market."
Highlighting the growing public interest in these negotiations, actor-activist Danny Glover joined the APWU at the opening session. "I am here on behalf of all the workers that provide an extraordinary service to the community, extraordinary leadership in the community," said Mr. Glover. He represented the widespread sentiment that the U.S. Postal Service belongs to the people and, as a national treasure enshrined in the Constitution and predating all three branches of the U.S. government, it deserves both protection and expansion.
Expansion into postal banking is one option on the table that would deliver America out of a system that does not serve one out of four working American families.
With a background in the payments industry at IBM Finance, Marc Armstrong is one of the co-founders of the Public Banking Institute and Commonomics USA. He can be reached at info@commonomicsusa.org.