Colorado Supreme Court Blocks Local Bans on Fracking, Handing Gift to Big Oil
This article originally appeared on
The Denver Post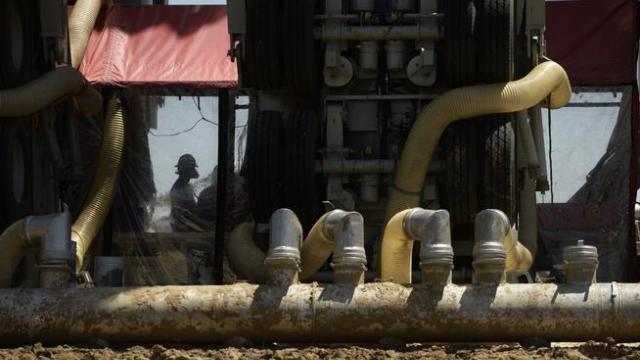 The Colorado Supreme Court on Monday blocked a push by Front Range cities to limit oil and gas development near people, ruling state power to promote industry trumps local bans, which the court deemed "invalid and unenforceable."
The court rejected Fort Collins's five-year moratorium on fracking within the city limits. Justices concluded that measure "operationally conflicts" with state law and therefore, under well-established principles, is pre-empted by state rules that allow some drilling in neighborhoods. They also rejected Longmont's 2012 ban on fracking and disposal of fracking waste in the city because it "materially impedes" state power.
It is a landmark decision redefining Colorado's landscape for producing fossil fuels — one that ignited passions on both sides at a time of intensifying political controversy.
Colorado has emerged as a leading oil and gas producer with more than 50,000 active wells and more than 45,000 inactive wells. While companies want to be able to increase production, residents are revving ballot campaigns to amend the constitution or give locals more power to regulate hydraulic fracturing, or fracking, the industry's method of rocketing sand, millions of gallons of water and chemicals deep underground to accelerate extraction of oil and gas.
"The oil and gas industry is thrilled," Colorado Petroleum Council director Tracee Bentley said. "This very well could mean that anti-oil and gas forces bring forth ballot initiatives. Oil and gas is ready to stand up for Colorado consumers and for Colorado's place in the American energy renaissance."
The rulings vindicated Gov. John Hickenlooper, who has backed the industry, with the state joining lawsuits against Longmont and Fort Collins.
"We appreciate the Supreme Court's guidance on balancing private property rights and local government jurisdiction of oil and gas operations in Colorado," Hickenlooper said in a prepared statement.
"We believe collaboration is better than litigation and careful regulation is better than legislation to strike balance. ... We'll continue to work creatively and energetically with communities and industry to ensure our world-class environment is protected while remaining a place that is welcoming to business and jobs."
Colorado Oil and Gas Association president Dan Haley said the court "sends a strong message to anyone trying to drive this vital industry out of the state that those efforts will not be tolerated. Bans and moratoriums on oil and gas are not a reasonable or responsible way to address local concerns."
But the notion that people lack power to keep industrial activity out of their neighborhoods still rankles.
"I feel strongly about fracking," said Ariana Strout, 18, of Longmont. "A city can't control its own fracking? That upsets me. A city should have the power to control what goes on within city limits."
In western Colorado, companies are drilling new wells behind sound walls in the Battlement Mesa community where Doug Saxton, 71, and his wife retired. The rulings will weaken efforts by Battlement Concerned Citizens to oppose new drilling, said Saxton, a co-coordinator of that group.
"This subtracts another potential layer of protection for us," he said. "Now the county can say: 'We can't control this. The state is going to approve it anyway.' We're trying to ensure they understand the significance of having wells drilled within 1,000 feet of your home, in some cases two well pads within 1,000 feet. It is loud. It is dirty. It is pollution — potentially hazardous to our health. We have a lot of people here who have asthma conditions, including my wife."
Conservation groups called the rulings disappointing.
"We believe that good policy-making happens from the ground up and that local communities are best-suited to make decisions about what happens with oil and gas drilling within their borders," Conservation Colorado director Pete Maysmith said.
"We'll continue to stand with the communities. ... Their concerns have not gone away with today's rulings."
The industry wields threats of litigation against communities that try to plan land use, he said. "In order to combat this hammer, local governments must be empowered with better tools to protect their citizens from heavy industrial drilling."
U.S. Rep. Jared Polis lamented "a blow to democracy," although local land use rules can coexist with state regulations.
"Now that the law has been interpreted, it's up to the state legislature or the people of Colorado to act to protect our neighborhoods and homes," Polis said. "I look forward to continuing to help advocates in these efforts to protect our communities."
The rulings build on Colorado law that has given state authorities an overriding interest in orderly production of oil and gas. Under Colorado's split estate legal system, ownership of underground minerals confers property rights.
State lawmakers created the Colorado Oil and Gas Conservation Commission to promote the industry with protection for public health and the environment.
The legal battles over state versus local power arose after Longmont leaders in 2012 imposed rules for oil and gas activity. Colorado's attorney general at the time, John Suthers, sued the city. Longmont voters responded by banning fracking.
In 2013, Fort Collins voters passed a five-year moratorium on fracking inside city boundaries.
State attorneys, joining the oil and gas industry, argued that state regulators should have the final say in conflicts over drilling and that the local measures negate this state power. Hickenlooper and state officials have said local authorities, while they do have some power to guide land use, cannot get in the way of state regulators in dealing with oil and gas.
On the other side, the attorneys for Fort Collins and Longmont argued that local measures didn't prevent companies from producing.
Lower courts in Boulder and Larimer counties rejected the ban and moratorium. The cities appealed, asking the Colorado Court of Appeals to restore local control. Last August, the appeals court asked the Colorado Supreme Court to rule.
The rulings Monday build on the 1992 Voss case, in which the court ruled Colorado's interest in oil and gas development was strong enough to override a municipal ban in Greeley. The Voss ruling did not totally block what locals could do without impeding state interests.
High court justices who 144 days ago heard arguments from Longmont and Fort Collins noted that law and industry technology have changed since 1992. They said they'd explore whether Colorado's interest is "sufficiently dominating" and the test courts should use to decide.
The rulings will bolster anti-industry campaigns, Rocky Mountain Food and Water Watch director Lauren Petrie said. "People are saying enough is enough and they don't want fracking in their backyards," she said.
"This is going to give everybody more reason to go out and get these initiatives passed — so that we can restore our right to protect our air, land and water, our families and our health, from industrial activity."