Could Florida's Youth Tip The Scales In 2018 Midterms?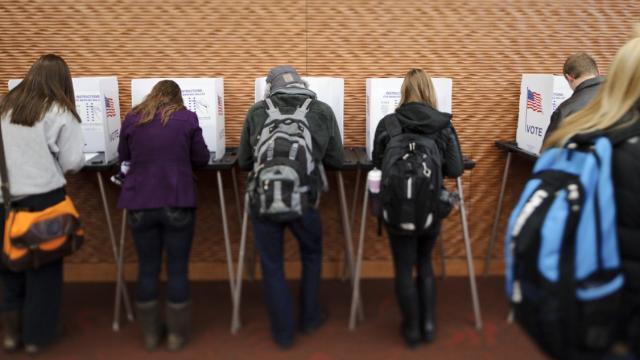 A big part of Florida's image is the home it represents to America's seniors. It's an image portrayed repeatedly in TV shows and films, and it's also backed up by data: About one in five residents of the Sunshine State are 65 or older. But Florida's population is diverse and it politics vary by region; the panhandle is redder while the southern part of the peninsula is bluer, making Florida what many observers call a purple state.
Yet with this year's midterm elections expected to go down to the wire, an unexpected voting bloc could make the difference. Contrary to typical voting patterns in the state, especially during midterms, the major factor this time could be the impact felt from Florida's youngest voters, ages 18-24.
Since 1980, about 40 to 50 percent of 18- to 24-year-olds nationally have voted in presidential election years. The number is more like 70 percent voter participation for those 65 and older. But during midterms, total voter participation drops by about a third. Despite this, organizers seeking to get young voters to the polls are optimistic many will turn out next month in Florida.
"I really do see a shift happening. Many students are eager to vote, not just register," Megan Newsome, 22, told Occupy.com. A 2017 graduate of University of Florida, Newsome now works as a Puffin Democracy Fellow at the Andrew Goodman Foundation, a nonpartisan non-profit dedicated to expanding the number of people who vote.
Florida's youth, specifically the survivors of the Parkland, Fla., high school massacre in February, have taken center stage in the media spotlight this year – most evidently in March, when students from Marjory Stoneman Douglas High led the "March for our Lives" rally in Washington D.C.
"When politicians send their thoughts and prayers with no action, we say, 'No more'! And to those politicians supported by the NRA, that allow the continued slaughter of our children and our future, I say get your resumes ready," student David Hogg told the crowd.
 
Turning Outrage Into Action
Three weeks after the Parkland massacre, the Republican controlled state legislature passed gun control legislation. Republican Gov. Rick Scott signed it into law despite objections from the National Rifle Association.
Now, with less than three weeks to go before the midterms, Florida youth are facing an even steeper climb. In the 2014 midterms, less than a quarter of the students at University of Florida voted. In 2016, the number was 64 percent, according to the National Study of Learning, Voting, and Engagement. Nonetheless, "I'm optimistic we can get to 40 percent [this election]," added Newsome.
Newsome was instrumental in getting early voter access for students at University of Florida. Florida Secretary of State Kenneth Detzner failed to provide access for early voting at college campuses. But Newsome along with other advocates directly lobbied Florida legislators to implement a law allowing early voting on college campuses.
The League of Women Voters also sued Florida's secretary of state, and in July, a federal judge ruled in favor of the plaintiffs. As a result, in this year's midterms, students at University of Florida will be allowed to vote early on campus.
Why is this important? Because for many students who live off campus, the time it takes to get to campus to vote while fulfilling their other daily responsibilities as a student can be a burden on election day. "It's [a matter of] accessibility, not apathy," Newsome said.
 
What's at Stake
Two races in Florida are of national interest: The U.S. Senate race and the governor's contest. Currently the senate race is a dead heat between Republican Rick Scott and Democrat Bill Nelson. Depending on the poll, either candidate is ahead by single digits. In the governor's race, Democrat Andrew Gillum has a lead of about four points over Republican Ron DeSantis, according to the latest polling data.
Almost immediately after the Florida governor primaries ended, the race between Gillum and DeSantis attracted national attention when DeSantis told voters to "not monkey this up" by voting for Gillum, an African-American. DeSantis was accused of using coded racist language to rally his base, a claim DeSantis denies. DeSantis has made no secret that he is a Trump supporter.
"Unfortunately, race will be a major factor in the campaign," Dr. Sharon Austin, professor of political science at University of Florida, told Occupy.com. "Primarily [Gillum] is trying to put together a multi-racial coalition, the same type of coalition Barack Obama had, focusing on Progressive issues, targeting young voters."
President Obama endorsed Andrew Gillum on Oct. 1.
At 39, Gillum is the mayor of Tallahassee and an alumnus of Florida A&M University. The university's College Democrats has been active in registering and providing election information to voters. If Gillum wins, he will become the youngest governor of Florida in decades and the state's first African-American governor.
Meanwhile, Florida Republicans are also organizing events to get voters to the polls, with Capital Young Republicans hosting phone banks among other activities.
Early voting at University of Florida will take place from Oct. 22 through Nov. 3. Florida State University and Florida A&M University will not have early voting. In Miami-Dade County, Florida International University will host early voting. The Florida secretary of state's office has more information about voting, including locations for election day voting.