Deadlines Looming, Public Debates Dangerous Oil-By-Rail Plans in Pacific Northwest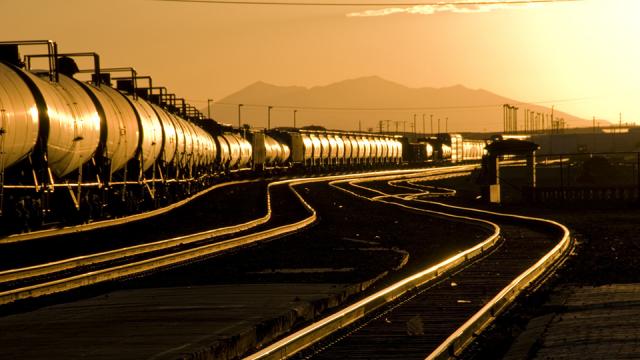 For a region with no fossil fuel resources to speak of, the Pacific Northwest has been awfully busy tangling with coal, oil and natural gas companies vying for access to our ports and infrastructure. On the heels of several defeated proposals (some are still active) for coal export facilities, Washington and Oregon ports are now seeing a dramatic increase in oil-by-rail and attendant plans to increase storage and shipping capacity.
The oil in question is a volatile, light crude fracked in the Bakken formation of North Dakota and transported via mile-long trains comprised of a mix of tank cars – from state-of-the-art to the dangerously obsolete, running on aging tracks that traverse many large-population centers. The Bakken oil boom has led to a 57 times increase in oil-by-rail across the country in the past five years, which has led to more than a dozen literal booms and spills – and scores of deaths – as trains have collided, malfunctioned or derailed.
Unlike the coal terminal proposals, which aim to ship more coal overseas, the oil-by-rail proposals are for the moment, anyway, aiming for business with domestic refineries. It's still illegal to export U.S. crude oil, although opposition to the 1975 ban is growing among oil-state lawmakers and fossil fuel powerhouses like the American Petroleum Institute, which plan to invoke international trade rules in their legal challenge to the law.
The Port of Grays Harbor, which has terminals in Hoquiam and neighboring Aberdeen, Wash., is currently fielding three proposals for crude oil capacity expansion. The three independent proposals are as follows:
Westway Terminals, LLC is an existing tenant of the Port's Terminal 1. The company is seeking to build four new tanks for a total of eight tanks on its property, in order to store 42 million gallons of oil at a time with a potential annual capacity of 750 million gallons.
Another current tenant of Terminal 1, Imperium Terminal Services, LLC, a subsidiary of Imperium Renewables, currently ships biofuels through its property on the Port. The company's main business remains in biofuels but despite CEO John Plaza's stated commitment to "producing clean, renewable and sustainable alternative fuels," the company is turning to crude oil as a stop-gap until the market for biodiesel grows. Imperium is looking to build crude capacity of up to nine storage tanks for an estimated capacity of 30.2 million gallons – or a whopping 1.26 billion gallons of annual throughput.
The third proposal comes from Grays Harbor Rail Terminal, a subsidiary of US Development Group, LLC, which is approved to lease a property on Terminal 3 and is studying the viability of constructing a crude-by-rail facility. USD currently operates crude-by-rail terminals from the Bakken, and from the Niobrara shale formation in Colorado, to ports in Texas and Louisiana as well as various biofuel operations on the East and West coasts.
The Westway and Imperium proposals are now in a joint period of public comment to establish the scope of their environmental review. The agencies leading the review are Washington's Department of Ecology and the City of Hoquiam. Environmentalists and concerned Washington residents have raised objections that the comment period was not publicized widely enough; that community input has not been adequately solicited; and that many areas that will be impacted by oil train traffic, including Spokane, Tri-Cities and Vancouver, Wash., are not being consulted.
Two hearings are upcoming:
In Hoquiam:
WHEN: April 24, 5pm - 9pm with public comment period beginning at 6pm WHERE: Hoquiam High School Commons, 501 W. Emerson Ave, Hoquiam
In Centralia:
WHEN: April 29, 5pm - 9pm with public comment period beginning at 6pm WHERE: Centralia High School Commons, 813 Eshom Rd, Centralia
Comments can also be submitted online here, through a form that misleadingly calls the proposals "Westway and Imperium Renewables Expansion Projects."
Real-life examples of the potential hazards of oil-by-rail transport are not hard to find. From the tragedy of the massive explosion in downtown Lac-Megantic, Quebec, which killed dozens last summer, to the charred and polluted residue of a derailment in Aliceville, Alabama, the immediate risks of moving crude oil outweigh even the risks associated with coal transport trains, notorious for the carcinogenic trails of dust they leave across towns and landscapes.
Make no mistake: oil spills are the reality of transporting oil. And in the Pacific Northwest, where so many workers depend on oil-free waterways, from the fishing to the tourism industries, the threat is all the more grave.
But even the immediate risks posed to a train's surroundings are secondary to the threat of climate change – and the extreme focus on the dangers of oil-by-train transport opens a door to the thin argument that what we really need are more pipelines. Spurious connections have been drawn between the recent train disasters and the Keystone XL pipeline delay. To be clear, the Keystone pipeline would transport tar sands from Alberta, Canada, not fracked oil from North Dakota. But there is no safe way to extract or transport fossil fuels when the plan is, ultimately, to combust them. We are already beginning to feel the consequences of a human-induced warmer climate.
Amid the late-game flurry of attempts at energy extraction, we must set a precedent: climate consequences have to be shown to outweigh corporate profits. Every community and region involved in these struggles faces this challenge when they choose official channels to fight against the extraction onslaught. We submit comments and testify at public hearings to demand that every project's environmental impacts include climate impacts, cumulative impacts of all the proposed projects, and a geography of potential harm that covers us all.
We do this tedious, bureaucratic, local work because if enough people in any one of these struggles demand the big scope, they will get it – and a precedent will be set. And any one, principled decision favoring climate over capital is a tool for us all.