Declared "Heroes," Montrose 9 Sentenced for Blocking Spectra Pipeline Construction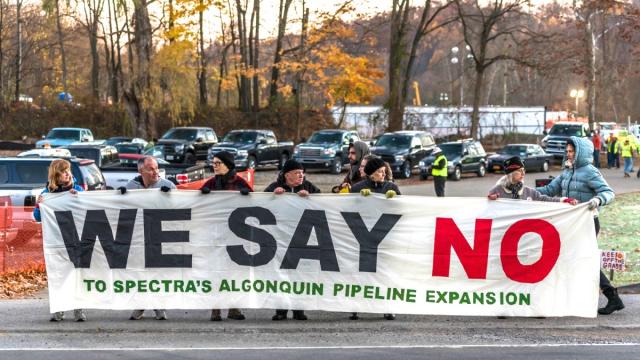 Nine New York activists known as the "Montrose 9" received sentences of fines and community service on Friday for their misdemeanor crimes blockading access to a Spectra Energy construction yard in November 2015.
Following the verdict, the activists filed an appeal on the stance that their actions were necessary to prevent harm to the public by halting construction on Spectra's AIM pipeline, a high-pressure, 42-inch pipeline transporting fracked natural gas dangerously close to critical safety infrastructure that protects a decaying nuclear facility less than 50 miles from New York City.
If the pipeline ruptures near the adjacent nuclear facility, the catastrophe could force more than 20 million people to evacuate. Martin Stolar, of the National Lawyers Guild, is arguing the activists' defense strategy, known as "necessity defense," has precedent in other instances – like breaking and entering a burning school building to save a kindergarten class trapped inside, and more similar cases like the "Delta 5" in Washington state.
It was a legal landmark that Courtlandt Town Court Judge Daniel McCarthy even considered hearing this defense, though he rejected the activists' argument. The sentencing was handed down on the same day, Jan. 6, that New York Gov. Andrew Cuomo announced a plan to shut down the Indian Point nuclear power plant.
McCarthy's decision, made before a crowded courtroom of Montrose 9 supporters, came despite testimony from nuclear and pipeline experts, public officials and community members who criticized the pipeline's proximity to Indian Point, explaining that it creates unwarranted health, safety and environmental risks at local, regional and even global levels. The nine activists were each instructed to pay $375 in fines and service fees and five hours of community service.
The defendants were unmoved by the court's decision.
"It's difficult for me to think of myself as 'guilty' when I was trying to stop a possible catastrophe," said Linda Snider, one of the nine defendants. "The first part of the Spectra pipeline is now in place and running under the Hudson, right next to a proposed oil barge anchorage site and Indian Point Nuclear Power Plant in Tompkins Cove. What could go wrong?"
Spectra Energy was not reached for comment. But in December, following the Montrose 9's guilty verdict, Spectra spokesperson Marylee Hanley told the Peekskill Post, "We agree with the decision of the court." Hanley added, "We respect the right of individuals to protest, except when those actions violate the law and create potentially unsafe conditions."
The defendants' argument hinges on the interpretation of "imminent danger" – in this case proving that the pipeline construction blockade was necessary to prevent a disaster far more harmful to the public's interest than the damages the corporation suffers for reduced productivity. The defendants face the additional burden of proving evidence that all other legal and regulatory avenues for reform were exhausted prior to breaking the law.
Stolar filed an appeal with the appellate division of the Westchester County Supreme Court. This is not the first case in which Stolar made the necessity argument in defense of climate activists. Stolar is seen here answering questions following the Montrose 9 sentencing.
"I am extremely disappointed with respect to the necessity defense, which seems so obviously true," said Stolar. "[The defendants] are heroes, not criminals."
Strong Defense
Prior to risking arrest, the Montrose 9 activists attended every open house, scoping meeting and hearing on the AIM pipeline. They led postcard and letter writing campaigns, held community engagement meetings and met with public officials, winning many of them over to their cause. This was all presented as evidence to Judge McCarthy. And even internationally renowned nuclear expert Paul Blanche, in addition to physicist and pipeline expert Paul Moskowitz, testified on the defendants' behalf, speaking of the overlooked danger and urging intervention from the federal regulatory commission for energy infrastructure projects.
Despite the actions taken by the Montrose 9 and other activists to prevent Spectra Energy from finishing construction on the pipeline – and in addition to opposition from local residents, officials, Gov. Cuomo and U.S. senators Chuck Schumer and Kirsten Gillibrand – natural gas has been flowing through the AIM pipeline since the start of 2017.
Westchester County Assistant District Attorney Janelle Armentano and Supervisor Anthony Molea did not call a Spectra Energy representative as a witness in the Montrose 9 case. Four police officials were called as witnesses, and one high-ranking official complimented the activists' professionalism and courtesy, seeing this as a first amendment rights issue. In his testimony, the official said he was more concerned for the local activists' safety during the blockade, because the Spectra Energy pipeline workers were from out of town, not members of the community.
The activists are now in the process of purchasing court transcripts, at which point they will make the document publicly accessible. "All of the pieces of government have failed us, and now the judicial system has failed us," said defendant Mike Bucci. "Where do we go for protection?"
Due to government's inability to halt the Spectra construction at the community's request, regional activists are planning more direct actions.
"Although we have been found guilty, it will not deter us from continuing to peacefully fight the next two segments of the Spectra pipeline every inch of the way," said defendant Monica Hunken. "Whatever punishment we receive is a small price to pay for defending the land, air, water and our precious communities."
Risky Business
To date, Spectra has only completed one of three adjacent pipeline expansion projects connecting the Northeast Atlantic region and Canada. The Algonquin Pipeline Expansion takes its name from a populous and widespread network of North American native languages and communities known as the Algonquian peoples.
The activists believe Spectra Energy has intentionally disguised the project as three independent pipelines – employing a loophole know as "segmentation" – in order to circumvent its legal obligation to submit documentation to the Federal Energy Regulatory Commission (FERC) identifying the collective impact of the three projects as a whole.
Spectra Energy says the gas flowing through the AIM pipeline is needed for cold northeastern winters, but the activists say that gas is intended for export as liquefied natural gas. In 2015, Massachusetts Attorney General Maura Healy published a study showing that the Northeast does not need the gas that Spectra is claiming to provide. In 2016, Spectra Energy was caught attempting to pass along to Massachusetts consumers the costs of signing up for pipeline gas, prompting utility companies to withdraw doing-business petitions.
In early 2016, Gov. Cuomo called for an immediate halt to construction of the pipeline while the state conducted an independent risk assessment. Later that summer, senators Schumer and Gillibrand wrote to FERC calling for an immediate halt to construction of the pipeline as well, remarking on the "continued public comment in opposition to this project" and "considerable opposition from affected communities and elected officials." FERC denied both official requests.
In November 2016, revelations showed that Phil Suter, the spouse of Maggie Suter, a high-ranking FERC official who led the review for two other pipeline projects proposed by Spectra, is a paid consultant for Spectra.
Leading the Opposition
Most of the Montrose 9 defendants are involved with the group Resist Spectra, a grassroots organization leading the fight against the pipeline. "Spectra Energy's 'Algonquin' fracked gas transmission expansion to the Maritimes is illegally segmented into three parts – AIM, Atlantic Bridge and Access Northeast," said Kim Fraczek, an organizer with Resist Spectra and a co-director of the Sane Energy Project, which also opposes the company's efforts. "This illegal segmentation allows them to break our laws and get around cumulative impacts reviews. It also confuses the public to avoid meaningful public input and engagement."
"Resist Spectra and its allies across the northeast will continue to oppose this project that puts our health, safety and democracy at risk," added Fraczek, who was among the nine defendants. "We will oppose Spectra Energy's reckless plans, rampant greed and toxic proposals at every stage. These pipelines and their supporting infrastructures are destructive and put tens-of-millions of lives, communities, and the ecosystems on which we depend at risk of imminent danger."
As defendant Kathleen Thomas stated in court to Judge McCarthy: "The response to our plea has to do with the word 'imminent.' When the real danger is imminent, it will be too late. Once this becomes imminent, we are all gone. There will be no chance to say 'I told you so.'"
William Fowler is a freelance journalist based in Brooklyn, NY. Follow him @williamdfowler.
If you like what you read, please fund more original reporting at Occupy.com and help hold corporate and government power to account!