The DHS Database of Journalists Will End Independent News Media as We Know It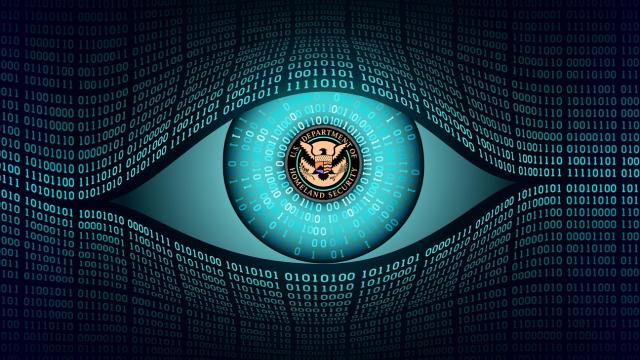 What do Standing Rock, Charlottesville and Donald Trump's inauguration ceremony all have in common? Journalists were arrested or physically assaulted for paying attention to the protestors there.
Alexei Wood, a freelance photojournalist, faced multiple felonies including "rioting" because of his coverage of the massive protests at Trump's inauguration. He was later found "not guilty," but not for lack of trying.
At Standing Rock, police shot at least one journalist in the abdomen using barely-less-than-lethal force. Nearby hospitals rendered treatment to more than 300 individuals who took part in the protests there that were in response to the threat posed to native peoples' drinking water by the Dakota Access Pipeline.
Now, America, once a beacon of democracy and free thought in the world, appears to be rounding the corner into a full-blown police state thanks to the Department of Homeland Security. While we're busy fretting over the president's links to Russia and porn stars, the DHS is quietly hammering the last few nails in the coffin of independent journalism and freedom of speech.
Here's how they plan to finish the job.
 
Building a Searchable Database of American Journalists
The DHS has been growing into a vicious human rights disaster for years, but its resemblance to a state-funded propaganda mechanism is clearer than ever today. The department is now seeking a corporate contractor to help it build a searchable database of American journalists as well as the means to monitor 290,000 news sources from across the world.
DHS spokespeople claim this is all routine, "standard practice" to "monitor current events in the media." Unfortunately, for those who read between the lines, it's clear the request represents something much more.
By engaging the services of big data firms to take its surveillance apparatus to the next stage, the American government is signalling, and precipitating, the death of independent journalism. As the examples above demonstrate, journalists aren't only considered a threat to democracy, national security or American sovereignty. They are also a threat to the pro-corporate narrative and the career politicians who rely on piles of money from oil companies and weapons manufacturers to win each election cycle.
 
What Does the Database Include?
The 290,000 global news outlets in question cover all strands of modern media, including print, digital and broadcast. Specifically, the DHS says it hopes to target individual industry professionals – bloggers, journalists, editors, correspondents and other "influencers" – to determine their sentiment on current events. The DHS claims it will share this searchable database as a matter of course with local, state, federal, tribal and private partners in the name of national security.
But precisely who these partners are, what they want, what they intend to do with the information, and who will hold them in check, remains a mystery. Freedom House, a watchdog organization focusing on press freedom, is already on record saying that the state of independent journalism on a global scale is at its lowest point in the last 13 years, according to CBS News.
If it ever comes to fruition, the searchable database will finish the job. It would include personal identifying information on any person the DHS unilaterally decides is worth its attention – including names, addresses, phone numbers, employment history and more.
 
Why This Matters Now More Than Ever
What's at stake isn't just objective, truthful, independent journalism covering American domestic affairs. It's also Americans' understanding of global events and politics. The move by DHS is widely expected to have a "chilling effect" on the number of journalists applying for visas to travel overseas and report on what they see there.
One example of the kind of harmful impacts the database could wreak concerns the corporate media coverage of Syria. You've almost certainly heard stories about the death of Aleppo's last doctor, or the bombing of its last hospital into oblivion. You'll also quite often hear assertions that Russia carried out some of these bombings or, more recently still, swooped in to alter or destroy evidence of the recent alleged use of chemical weapons in the country.
You should take claims such as these, to put it mildly, with a heavy pinch of salt. The news out of Syria as delivered by corporate media outlets, and as understood by the average American, is actively manipulated and, in some cases, outright fabricated. For example, reports said that Bashar al-Assad murdered a freedom-minded Syrian songwriter – a story that was reproduced throughout the world, yet is false. Despite reports, the singer is alive and seeking asylum.
Another widely reproduced mainstream media story claimed that Aleppo's last hospital was reduced to rubble by "radical sectarians" – a narrative meant to help vindicate America's decision to send weapons and aid to the so-called "moderate sectarians" instead. When independent journalists landed in Aleppo, they found at least one of these hospitals still standing. A retraction corrected the record, but not before the story was published and shared millions of times. The lesson: If all we have is corporate media to trust, can we trust anyone any longer at all?
 
The Chilling Effect is Real
Profits are on the line, and free speech is dangerous to profits. But this administration knows it can't attack freedom of speech head-on, not exactly, so it's building a backdoor into it instead. America has always had State Media: we've just never worked up the nerve to call it that in broad daylight.
But after DHS gets its way, and without a robust independent journalistic community to fill the void where the truth used to live, what other choice will we possibly have?