Europe Calls Into Question the Legality of Trump's Trade War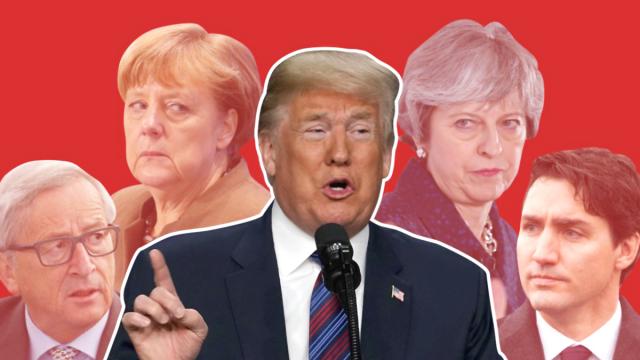 The U.S. is getting locked in a spiraling trade war with Europe that may see no winner – but plenty of losers – after President Donald Trump last month imposed trade tariffs of 25 percent and 10 percent, respectively, on imports of steel and aluminium from the European Union.
The E.U. responded by proposing trade sanctions on 2.8 billion euros ($3.25 billion) worth of American goods including Bourbon whisky, Levi jeans and Harley Davidson motorcycles. Now, the U.S. plans to impose a 25% tariff on $50 billion in Chinese goods as well. Threats are also escalating to impose tariffs on Canada and Mexico. The legitimacy of what Trump is attempting to do is being widely called into question.
"I think the legality of Trump's actions is a good place to start, because that partly affects how other countries will respond and therefore what the broader impact is going to be," Julian Jessop of the U.K.'s Institute of Economic Affairs told Occupy.com.
"These tariffs aren't even legal under U.S. law, let alone World Trade Organization (WTO) laws. Trump is justifying the latest tariff on the basis of national security under the Trade Expansion Act, which is frankly a bit of a push. It seems rather odd to be citing national security and targeting lots of countries including some of your closest native allies."
Jessop believes that imposing tariffs on China makes some sense, but Trump's motives for imposing sanctions on other countries are suspicious.
"If you were making points about dumping (goods), there might be some justification for imposing tariffs specifically against China, but it's not obvious that the U.S., U.K., the rest of Europe, Canada or Mexico are dumping steel on the U.S.," he said. "U.S. law is obviously the precedent so he'll get someone to agree with him on that, but international law is the thing. The E.U., if it has any sense, will issue a legal challenge within the WTO against all this. The problem is that may take a year or two to resolve."
In any case, he added, "Trump is basically making a political point but the economics are against him and I think that will become increasingly clear over time. It seems to be about once every decade or so that the U.S. imposes tariffs on steel and aluminium imports. George W. Bush did it in the early 2000s and it was widely recognized then that that was a mistake."
The aluminium industry in particular is feeling the heat from Trump's threats – and his incredulous rationale for raising tariffs.
"We're close allies of the U.S. and we're considered strategic partners, so we believe we should be unconditionally exempt from these tariffs," Tom Jones, CEO of the U.K.'s Aluminium Federation told Occupy.com. "The claim that aluminium imports into the U.K. harm U.S. national security is without any foundation or merit. The action of the U.S. government is protecting its industry from excess production."
Jones agreed that only the sanctions against China make any modicum of sense. "They're actually targeting the wrong trading partners. It does little to address the challenges of oversupply from China," he said. "All it does is alienate the E.U. and Canada."
Jones added that the U.S. may ultimately come off worse in the sanctions war. "The U.S. is the place where jobs will probably mostly be affected. Consumers won't want to apply the additional tariff on products. The U.S. is heavily dependent on imported aluminium and it's a crucial raw material for their industrial sectors, so in the U.K. we'll see less effect on jobs because our exports to the U.S. are quite modest and U.K. industry is quite resilient when it comes to finding other customers."
Jessop summed up the E.U. trade situation in regards to Trump: "It's like wild animals rutting: They have fights but it's against their interests to have a proper fight and risk killing each other. Every now and again we have these fights but it never comes to much."