Fight for $15 Takes On Campus Wages, Elevates Role of Universities In Labor Activism
This article originally appeared on
Al Jazeera America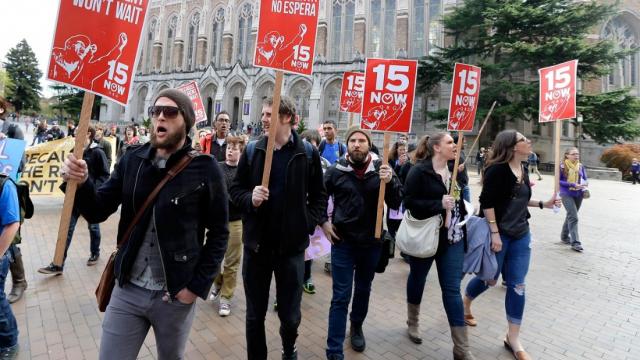 College campuses are a new front in the campaign for a national $15 minimum wage.
This fall, after pressure from activists, the University of Washington announced that it would raise the hourly wage for campus workers to at least $15 by 2017. Within a month, the University of California followed suit, raising wages across the public school system's 10 campuses and five medical facilities.
As Lydia DePillis and Danielle Douglas-Gabriel subsequently reported for The Washington Post, "Students at about 20 schools, including University of Maryland at College Park, Columbia University (New York), Northeastern University (Boston) and San Francisco State University, are mounting campaigns demanding better pay" for all campus workers, including students.
Going into 2016, these campus-based drives are adding momentum to the effort to bring a $15 minimum hourly wage to all parts of the country. The movement has made substantial progress in the last two years, mostly at the municipal level. Seattle and San Francisco passed $15 an hour wage ordinances in 2014, and in July 2015, Los Angeles followed suit.
Universities and the medical centers that are often attached to them are major players in local labor markets. According to the Institute for a Competitive Inner City, "so-called 'eds and meds' … provide 11 percent of jobs" in American inner cities. As urban studies theorist Richard Florida notes, "Across the nation, eds and meds make up roughly 13 percent of total employment in U.S. metros."
The challenge for communities is to make sure that these jobs pay enough that all employees are able to escape poverty and support their families. The Brookings Institution found in 2008 that the eds portion of university employment "pays about 14.5 percent less than the average industry for a given set of worker characteristics." Even while cities are increasingly turning to these institutions to attract highly skilled workers, lower-paid support staff members at these workplaces are witness to growing inequality.
Fortunately, there has been a significant uptick of labor activism on college campuses in the past five years, with graduate students and adjunct faculty members demanding the right to join unions. As universities depend increasingly on part-time lecturers and professors without long-term contracts to teach their classes, adjunct faculty members are organizing for fair wages and working conditions. Over the past year, scores of universities in at least 23 states have had union drives — and university administrators and trustees have fiercely contested them.
Already, the American Federation of Teachers represents 90,000 adjunct faculty members, and thousands more are members of the Service Employees International Union or other unions. Graduate students are organizing on campuses such as Boston University, Indiana University and the University of Southern California, and even some student athletes have petitioned the National Labor Relations Board to recognize a union for them.
The fight for a $15 minimum wage for campus workers is taking place in this energized milieu. It draws on an important history of anti-sweatshop and campus living wage movements that goes back at least two decades. In the late 1990s and early 2000s, student labor groups at colleges and universities waged high-profile campaigns around labor rights, shining a spotlight both on sweatshops abroad that were making their schools' branded apparel and on the working conditions faced by janitors and food-service workers on their campuses. Students at more than 20 universities held sit-ins and occupied buildings to demand improved working conditions.
Perhaps the most visible sit-in for campus living wages was at Harvard, the world's wealthiest university. In 2001 the endowment there exceeded $19 billion, but cafeteria, custodial and security employees were making as little as $9.00 an hour, well below the $10.25 that the city of Cambridge declared was the minimum necessary to afford living there.
That April, after two and a half years of organizing, a group of more than 30 activists took over offices at the school's main administration building while others erected a massive tent city in Harvard Yard. All demanded that their university, the city's largest employer, extend a living wage to all campus employees. The campaign drew international attention, and after 21 days, the administration caved.
During the period of peak of activity in the early 2000s, Johns Hopkins, Wesleyan, Brown and the University of Virginia, among many others, won living wages and union representation for campus workers, often through the use of nonviolent direct action. At its height in 2003, one writer counted 34 ongoing campus campaigns.
These movements have not disappeared. In 2011 in San Jose, California, students from the local community college began organizing for a citywide minimum wage increase, galvanizing allies in the local labor movement. In the end, the coalition successfully defeated the Silicon Valley Chamber of Commerce and its $400,000 campaign against a wage increase, and residents voted for a living wage ordinance, by a margin of almost 20 percent.
The University of Washington and the University of California have already responded to student pressure. On their heels, students at more than 100 campuses held demonstrations on Nov. 10 to protest the rising cost of tuition and ballooning student debt, and they also demanded a $15 minimum wage for all campus workers.
If student activists can come together with university workers to secure a $15 per hour minimum wage on campuses, they can help ensure that colleges support middle-class families. Along with campaigns for living wages at the city and state levels, campuses are playing a critical role in making America's economy fairer.