Georgia Rebellion: Occupy-Style Resistance Spreads to Tbilisi to Save Public Park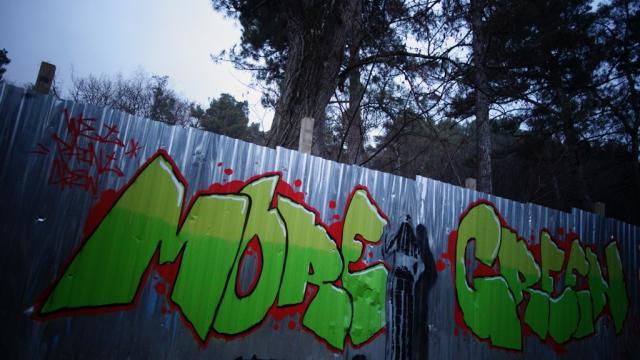 TBILISI, Georgia – A self-styled group of "guerilla gardeners" camped out in freezing temperatures since January is all that stands between the Georgian capital's most popular park and a $20 million redevelopment project that would replace public commons with a private luxury hotel.
So far the occupation is working.
"This is probably the first case in the history of Georgian civil society where people are protesting to defend the environment that has nothing to do with political parties," said 35-year-old linguist Tea Kuchukhidze from inside a cook tent stashed with dry goods, coffee, tea and other donated foodstuffs – part of a steady vigil now entering its third month. "We're defending the park and through that we're defending our right to live in a healthy environment."
At stake is a corner of Tbilisi's Vake Park, a Soviet-era park built after World War II whose trees are dwarfed by granite figures in the Stalinist socialist realism style one can find throughout the former USSR.
But in a city where greenspace is at a premium – private development has continued here at a frenzied pace following Georgia's independence in 1991 – citizens became alarmed when the Tbilisi city hall began allowing private developers to replace a beloved public space with private development.
Now, rather than trying to fight every park battle, protesters have staked their energies on a single aim: preserving Vake. A small encampment in which at least two to three activists keep a 24-hour vigil has so far prevented the bulldozers from rolling. On weekends they hold concerts, dance lessons and '60s-style teach-ins advertised on social media that keep the issue in the news – and the residents of Tbilisi talking about it.
"The story going on here goes on all in all of the parks of our city. So if we win here, we win everywhere," explained 25-year-old activist Data Lapauri. "It's a clash between parks or concrete."
Dialogue between officials and activists continued, though relations are at a low as distrust reigns on both sides. City officials claim the land is not public property – a matter expected to be decided by the courts as lawyers have already filed petitions for injunctions.
"They try to ignore us," Lapauri said. "They know we are right but they also know that it's not only one case, and if we win here we will not stop here."
Some are drawing parallels between the struggle over Vake Park and Turkey's Gezi Park uprising last June, which started as an effort to save a public park in Istanbul and snowballed into a nationwide rebellion against rising authoritarianism.
The difference here, says 33-year-old computer engineer Nick Davitashvili, is the attitude of police. On at least three occasions police in Tbilisi tried to clear the camp.
But a few Twitter blasts brought thousands of sympathizers, and in each case the police have backed down in the face of mass crowds intent on saving the park.
The experience of using social media to fuel protests has been instructive not only for activists but for a whole new generation of Georgians.
"Now the younger generation can see that by responding to the tweet and coming and standing here, they are actually changing something because they can turn away the police, who are supposed to be the power, just by standing here – not fighting, not screaming at them, maybe playing music or dancing," Davitashvili said.
"There is no aggression coming from them. The only thing they are doing is standing next to us."
45-year-old Natalia Peradze has been one of the most visible activists in the movement. With a background in municipal landscaping, she has become a thorn in the side of Tbilisi's landscape office whose officials, she says, refuse to negotiate their position.
The real problem, says Peradze, is the city's lack of effective zoning and planning which allows anyone with deep pockets to build whatever they like.
"It's very easy to build: if you pay money, you build it," she said. "They are changing the zoning so easy."
In a country like Georgia where power shifts happen quickly and the rule of law is fluid, no one is predicting what will happen. For the moment, the occupier activists have won a small square of greenspace and their visibility campaign appears to be working.
But the real victory will be if ordinary Georgians can make a stand without a political patron or other power force behind them. Especially as developers attempt to paint the group as unreasonable zealots.
"They try to make us look like we are extreme, that we are treehuggers who cry over every single tree that is cut – which is very far from reality," Lapauri said.