Here's How You Turn America's Low Deficit Into An Infrastructure Boom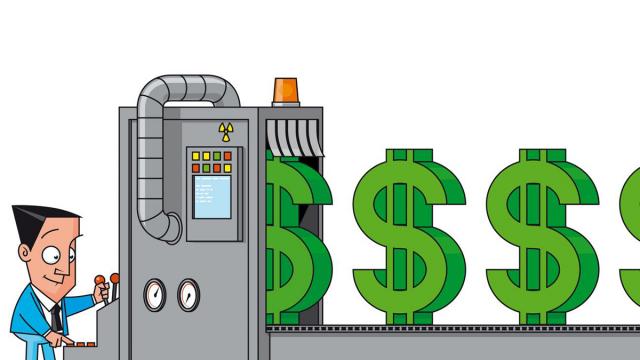 Every time liberals celebrate new low-deficit numbers, the Karl Roves, Grover Norquists and David Kochs of the world smile with glee. It proves that the right-wing has won the framing battle over federal spending, and that they will always define the terms of the debate whenever the subject of more federal spending comes up.
The Congressional Budget Office is reporting that on September 30, the federal deficit hit $426 billion – $59 billion lower than it was last year, $60 billion lower than projected in March, and its lowest point since President Obama took office. Liberals are jumping on this newsin an attempt to refute the dominant right-wing argument that Obama has been increasing the deficit since he took office. Liberals even made a Canadian letter to the editor go viral after it celebrated America's declining deficit under the Obama administration.
But all low deficits prove is that our economy is still seeing anemic job growth in the public sector, which means less money circulating in local economies, which translates to less demand for goods and services and fewer jobs as a result. Essentially, liberals making an argument for decreased public investment are doing conservatives' work for them.
"We're already of the notion that big debt is a problem, and it's really not. We're a sovereign country with sovereign currency, and we can issue as much money as we need to cover our needs," said Walt McRee, chairman of the Public Banking Institute. "Now would be a good time for government to declare that it's issuing money for infrastructure."
Currently, the U.S. government is in a prime position to borrow money to build up its outdated, aging infrastructure, as Fed interest rates remain at 0 percent. McRee pointed out the Federal Reserve could start up quantitative easing again, but use the money for infrastructure repair instead of give it to banks. We could certainly use it – the American Society of Civil Engineers (ASCE) has given American infrastructure a D+ rating, saying it would take an estimated $3.6 trillion to bring that grade up to an A by 2020.
Through quantitative easing, the Fed spent $85 billion each month in the years following the financial crisis, buying up the same toxic assets that Wall Street banks marketed to investors and pension funds with the help of complicit ratings agencies that gave them AAA ratings. A similar investment program aimed at updating roads, bridges, dams, levees, schools, sewage systems, power plants, railways, parks, and public transportation could create millions of new jobs in the short-term, and millions more when the added income from the first influx of jobs cycles through local economies. Call it "Quantitative Easing for People," if you like. And such a program would only cost half of what we spent on the banks.
Doing the math, the Fed created $85 billion a month for 72 months and gave it to the banks, totaling $6.12 trillion. If the Fed were to print the same amount of money each month and allocate for infrastructure investments beginning in January 2016, Quantitative Easing for People would only last 40 months, meeting the ASCE's goal of $3.6 trillion in infrastructure investments by May of 2019. So what would that look like for America?
Our public highways could theoretically be replaced by something resembling Elon Musk's hyperloop, in which people traveling in bullet trains going 800 miles per hour could get from L.A. to San Francisco in just 30 minutes, or people making a 2,800-mile journey from Seattle to New York could get to their destination in just 3.5 hours. We could have nationwide public internet access, making cable monopolies a thing of the past. Every major metropolitan center could have a highly sophisticated subway system, rendering highway commutes obsolete. Water storage systems and reservoirs could get a much-needed upgrade, turning floods that run off into oceans into purified drinking water. The possibilities are limitless. And the process itself is not unfamiliar – we've already done this before, and the results were a resounding success.
Between 1932 and 1957, the Reconstruction Finance Corporation was tasked with rejuvenating American infrastructure at the height of the Great Depression. Congress signed off on providing $500 million in initial capital, which would be $8.56 trillion in 2014 dollars. While the program was justly criticized for helping big business over small business, it set a historical precedent that support for mass economic stimulus in a time of economic malaise works.
"Our debt is not complicating our lives, and it's not inflationary to put that money into our economy," McRee said. "That's what money is for."