Indians March En Masse With Farmers Who Are Choosing Protest Over Death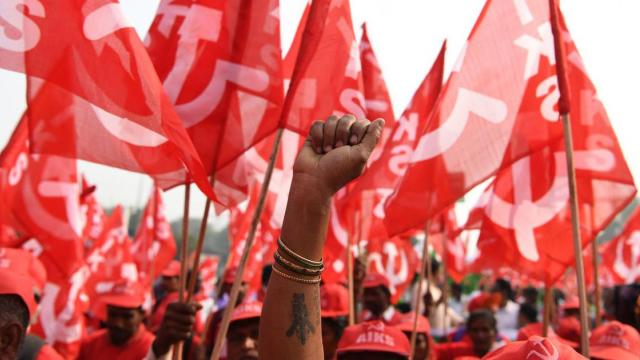 In India today, farmers often choose to die rather than grow food. The Centre for Study of Developing Societies (CSDS), in a 2014 report titled State of Indian Farmers, revealed that 61 percent of farmers in the country eat only two meals a day while 2 percent eat one meal and just 34 percent eat more than twice daily. Most farmers live in huts and only 18 percent have brick-built independent houses.
In 2018, things have gotten worse. India's virulently rightwing government may have promised to double farmers' income by 2022, but little has been actually done. Instead, increasing numbers of agricultural workers have been killed, or are killing themselves, out of desperation.
Starve or die
Hard data shows that the farmer suicide rate last year was 12.9 suicides per 100,000 farmers – higher than the general suicide rate of 10.6 per 100,000 in 2001. Last year, six farmers were killed in Mandsaur, in Madhya Pradesh, while protesting for better prices for their produce. One was only 17 years old.
Over the years, India's farmers have led many protest movements, petitioning their governments and local officers for support and resolutions of their economic issues. For example, in March of 2018, 50,000 farmers came to Mumbai for the Kisan Long March where they were able to get government to accede to some of their demands. Forty thousand of the country's poorest farmers marched 182 kilometers from Nashik to Mumbai, where they walked at night so as not to disrupt the school children's exam schedules. It was the third mass march they had organized last year alone.
Demanding the complete implementation of the loan waiver scheme announced in 2017, the implementation of the Forest Rights Act of 2006, and compensation for farmers who have lost crops due to natural calamities and damage to cotton crops following bollworm infestation, the farmers managed to achieve most of their demands. But while government responded to them at the state level, they knew that any real and lasting change had to be on the national level.
Marching to Delhi
Then, on November 30, 2018, the biggest demonstration yet, composed of many tens of thousands of farmers, marched to Delhi to demand a special session of the parliament to discuss loan and debt forgiveness. Organized by the All India Kisan Sangharsh Co-ordination Committee (AIKSCC) and the Nation for Farmers, they were joined by Mumbai's Nation for Farmers group and Kalu Komaskar, the leader of the Lal Bavta Auto-Rickshaw Union of Dombvili.
The Kisan Mukti (Freedom for Farmers) march to Delhi and had very clear aims: the farmers demanded the passage of the Farmers' Freedom from Indebtedness Bill of 2018 and the Farmers' Right to Guaranteed Remunerative Minimum Support Prices for Agricultural Commodities Bill of 2018, which would ensure them fair prices for their goods.
Hand in hand
As the farmers marched to Delhi under scorching sun, they did not walk alone. Doctors, students, teachers, homemakers and people who had earlier only been passive viewers of the farmer protests joined in. Students and doctors manned medical checkpoints passing out water and ensuring that the protestors did not suffer too much in the heat. As Dr. Jauinnuddin, a 70-year-old resident of Delhi, said, "If they die, we die. Where will be get our food?"
The doctor added that there was a huge disconnect between farmers and those who lived in the cities. "We take our food growers for granted," he said. "We think our vegetables come from air-conditioned super markets."
Krishna Prasad, who has been working for more than 10 years on these issues, said that the farmer crisis in the country has become severe. "Most people in India depend on agriculture for a livelihood," he said. "We worked with different citizen and worker organizations to create consensus on issues. For example, the issue of fair prices, getting fair wages for the work you do is not just related to farmers alone. It affects everyone."
Prasad said he believed in the power of citizen-fueled protests to change the equation. "Today the farmer is a political force. Those who ignore our voices do so at their own peril." He makes a strong point, as state assembly polls held in Chhattisgarh, Karnataka, Madhya Pradesh, Meghalaya, Mizoram, Nagaland, Rajasthan and Tripura have already seen the Modi-led government face defeat. In Chhattisgarh, Madhya Pradesh and Rajasthan, strong farmer and agriculture-related movements helped turn the tide.
Darshan Pal, one of the organizers of the march, said that the unity of the march was unprecedented. "For once the media, various collectives, students and artists are all adding their voice to ours."
"These protests are not new," added Pal. "We have been inspired by the plight of the displaced farmers from all over the country, like Tamil Nadu and Wayanad, where farmer rights have only been met with government apathy." For example, in 2017, farmers in the severely drought-hit state of Tamil Nadu protested in Delhi by putting live rats in their mouths.
Artists for Farmers, a collective of playwrights, writers, singers, musicians, poets and dramatists from all over the country expressed their solidarity, announcing, "The artists and writers of this country fully endorse the demand to hold a special parliament session to address the plight of our farmers." They held a performance for the farmers as well.
The growing influence of citizen protest
Prem Singh Ghelawat, another organizer and participant, said the "citizen" character of the movement would lead to eventual success. "Earlier all protests were done in isolation," he said. "Now we are moving forward as a people."
Veteran farmer movement volunteers like Krishna Prasad, Prem Singh Ghelawat and Satyendra Hadlee, who come from farming backgrounds and know intimately the plight of the Indian farmer, believe the recent march will go down in history for the changes it is hoped to bring. They are also realistic enough to understand that government apathy can be hard to beat. "If this does not work, we will fight till things work out," said Prasad.
"Protest is the only language we know, and we will never hesitate to use it."
Follow the author @ParoP.