It's Three Times Cheaper to Give Housing to the Homeless Than to Keep Them on the Streets
This article originally appeared on
Vox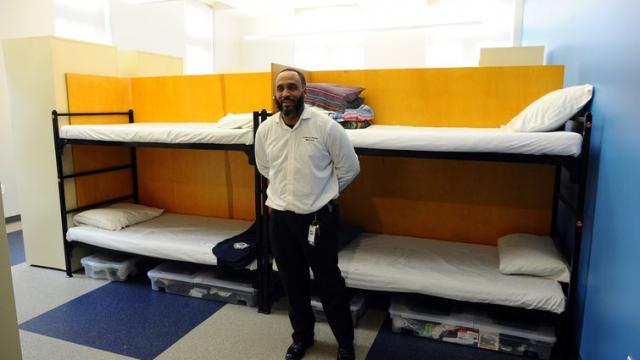 A new study is out providing support to one of my favorite ideas in public policy — that the best way to deal with the challenge of homelessness is to give homeless people homes to live in. To some it sounds utopian and it's natural to worry about the cost, but a great deal of evidence suggests that it would be cheaper to house the homeless than to let them languish on the streets and deal with the aftermath.
The latest is a Central Florida Commission on Homelessness study indicating that the region spends $31,000 a year per homeless person on "the salaries of law-enforcement officers to arrest and transport homeless individuals — largely for nonviolent offenses such as trespassing, public intoxication or sleeping in parks — as well as the cost of jail stays, emergency-room visits and hospitalization for medical and psychiatric issues."
By contrast, getting each homeless person a house and a caseworker to supervise their needs would cost about $10,000 per person.
This particular study looked at the situations in Orange, Seminole, and Osceola Counties in Florida and of course conditions vary from place to place. But as Scott Keyes points out, there are similar studies showing large financial savings in Charlotte and Southeastern Colorado from focusing on simply housing the homeless.
The general line of thinking behind these programs is one of the happier legacies of the George W. Bush administration. His homelessness czar Philip Mangano was a major proponent of a "housing first" approach to homelessness. And by and large it's worked. Between 2005 and 2012, the rate of homelessness in America declined 17 percent. Figures released this month from the National Alliance to End Homeless showed another 3.7 percent decline. That's a remarkable amount of progress to make during a period when the overall economic situation has been generally dire.
But the statistical success of anti-homelessness efforts even in the face of a bad economy underscores the point of the Florida study.
When it comes to the chronically homeless, you don't need to fix everything to improve their lives. You don't even really need new public money. What you need to do is target those resources at the core of the problem — a lack of housing — and deliver the housing, rather than spending twice as much on sporadic legal and medical interventions. And the striking thing is that despite the success of housing first initiatives, there are still lots of jurisdictions that haven't yet switched to this approach. If Central Florida and other lagging regions get on board, we could take a big bite out of the remaining homelessness problem and free up lots of resources for other public services.