A Letter from the Student Walkout for Trayvon Martin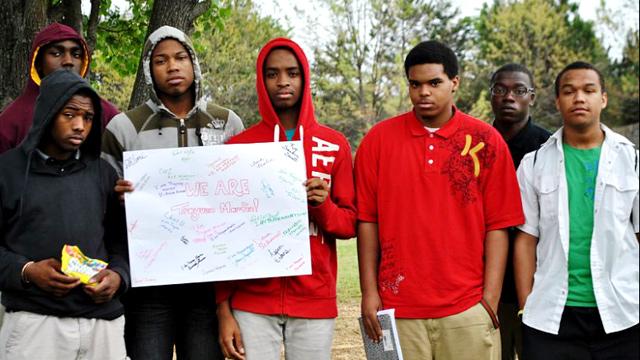 On March 26, students walked out of their classes at Mount Zion High School in Jonesboro, Georgia, to protest the racial profiling that led to the stalking and murder of 17-year-old Trayvon Martin. Facing suspension, Aspen Evans, the senior class secretary, penned the following letter to the administration.
To Whom It May Concern,
My name is Aspen Evans. I am a senior class secretary, Elite Scholars Program secretary and honor graduate for the class of 2012. I am writing this letter to signify that I take full responsibility for my actions pertaining to walking out of class yesterday, March 26, 2012.
I understand that as an administrator I can be punished for "skipping school." I would like for it to be on the record that I am extraordinarily gifted student that has had no prior disciplinary infractions on my record.
My participation in today's march/rally for Trayvon Martin was due to my need to participate in a cause that directly affects students in my age group at this school. What if that was one of Mt. Zion's own students? Would you feel differently? Mt. Zion felt the loss of students before and we are tired of the lack of concern for it. I feel that many of the students who participated in this rally as well felt the same.
I agree that there were many students who used this protest as a means to dismiss themselves from class, but I urge you to not punish the whole movement that we tried to carry on at 2:12 p.m. for a group of free-riders.
We learn about those that fought for injustice during the Civil Rights Movement and we publicly glorify them every February and MLK Day. Why is what we did any different? We simply used the civil disobedience methods of the '60s that the public schools are always drilling into our heads every Black History Month and brought them to our 21st century agenda.
What you witnessed yesterday was a student-led movement that surpassed my expectations in effectiveness.
We assembled as a student body for a cause without any confrontations for the most part. You cannot say that about most of the pep rallies and assemblies that we have had.
I would like it to be known that just because we are minors does not mean we are exempt from the First Amendment free speech right to "peaceably assemble" – which is exactly what we did. I understand that we disregarded the announcement to save this for a later date, but I feel as though that later date would never come, and that fire we saw in students today would have not flickered as bright. I am proud of the students who brought it to the administration's attention about what we were planning. I do agree that a little more planning should have been in order, such as the rally at Clayton State University, but when is the time ever right to show our distaste for injustice?
In conclusion, as you deliberate on the actions you will take to handle this widespread "insubordination," I ask you to keep this in mind for myself as well as others that participated:
We were just fighting for what was right.
We may not have done it on proper terms, but our mission was accomplished and I am proud of Mt. Zion High School for yesterday's feat.
Sincerely,
Secretary of Mt. Zion High School's Class of 2012