Mothers Challenge Social Cleansing As London's Housing Conflicts Sharpen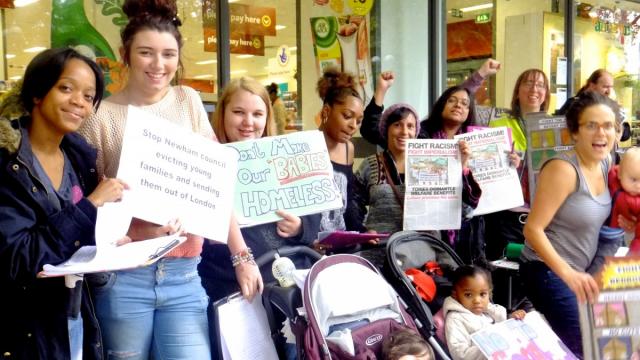 "There is no more social housing available in London. Instead the authorities throw people out of the city to make way for luxury apartments – investment opportunities for the rich that no-one can afford," says Sam Middleton.
Middleton is one of the co-founders of Focus E15 Mothers, a young single mothers group that has occupied four empty homes on the Carpenter's Estate, a mainly empty council estate located in the shadow of the 2012 London Olympic Stadium in Newham, East London.
On Oct. 2, the mothers won in their court case against the eviction, enabling them to remain in the buildings until Oct. 7.
The mothers group turned four flats into a social center, from which they're calling on the local council Newham to put people before profits. They want the council to house people in the empty properties it controls, to stop throwing people out of their homes, and to end its policies that are making more and more people homeless.
Middleton explains that Focus E15 Mothers began a year ago, with "29 young mothers who all faced eviction, with funding cut from our hostel. It was a massive shock. But we decided to stick together and fight," she says.
The hostel closure was part of London's growing austerity cuts. By letter, the mothers were told they would have to move away. But they were able to slow the hostel's closure and remained within the borough – at which point they took their message of opposition to the streets.
"We run a street stall every Saturday on the Broadway," a busy local street, says Middleton, "whether it's sunny or raining – we have even been out in the snow."
To mark the campaign's first anniversary, the mothers held a fun-day on the Carpenters Estate, attracting hundreds in support – and culminating in the occupation of the social center.
People Need Homes – and Homes Need People
"We choose the Carpenters Estate because it shows the social housing problem," Middleton adds. "The two ground-floor properties have been empty for six years, the upstairs boarded up for four years. These homes are in perfect condition."
Six years ago, University College London (UCL) made a deal with Newham Council to buy the Estate, which forced many of the residents to move out. The original plan called for 80% of the community to be cleared.
In response, local residents founded Carpenters Against Regeneration Plans, or CARP, which united with UCL students in opposing the plans to socially cleanse the area.
Today on the Estate, 600 flats lay idle. In addition, there are three tower blocks that consist of 900 potential homes – with only 30 currently in use.
Focus E15 highlights how these empty properties could immediately help to start solving the city's homelessness problems. A banner outside the social center reads: "These people need homes; these homes need people."
The latest figures show over 24,000 people are on Newham Council's waiting list for social housing. In Newham and across the country, the numbers of homeless people are steadily rising.
Middleton points out that the crisis not only reflects a waste of housing resources, but "people who lived here for over 60 years were forced out. It's appalling they do this to communities."
Inside the social center, the flats are in great condition and contain barely used appliances, including a nearly new refrigerator and cooker – making their inactivity all the more wasteful.
Investments for the Wealthy
The E15 campaign has been particularly critical of Newham Mayor Robin Wales, dubbed the "Sheriff of Newham" for his record of "robbing from the poor." Recently, Wales said the council plans to provide 3,000 new homes in the area – though according to Middleton, none of these will be council housing.
"He says a third will be 'affordable', but this means 80% of the market rate, which is in no way affordable," she says. Around Newham, scores of new luxury flats stand empty – reflecting a growing trend across London as buyers, many of them from abroad, purchase "buy-to-leave" investments.
A BNP Bank promotional pamphlet advertises London as "a capital place for investors," and specifically recommends housing speculators to choose places like Newham since the Olympics turned the area into a new "submarket for investment," on par with Central London areas. More than 24 billion pounds have been pumped into London's real estate market, 64% of which came from overseas investors, according to the brochure.
Figures from estate agent Colliers show that property speculators can make as much as 39% profit in a single year, using real estate to gain from a strengthening pound and falls in other currencies. Meanwhile, such property speculation is causing populations to decline in some of London's richest boroughs.
In Britain's second most expensive street, dubbed "billionaire's row," a large number of mansions lie abandoned. An upcoming London conference called MIPIM UK, to be held Oct.15-17, will focus on UK councils' selling of land for luxury developments.
According to Jacob Wills, an organizer with the Radical Housing Network, attendees at the conference will include developers, private equity firms, property lawyers, investors and contractors.
"The key people at MIPIM UK will be from the municipalities, local councils, looking to sell off public assets," says Wills. To justify these public-private regeneration projects, Wills says developers often include small amounts of "affordable homes," around 5% of the total portfolio.
But when the construction work is complete, the developers frequently fail to reach even these low standards, he adds. Their excuse: low cost housing prevents them from making industry standard profits of around 20%.
This was the case with the Heygate Estate, a large South London council estate that was destroyed to make way for private developers. Since then, the original promises of social housing have been lowered.
Radical Housing Network connects groups across London and beyond through skill-shares and events like the anti-MIPIM action, which brings together activists in resistance to the social cleansing trend. Wills explains that a key part of organizing around housing involves strengthening and rebuilding community – a crucial aspect of the Focus E15 social center as well.
"As you can see here, we have created a community on the Carpenters Estate," says Middleton. In the space outside the house, people are listening to an impromptu guitar performance while a kids area offers face painting and arts and crafts. Part of the grass area outside the social center has been turned into a free shop, and at the information desk people are planning events – from talks on housing rights and workshops on plumbing and electrical work, to music and poetry nights.
"This community may have been attacked, but people like us are bringing it back," she says. Her advice to those who find themselves facing eviction: "Fight, stand together and do what you know is right."
"Just remember the government should work for the people, not the other way around," says Middleton. "We need to show how they are solely acting to create profits for the few."