A New Right Rising: Can Spain Kill Franco's Ghost?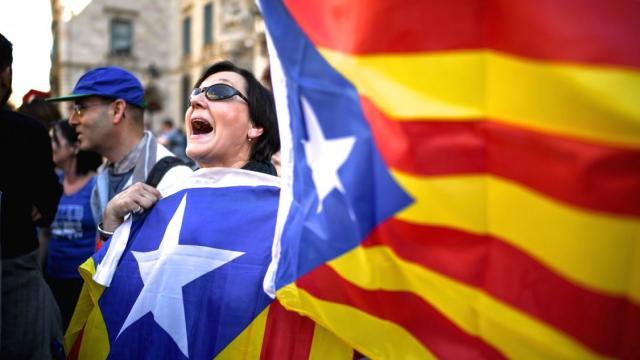 "I see a Catalan Republic as a pathway to a Spanish Republic. It needs to be a state for workers, not for multinationals," said 79-year-old Antonio Cabañero, wrapped in a red, yellow and purple flag from the Spanish Republic, 1931-39. "We must support social services for those with nothing, not even enough to eat."
Born in 1938, Cabañero lived one year in democracy before General Francisco Franco's fascist coup, which many argue Spain has never fully transitioned from.
"I will fight for a Spanish Republic until my last day," he added, standing last month in a crowd outside the Catalan Parliament as protesters continued to call for the region's independence from Spain.
 
Spain's Nationalist Surge
Life in Catalonia has felt uncertain in recent months, to say the least.
"It was shameful when the government sent the police into Catalonia. It felt like a colonial war," said Guillermo Fernández, who co-founded the Hablemos (Spanish for "Let's talk") movement which supports dialogue about independence.
"But the dominant Spanish feeling is that Catalan independence endangers Spain. The [ruling] Partido Popular are not seen as violent. They are winning rhetorically."
After Catalonia's October referendum, and the Spanish state violence that followed, thousands of people returned to Spain's squares calling for dialogue and opposing violence. "It is terrible that part of the Spanish public is very anti-Catalan. Rajoy has done the populist trick to say Catalans are rich and spoiled but keep protesting for money only to deprive other parts of Spain. And the message works," Fernández added.
He said the PP's biggest challenge today, in fact, comes not from the left nor from the independentistas, but from the rightwing party Ciudadanos.
"Ultimately Ciudadanos says nearly the same thing as PP but without the links to corruption and Franco. They have something PP doesn't. As a new party, they can manipulate the appetite for change, but with very conservative policies."
 
Breaking Taboos
Fernández explained that before the October referendum, many Spaniards didn't know – or want to know – about the independence movement that has been steadily growing over the last decade. Hablemos changed that, spreading quickly with major demonstrations in cities including Valencia, Sevile, Granada, Bilbao, Pamplona and Valladolid.
The movement went viral by filling a gap, he said.
"Even though some people hated us, I think we were more successful than expected. It was necessary to connect with the sentimient, 'Let's be civilized,' that there was in Spain, but that no political force on the left managed to articulate."
Another watershed moment was when Spain's King Felipe intervened through TV message. Filmed speaking in front of a portrait of his ancestor, Charles III, who banned the Catalan language in schools following Spain's violent takeover of the nation in 1714, King Felipe was criticized for not condemning Spanish violence outright.
"The horrible intervention of our new king, giving orders and threatening as if this were a dictatorship, has demonstrated that the monarchy does not want to lose its status. He wants the security lock of the Constitution, which protects with impunity his life of luxury and power," explained Madrid-based journalist Yago Alvarez.
Looking forward, Fernández sees space to expand the questions around the Constitution. "We need a debate over the Consitution," he said. "Not just from the territorial point of view, but about social and environmental rights."
 
Next Steps
Scotland's independence campaign in 2013-14 also drove Britain to the authoritarian right. Brexit is a little-Englander flag-waving fiasco, with parallels to what is happening in Spain. But something else happened as well: Scotland shattered the myth that "there is no alternative". Jeremy Corbyn became Labour leader and offered UK-wide options – ideas that gained much ground within the Scottish independence context.
So who could define a progressive Spain? It seems unlikely that a socially progressive Corbyn-like candidate will emerge from the Spanish 'socialist' party, PSOE.
"The fact that PSOE supported Article 155 [which justified Spanish repression, political prisoners...] is another proof of the bipartisanship that wants to eliminate any movement which can undo the hegemony of power that the 78 parties have," said Alvarez, referring to Spain's post-Franco political order that was constructed with the 1978 Constitution.
PSOE, like social democrats, have long distanced themselves from any actual social democratic policies. Considering the left-wing leaning populace in Catalonia, Alvarez said the region is greatly divided over the party.
"A large part of us are unable to see that there is a nationalist and left-wing movement at the same time. Social movements are supporting the 'right to decide,' but political parties like Podemos are afraid to support it because public opinion is very divided, even within the left, and do not want to lose votes," he added.
After surging into Spanish politics, Podemos has dipped recently. It hasn't polled over 20 percent since two weeks before Catalonia's October referendum.
Alvarez explained an opinion now common in Spain: that Podemos and the radical city hall governments have drawn energy from the streets to the institutions. "The outrage is seen and heard in the interventions of many parties within Congress but very little in the streets. Social movements are very weak because many of the most important and powerful people entered political parties."
What Hablemos showed was that the radical energy can reform quickly, given the right impetus.
Another possible ground for Spain's new left is the councils. Since 2015, these have been taken over by coalitions of grassroots democratic groups, often in confluence with Podemos.
Currently, the ruling PP has began a fight with Spain's rebel cities over austerity policies. Alvarez explained: "The PP feels very strong and is starting to make economic interventions in municipalities like Madrid and autonomous communities like Valencia. Both were indebted by the corruption of the PP, but now the new parties' management is intervening so they cannot prove that things can also be changed."
This fight will culminate in Spain's first municipal elections since the Catalan referendum, scheduled to be held in 2019. They offer a battleground for the Spanish left to take on government in a way that could, finally, redefine Spain's direction.