New York Protesters Descend on Met Museum To Oppose Naming Of David H. Koch Plaza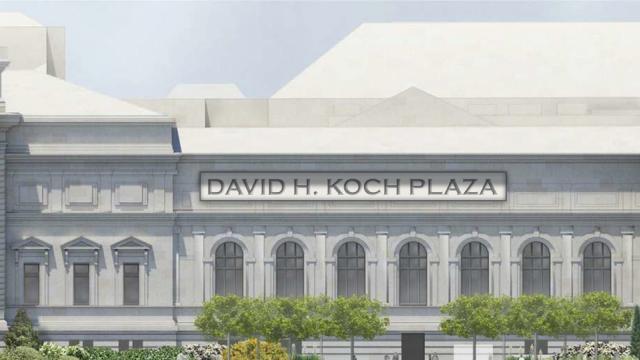 As the world prepares to converge on New York City in a mass call for climate justice, the Metropolitan Museum of Art will honor David H. Koch, a 4-star general in the dirty energy industry's war against planet earth.
The public space and two grand fountains in front of the Met's façade will be renamed the David H. Koch Plaza, following an extensive renovation.
But the people will be present at the dedication on Tuesday, Sept. 9, to stand in resistance. The celebration of this philanthropic abuse of the commons cannot pass unchallenged, organizers said.
As the policies of "The Patron," David Koch, contribute to the melting of the ice caps and the rising of the seas, activists are rallying to demand sustainable policies for culture and the ecosystem.
Occupy Museums invites New Yorkers to join a ritual cleansing of the place formerly known as David H. Koch Plaza, and will call upon the energies of resistance to rename and rebrand the plaza.
"Billionaire oilman David Koch used to joke that Koch Industries was 'the biggest company you've never heard of,'" Occupy Museums states. "Now the shroud of secrecy has been lifted, revealing the $67 million that he and his brother Charles have quietly funneled to climate-denial front groups that are working to delay policies and regulations aimed at stopping global warming, most of which are part of the State Policy Network."
"Today, the Kochs are being watched as a prime example of the corporate takeover of government," the group's communique continued. "Their funding and co-opting of the Tea Party movement is now well documented."
For more information about the action, go here.