Police Believe a Journalist Was Killed for Reporting On Fraud in the Heart of Europe
This article originally appeared on
The Washington Post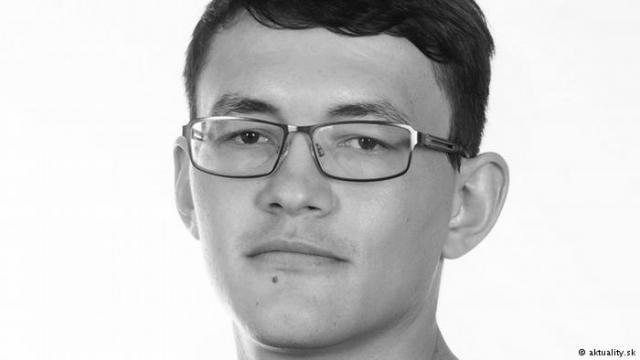 European and Slovak authorities believe that an investigative reporter who was shot to death Sunday in Slovakia was killed because of his reporting on fraud in the central European country.
Ján Kuciak, a 27-year-old investigative reporter, and his partner, Marina Kusnirova, were found dead in their apartment Sunday in Velka Maca, a village east of the capital of Bratislava.
Kuciak worked on reports about tax evasion among Slovak elites and had received threats last year from Marian Kocner, a businessman about whom Kuciak had written. The police did nothing.
[Editor's note: According to breaking news on Deutsche Welle, Kuciak's employer, Aktuality.sk, published his explosive last report at midnight on Wednesday, and cited that "the story probed links between the Italian mafia and the inner circle of [Slovak] Prime Minister Robert Fico. The unfinished article released by Aktuality.sk described alleged members of the Italian 'Ndrangheta crime syndicate living in Slovakia and their dealings in the agriculture and real estate sectors. It also detailed one mafioso's business ties to Viliam Jasan, the secretary of Slovakia's security council, and Maria Troskova, a chief state advisor."]
Sunday's killings left Kuciak's colleagues in fear and confusion.
"We are shocked and terrified by news that Ján Kuciak and his fiancee were probably victims of a vicious execution," wrote Ringier Axel Springer, the publisher for whom Kuciak worked, in a statement to the to The Washington Post. "If this crime was an attempt to discourage an independent publisher such as Ringier Axel Springer not to pursue revelations about breaking the law, we will use this occasion for further strengthening of our journalistic responsibility."
Kuciak is the second investigative reporter murdered in the European Union in recent months. In October 2017, Maltese journalist Daphne Caruana Galizia was killed by a car bomb in her home country. Caruana Galizia had reported extensively on corruption among Maltese politicians and was credited with forcing the country's prime minister to hold new elections last year after her reporting implicated leading members of the ruling Labour Party.
The president of the European Union, Antonio Tajani, condemned the killings and called on local authorities to begin an investigation immediately. "The E.U. cannot accept that a journalist is killed for doing his job. I call on the Slovak authorities to launch a thorough investigation with international support if needed for Jan Kuciak. As with #DaphneCaruanaGalizia, the European Parliament will not rest until justice is done," he tweeted on Monday.
Slovakia is generally considered a country where free expression is protected. Reporters Without Borders, a press freedom organization, ranked Slovakia the 17th-freest country for journalists in its 2017 Press Freedom Index.
Despite the tolerant environment, some Slovak officials have expressed great displeasure with the work of investigative reporters such as Kuciak. Among them are Slovakia's prime minister, Robert Fico, who in 2016 referred to some domestic journalists as "dirty anti-Slovak prostitutes" for covering alleged corruption in his administration.
Still, Fico condemned Kuciak's killing and offered a reward of 1 million euros to find the culprits. If the deaths of Kuciak and Kusnirova were in retaliation for Kuciak's reporting, Fico said, it would constitute "an unprecedented attack on freedom of the press and democracy in Slovakia."
Police officers stand guard at the crime scene where Slovak investigative journalist Ján Kuciak and his girlfriend, Marina Kusnirova, were slain in Velka Maca, Slovakia, on Feb. 26, 2018. (Vladimir Simicek/AFP/Getty Images)
Originally published by the Washington Post