Protesters Beware: Don't Get Stung By Stingrays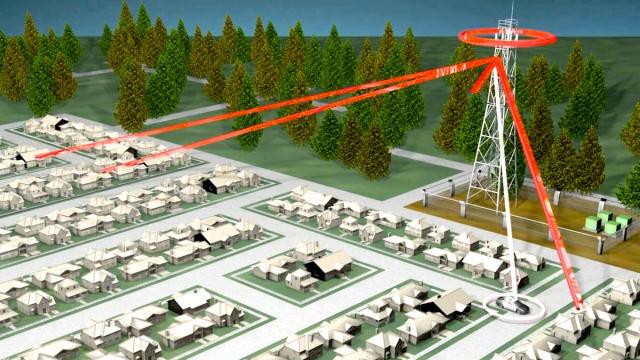 If you're planning to take to the streets in New York City this week for the S17 Occupy anniversary or the People's Climate March on Sept. 21 – or if you are planning to attend a local protest in your area instead – you need to be aware of today's IMSI technology being used by police or the FBI. This technology, also known as Stingray technology, could greatly affect the privacy of your cell phone and general protest communications.
Stingray devices and their follow-on devices, or upgraded software, can act in several ways to find out who you are and where you are. Stingrays are portable devices that can be even small enough to be carried in a pocket or car or to be placed on a cell tower.
What Is Stingray?
Stingray was one of the original surveillance devices made by the Harris Corporation and now is used as a generic term. In its active mode, a stingray device can overpower a normal cell tower transmitter by fooling your phone and up to 60,000 cell phones (and newer devices) around you into thinking it's communicating with your cell provider at a local cell tower.
Instead, your phone is sending the signal that it sends to a local cell phone tower every seven to 15 seconds to the stingray device. The Stingray can then find out your IMSI (International Mobile Subscription Identity) and your ESN (Electronic Serial Number). Older Stingray models can use this information to find out your cell phone number which can be used to identify you, the individual. According to an article in ARS Technica, new models such as Triggerfish or software-upgraded Stingrays can actually listen in on your conversations in real time.
While Stingray is in its active mode, convincing the phones around it to talk to it instead of the real cell tower, it will prevent those phones from making real phone calls or texts. You may think that your calls and texts are not going through and the only clue you may get is that your phone shows it's using 2G instead of 4G or LTE.
When Stingray is in its passive mode, it can be receiving and analyzing the cell phone signals around it or it can be used to jam those phones. Getting off the street and entering a local business or someone's apartment to make a call avoiding stingray won't necessarily work; most of these devices can go through walls within their surveillance zones.
If you're going to be protesting in New York City under the more-than-watchful eyes of the New York Police Department and the FBI, you can be sure they'll be using the most advanced version of these devices – including possibly Triggerfish to listen live to conversations. According to the American Civil Liberties Union, not only New York law enforcement but other state law enforcements as well are employing stingray technology.
The NYPD has not been forthcoming about what specific technology it uses – and phone and email requests inquiring about their use of the technology for protests have gone answered.
Legality of Stingray
According to Alan Butler of the Electronic Privacy Information Center (EPIC), the only legal way for police and government officials to use Stingray technology to eavesdrop on protestors during a demonstration is if the individuals are connected to criminal activity – and if authorities have a pen register court order to conduct the surveillance. This type of order has a lower legal requirement than a warrant, with lower standards to obtain it. A judge can sign a pen register for 60 days for trap & trace devices to see whom you have called.
Butler says police can use infractions as trivial as jaywalking or blocking the street to justify the "criminal requirement." He also says police have to capture many phone numbers around them in order to find the one they're looking for. Because of the secrecy of Stingray's use, it's hard to know how many times these devices have been employed at demonstrations to identify and monitor protestors.
Hanni Fakhoury, a staff attorney at the Electronic Freedom Foundation (EFF), said that if police want to look further into your phone call records or other phone information using more enhanced devices, they "would likely need to be authorized by a search warrant."
So how can protesters protect themselves from Stingray and Triggerfish types of devices? There are expensive jammer devices that run from $500 to $3,000, which alert you to whether your phone is being captured by a rogue tower. But there are other, less expensive ways to secure yourself as well.
Online guides exist using software to configure your phone so it detects an IMSI Stingray type of unit while it's in action, but this method is very technical and not foolproof Alternatively, there are "phone sleeves" that claim to protect your phone's information from a Stingray attack. You can also simply switch your phone to airplane mode, or just turn it off. As a final recommendation, you may want to buy a cheap temporary phone to use during protests so the phone number isn't connected to you, since it can also be diverted to Stingray or jammed.
Butler says he's frustrated with unauthorized police use of Stingray during protests because people peacefully exercising their right to assembly shouldn't, by any Constitutional means, have their phone calls and texts intercepted. If you want to know about your rights to record, take photographs and keep your cell phone data secure from police surveillance during a demonstration, see EFF's updated phone guide for protestors.
This is the first part in a series looking at Stingray technology. How local police and FBI can abuse their authority employing this technology will be discussed in an upcoming article, as well as the ongoing work by EPIC, ACLU and EFF to study and oppose the increasing use of Stingray surveillance tools.