Protests Rock Guatemala As President Faces Threat of Impeachment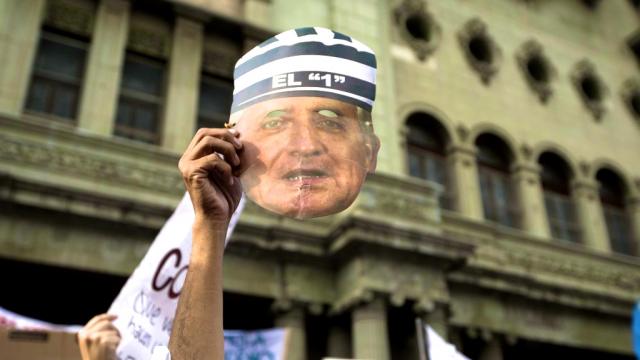 Pressure to impeach President Otto Pérez Molina over his alleged involvement in a major corruption scandal that has thrown the country into political crisis is mounting, as protesters continued to demand the increasingly isolated president's resignation.
Guatemala's congress is due to receive a formal request to remove the president's immunity from prosecution on Thursday, after it was greenlit by the supreme court earlier this week.
A major day of action kicked off early on Thursday, with marches and roadblocks across the country. Urban groups, which have spearheaded regular protests since the scandal broke in April, on Thursday sought to unite with rural and indigenous organizations who have orchestrated the road blocks.
By mid morning, thousands, including large groups of students, began marching in several cities. Demonstrators were seen carrying signs which read, "No to corruption," and "I have no president, resign now." Protesters also gathered on social media, using #RenunciaYa.
Hundreds of schools and businesses closed in support of the protests while the organization grouping Guatemala's most powerful business leaders issued a statement demanding that Pérez Molina step down, and urged Congress to withdraw his immunity from prosecution.
The attorney general's office released its own statement calling on the president to resign, "to prevent ungovernability that could destabilize the nation."
Pérez Molina, meanwhile, has been losing support by the day. On Friday, the powerful private sector called for his resignation. Since then, five of his cabinet ministers and eight deputy ministers have resigned. On Tuesday, Guatemala's ambassador to the UN also resigned with others likely to follow suit.
"Guatemala is in the middle of one of its worst-ever institutional crises. It is also a historic moment of opportunity to start a real social and institutional transformation," said Alvaro Pop, a leftwing deputy in congress. "My hope is that Thursday's day of action will create enough pressure to make the president's prosecution unavoidable."
The crisis is also unfolding in the runup to the presidential elections on 6 September. Sitting presidents are banned from seeking re-election, but Pérez Molina is said to have strong ties to the candidate leading in the polls: Manuel Baldizón of the party Líder.
The corruption racket at the centre of the current crisis was revealed in April by the UN-backed anti-corruption group the International Commission Against Impunity In Guatemala (CICIG), working with the Guatemalan attorney general. Under the scam, known as "La Línea" after a hotline that was used in the case, officials received bribes from importers in exchange for reducing tariffs the importers were required to pay.
The scam is rooted in a long tradition of customs corruption in the country, as successive military governments tried to raise funds for counterinsurgency operations during Guatemala's 36-year-long civil war.
The CICIG investigations have so far lead to formal judicial procedures against dozens of officials, including Pérez Molina's former vice-president, Roxana Baldetti.
Baldetti, who was arrested last week, was ordered to remain in jail on Wednesday awaiting trial on charges of conspiracy, customs fraud and bribery. The charges are based on allegations that she accepted $3.7m in bribes. Baldetti, who resigned in May, was denied bail because she was considered a flight risk as she holds an Italian passport.
The investigation into Baldetti relied heavily on wiretaps in which alleged members of La Línea refer to "the Big Boss," "the Lady" and "the owner of the ranch," which prosecutors believe were code names for Baldetti and Pérez Molina.
While some hope the crisis could trigger the kind of reform necessary to establish a working democracy in Guatemala, many also fear it could trigger confrontation and institutional chaos.
"The judicial cases and the social mobilization are pushing open the door of opportunity," said Iduvina Hernández, an expert on state-sponsored criminality in Guatemala. "The politicians are pushing open the door of danger."
Hernández expressed concern that supporters of the president would seek to provoke violent confrontations during Thursday's day of action, in an effort to contain the political pressure on him to resign.
Hernández also cited widespread rumours that the president could seek to avoid prosecution by getting his supporters in the military to stage a short-term coup that could provide him with a route to political exile.
The rumours were fuelled by the aggressive tone of Pérez Molina's vigorous rejection of the calls on him to resign in a prerecorded address to the nation on Sunday. He has not been seen in public since Friday and is said to have spent the weekend unsuccessfully trying to negotiate deals in Latin American embassies for political exile.
Some protesters have demanded the general election be postponed, both because of the crisis and because it is plagued with accusations of irregularities. Others warn that suspending the vote could lead to an institutional vacuum.
Edgar Gutiérrez, a political analyst who supports the idea of postponing the elections, said he fears a "dirty" but large electoral victory for Baldizón would buy Pérez Molina time to ride out the pressure.
"The president and his allies have been cornered by the judicial investigations and the population but they are buckling down," he said. "The risk they they will take desperate measures to avoid opening up to justice and keep power is big."