Rebel Cities 12: Valparaiso Shows How Radical Municipalism Must Deal With Our Burning World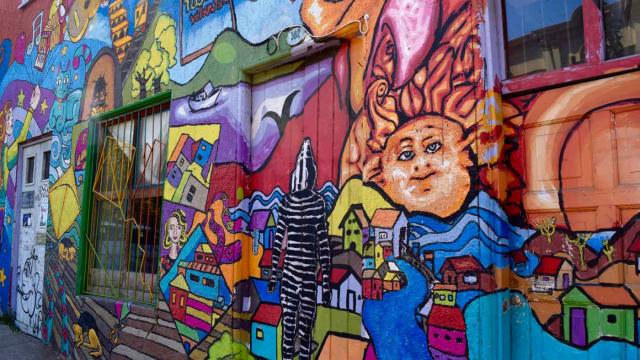 This is Part 12 in a series about Radical Municipalism looking at ways people worldwide are organizing in their cities to build power from the bottom up. Read Part 1 (Brazil) Part 2 (Rojava), Part 3 (Chiapas), Part 4 (Warsaw), Part 5 (Bologna), Part 6 (Jackson, Miss.), Part 7(Athens) and Part 8 (Warsaw & New York), Part 9 (Reykjavík), Part 10 (Rosario, Argentina), and Part 11 (Newham, UK).
Wildfires worldwide show our climate emergency, one symptom of the northern hemisphere's unprecedented heatwave. From the European Arctic to Greece, from California to Siberia, the flames of climate change are killing people and destroying ecosystems in their wake. Cities must adapt to protect their populations and act to slow down and reverse the disaster.
Looking south, Valparaiso, Chile's second largest city, is another place that's on the frontline. Here, fires' frequency have increased with over 350 serious fires blazing in the city since 2000.
In October 2016, Valparaiso elected a radical municipalist administration. The city is aware that it is existentially threatened by the ever-burning conditions around it, and aims to deal with the situation. Fighting climate change requires practical measures, but leaders here recognize it is also about imagining another city.
'Valparaiso is a City That Burns'
"Valparaiso is a city that burns, literally," explained Jorge Sharp, the mayor of Valparaiso, speaking at Fearless Cities, Barcelona, the first radical municipalist convergence in 2017. "We had a fire in 2014 that burned 15 percent of the city and left 10,000 people homeless. There was another big fire in 2017. And the central problem is housing."
Sharp went on to explain that more than 10,000 people are living in temporary tents due to the fires. The fire in 2017 ripped through the city's port. Fires frequently hit the campamento (favelas) on the hills surrounding Valparaiso. Overcrowded housing, massive landfill dumps and poor sanitation have intensified these disasters. Without water it is hard to fight fires.
Sharp is from the Movimiento Valparaiso Ciudadano, or Valparaiso Citizens Movement. The coalition comprises feminists, ecologists, labour unions and local cooperatives on a platform of participation and social inclusion.
The Movement has made significant improvements to tackle wildfires since late 2016. For instance, it is clearing the extensive rubbish dumps, such as Washington landfill and La Porteña passage, each located on the city's hills. The administration also now regulates high-rise buildings. These and similar measures are driven by local community assemblies and neighbourhood petitions.
Meanwhile, city measures to mitigate climate change – which are also in line with the citizen movement's ethos of social inclusion – include reduced trolleybus fare prices, since mass transit is one key solution to climate change. But as Sharp explained at Fearless Cities 2017, Chile suffers from a heavily centralised state where cities have few resources.
Though this shouldn't be surprising: The country was neoliberalism's test case, pushed by General Augusto Pinochet, who was in power between 1973 and 1990 with the support of both Ronald Reagan and Margaret Thatcher.
Tackling Neoliberalism and Climate Change
Though General Pinochet's dictatorship ended nearly three decades ago, the same elite families, and free market policies, hold sway. Researcher Nessim Achouche explained how the leftist coalition, which has at times been in power in the country, has followed the neoliberal consensus economically, while diverging on social issues such as its support for abortion. Chile's current billionaire president, Sebastián Piñera, represents the hard neoliberals and is seen as heir to Pinochet.
Neoliberalism in the broadest sense has worked to accelerate climate change, reducing regulations on carbon-intensive business and promoting a mindset of the world as an endless supply of commodities to be used up, as Naomi Klein among others has pointed out.
President Piñera is now introducing renewable energy, but many consider his actions a form of greenwash capitalism. He is also reducing regulations to expand Chile's sizable mining industry and working to destroy the Mapuche indigenous lands and waterways to allow a hydro-electric dam on the San Pedro River.
Against this neoliberalist context, the Movimiento Valparaíso Ciudadano election in late 2016 represented a political earthquake. The movement hit the streets in 2011 with Chile's mass student movement. Jorge Sharp was a leading figure. Like in Brazil and Argentina, radical municipalism in Chile has fueled the bottom-up Pink Tide that is swelling across South America.
Social ecology connects to the eco-defenders and indigenous peoples resisting extraction of the rural eco-systems. In urban, radical municipalism, it also offers a pathway to stop business as usual and tackle climate change.
Social Ecology vs Climate Disaster
"Only when we end the hierarchical relations between human beings (men over women, young over old, one ethnicity or religion over another) will we we able to heal our relationships with the natural world," Debbie Bookchin writes in the foreword to Make Rojava Green Again.
It is a concise, punchy, must-read book about social ecology as a key pillar of the social revolution in the Democratic Federation of Northern Syria [DFNS] (formerly Rojava). In the global movement away from a capitalist economy, DFNS has travelled far; the revolution was inspired by Debbie's father, Murray Bookchin. The Kurdish-led movements have taken his ideas, among other thinkers, to forge a society where people power rules through autonomous councils.
In practical terms this means worker cooperatives becoming the backbone of the economy, with direct democratic oversight from the autonomous councils. Rather than for-profit companies, it means local people controlling their local resources.
On a deeper level, the project is substantiated on the principle that humans are creative, intelligent and capable of mutual aid and cooperation. In other words, they are not solely selfish individuals and profit maximisers, the dominant capitalist notion. To harness this collective intellect, DFNS has many self-organised academies. Make Rojava Green Again is written by the internationalist commune, a hub where people visiting DFNS share knowledge.
Rethinking Valparaíso: Rethinking the World
Returning to Valparaíso's radical municipalist challenge to climate change, it moves in a similar direction as DFNS.
Alongside the practical measures – for instance, clearing landfills – the city is empowering residents through education. This means teaching people how to collectively adapt to and mitigate against our burning world. For instance, it has created a training institution in Cerro Alegre, a central district where students will learn how to run workers' cooperatives.
As this series has highlighted, cooperatives are a common thread for rethinking how another world is possible. In addition, environmental groups have combined to form NGO Collective Conscience, a space to share ideas and act in solidarity.
As the world continues to heat up, and as radical muncipalism flourishes as a viable alternative, social ecology appears as essential and prominent – and better known – an approach as rights to the city, social inclusion or democratic control. As activists in Valparaiso know, there is no socially inclusive future when those on our cities' outskirts face the flames of climate change.
Read Part 1 (Brazil) Part 2 (Rojava), Part 3 (Chiapas), Part 4 (Warsaw), Part 5 (Bologna), Part 6 (Jackson, Miss.), Part 7(Athens) and Part 8 (Warsaw & New York), Part 9 (Reykjavík), Part 10 (Rosario, Argentina), and Part 11 (Newham, UK).