Resurgence of Protests In Catalonia As Spain Continues to Hold Political Prisoners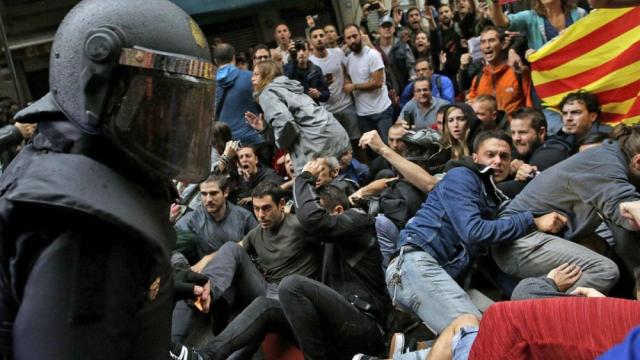 BARCELONA, Spain – You would think three months prison without trial for organizing peaceful protests is something that happens in an authoritarian state. But this reality now faces two Catalan men, Jordi Sànchez and Jordi Cuixart, who were jailed for sedition in Spain on Oct. 16, 2017, though the charges were contradicted by video evidence that showed the men clearly telling peaceful protesters to remain calm.
The arrests took place during mass protests against Spanish police raids that occurred at government offices last fall, which were designed to upset Catalonia's independence referendum. The Jordis are not alone in their persecution. Eight elected members of the Catalan Parliament also remain in jail or, like the region's president, Carles Puidgemont, have fled to Belgium. With tensions rising – including a Jan. 16 protest in which tens of thousands of Catalans filled the streets of Barcelona and other cities, demanding the release of both Jordis – Occupy.com returned to look at the state of the region's democratic independence movement.
One snapshot was a grandmother in the crowd holding aloft a sign that read: "L'Europe a des prisoners politiques" ("Europe has political prisoners"). Her grandson Bernard explained: "Spain must change. How can a democratic country partake in a political process that holds political prisoners?"
 
Unreported Recent History
Both Jordis's detention represents one chapter in a fast developing but long history of conflict between Spain and Catalonia. Although the independence struggle has recently gotten much mainstream media attention, it often neglects historical context. Extensive Spanish state violence against Catalonia goes back to the Bourbon Wars (1701-1714), the Spanish Civil War (1936-1939) and General Francisco Franco's dictatorial rule, (1939-1975). But to understand the latest debacle, what happened during the past decade is perhaps just as vital.
As Occupy.com reported in 2015, Spain under the leadership of Prime Minister Mariano Rajoy has repeatedly demonized Catalonia and repressed its autonomy. Every democratic means for the region to hold an independence vote has been criminalized and suppressed.
Meanwhile, Spain faces multifaceted crises of corruption, oppressing basic human rights and enforcing severe austerity during years of economic hardship. Independence, from the Catalan perspective, offers an escape route – one that Spanish authorities in Madrid aren't willing to address.
International media, for example, rarely explain how the 2015 Catalan elections were a de facto referendum: The independence vote won, setting in motion the October 2017 official vote. Fast-forward to last fall, and again Rajoy's government galvanized independence by raiding the offices of the Catalan state, and committing other human rights violations and police violence against those who turned out to vote. Over 1000 were injured in the process.
Despite the threats and violence against them, Catalans organized and peacefully, street by street, the vote proceeded. Independence won. Again. Meanwhile, Spain's escalating human rights abuses only served to highlight the country's lingering connections to the Franco era.
After the October vote, and repeating in form, Rajoy, under his argument that the referendum had been illegal without Spain's permission, instituted Article 155 of the Spanish Constitution. This enforced direct rule and forced new elections for December 21, 2017. With eight leading Catalan figures either in jail without trial, or in exile, the move backfired. Parties advocating Catalan independence increased their votes to 2,079,340, pro-Union parties received 1,902,061, and 326,360 voted for pro-Referendum parties. Rajoy's Partido Popular only won 4 of 135 seats.
 
History Can Repeat
Inevitably, protests in early 2018 have returned to Barcelona's streets. The Jan. 16 demonstration finished on a street called Lluis Companys, named after the exiled Catalan leader. Companys was on the run from Franco during the Civil War and was murdered by the Nazis in 1940. On this street, the independence flame seems to be burning ever brighter since October.
"After October's successful referendum protests filled the street all month, including the General Strike, the October Declaration of Independence was approved but not made effective because the Madrid government threatened blood on the street," protester Eloi Villas explained.
Spain's threats of further violence in October if Catalonia declared independence came from senior Spanish politicians, including Iñigo Méndez de Vigo, a government spokesperson and Education Minister.
Speaking last week, Villas continued, "Protests will continue for the whole of January." So far, he has been right.
 
A European Crisis
The latest contention between Madrid, Catalonia and Brussels stems from the fact that it's the Catalan Parliament's task to elect its president by Jan. 31. A majority intend to reelect exiled President Carles Puidgemont and Vice-President Oriol Junqueras, who is currently behind bars. Rajoy has ruled out this option, asserting that Puidgemont cannot lead from exile. Spain is threatening to continue direct rule from Madrid if Puidemont intends to follow through, and has refused to open dialogue.
"Ultimately, it is a question of identity. We say we are a couple that wants a divorce. They say no, you are my arm or leg. You are mine, you have no right to be free, which makes it difficult to have a dialogue. The history shows they have always ruled through violence," said author and historian Conxita Mollfulleda.
I spoke to another woman, named Molfurara, who was hanging yellow ribbons around the park that surrounds the Catalan Parliament. She said it was a symbol calling for all political prisoners' release. The large park's railings, like much of Barcelona, are now covered in yellow, many hung by elderly Catalans who survived Franco.
Molfurara says she is in it for the long haul. Her peaceful tone of defiance echoes throughout the Catalan independence movement. The local committees that organized the October referendum continue to operate in every neighborhood of the city as they seek to build what would amount to a new republic.
Mar Avendaño Pons, another supporter of independence, said she finds it unbelievable that the European Union is failing to mediate.
"The Catalan independence movement has made the largest peaceful protests in Europe's recent history and the answer of the Spanish government is repression, violence and prison. The E.U.'s official response to what happens in Catalonia is that it is an 'internal matter', but the E.U. is far from united. And despite this, it has strengthened the community bonds of Catalans," she said.
After the October referendum violence, the United European Left – Nordic Green Left coalition called an emergency session in the E.U. Parliament to discuss Spanish police brutality. Over a dozen cross-party MEPs from different states attempted to visit the imprisoned Catalan parliamentarians but were refused access by Spain. Other support for dialogue, and condemnation of Spain's attack on democracy, came from across the continent including Irish Prime Minister Leo Varadkar, the former Romanian MEP Human Rights Judge Renate Weber, and from the Lithuanian MEP Petras Austrevicius, who compared the current crisis with his country's decade-long struggle to leave Soviet Russia.
His exile in Brussels has also given Puidgemont the opportunity to speak to Europe's center. Recently he visited Denmark, and 45,000 people also protested in the Belgium capital, many of them making the trip from Catalonia to stand by their president.
But for Avendaño Pons in Barcelona, the E.U. stepping in cannot come quick enough.
"We need the E.U. institutions to take a clear position and demand that the Spanish government protect fundamental human rights," she said. "We will continue [to fight] for the rights of people who want independence, but not only them, because the problem is that the basic rights in European democracy affect everyone. Now they are locking up independence supporters for organizing peaceful rallies. But who next? Tomorrow it could be protesters somewhere else. This is the problem, so we have to fight for our rights."