Revealed: How Obama's Ethanol Policy Ravaged the Environment
This article originally appeared on
Al Jazeera America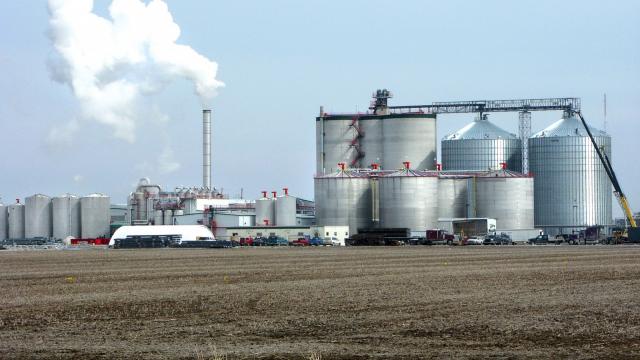 When President Barack Obama gave a major policy speech on reducing greenhouse gases last June, he didn't once mention ethanol, an alcohol-based fuel distilled from fermented corn. Biofuels in general — which are extracted from plant or animal matter — received a brief, passing reference.
But when the Iowa political caucuses were on the horizon in 2007, then-presidential candidate Obama made homegrown corn a centerpiece of his plan to slow global warming. And when former President George W. Bush signed a law that year requiring oil companies to add billions of gallons of ethanol to their gasoline each year, Bush predicted it would make the country "stronger, cleaner and more secure."
But the ethanol era has proved far more damaging to the environment than politicians said and much worse than the government admits today, an Associated Press investigation found. As farmers rushed to find new places to plant corn, they wiped out millions of acres of conserved land, destroyed habitats and polluted water supplies.
Five million acres of land — more than in Yellowstone, Everglades and Yosemite national parks combined — have been pulled from conservation on Obama's watch, according to Agriculture Department figures.
What's more, from 2005 to 2010, corn farmers increased their use of nitrogen fertilizer by more than 1 billion pounds. More recent data isn't available from the Agriculture Department, but because of the huge increase in corn planting, even conservative projections by the AP suggest another billion-pound fertilizer increase on corn farms since then.
Some of that fertilizer has seeped into drinking water, contaminating rivers and boosting the growth of enormous algae fields in the Gulf of Mexico; the algae eventually decompose, sucking oxygen from the water and leaving behind a huge dead zone, currently covering 5,800 square miles of sea floor where marine life can't survive.
That dead zone is just one example of a peculiar ethanol side effect: as one government program encourages farmers to plant more corn, other programs pay millions to clean up the mess.
Farmers planted 15 million more acres of corn last year than before the ethanol boom, and the effects are visible in places like south-central Iowa.
The hilly, once grassy landscape has a fragile soil that, unlike in the rest of the state, is poorly suited for corn. Nevertheless, it has yielded to America's demand for it.
"They're raping the land," said Bill Alley, a member of the board of supervisors in Wayne County, which now bears little resemblance to the rolling cow pastures shown in postcards sold at a Corydon pharmacy.
'Ecological Disaster'
The investigation drew a sharp response from the ethanol industry before the findings were even published. According to the AP, ethanol producers, corn growers and its lobbying and public-relations firms have criticized and tried to alter the story.
Agriculture Secretary Tom Vilsack told The Des Moines Register that the project included "a number of inaccuracies and errors." He also said farmers were engaged in other conservation practices, including wetland-reserve and wildlife-incentive programs and EQIP, which helps farmers adopt conservation practices.
Industry officials distributed letters and emails to newspaper editors saying the AP project was "rife with errors" and calling the report a "smear," a "hatchet job" and "more dumpster fire than journalism."
They said the primary driver of losses of conserved land was not ethanol but a reduction by Congress in the acreage allowed for conservation.
They also cited a Dutch study, which was not peer reviewed, that found that urban sprawl internationally was responsible for greater loss of grassland than biofuels.
The study, which AP did not mention, noted that in the United States "biofuel expansion is the dominant cause of agricultural land use loss."
Department of Agriculture officials note that the amount of fertilizer used for all crops has remained steady for a decade, suggesting that the ethanol mandate hasn't caused an overall fertilizer boom.
But in the Midwest, corn is the dominant crop, and officials say the increase in fertilizer use — driven by a rise in corn planting — is having an effect.
"This is an ecological disaster," said Craig Cox of the Environmental Working Group, a natural ally of the president that now finds itself at odds with the White House.
But pulling the plug on corn ethanol, Obama administration officials fear, might mean killing any hope of these next-generation fuels.
"That is what you give up if you don't recognize that renewable fuels have some place here," EPA administrator Gina McCarthy said in a recent interview with AP. "All renewable fuels are not corn ethanol."