'Shady Bosses' Stealing $15 Billion in Wages from Low-Income Workers: Report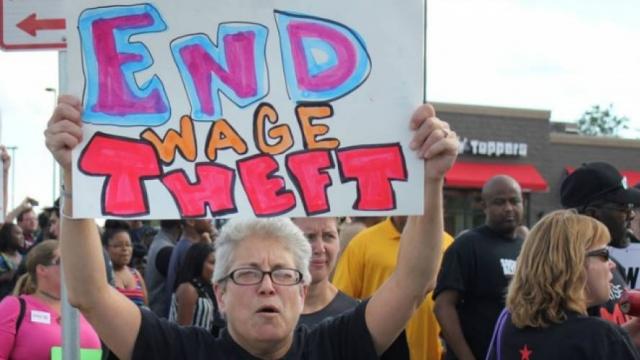 With American workers already struggling against stagnant wages, declining union strength, and vicious attacks by the Trump administration, a new investigation by Politico published Sunday found that low-wage employees in the United States are also contending with wage theft on a massive scale—a crisis that many states lack the resources or political will to address.
According to Politico's Marianne Levine, who examined state minimum wage enforcement protocols over a period of nine months, "workers are so lightly protected that six states have no investigators to handle minimum-wage violations, while 26 additional states have fewer than 10 investigators."
"Given the widespread nature of wage theft and the dearth of resources to combat it, most cases go unreported," Levine adds. "Thus, an estimated $15 billion in desperately needed income for workers with lowest wages goes instead into the pockets of shady bosses."
Levine acknowledges that some workers ultimately have success challenging the criminal behavior of their employers in court. But even these workers are frequently denied the wages they earned.
After surveying 15 states, Levine found that "41 percent of the wages that employers are ordered to pay back to their workers aren't recovered."
In an interview with Politico, Michael Hollander, staff attorney at Community Legal Services of Philadelphia, argued that the violations uncovered by Levine's investigation come as no surprise to labor advocates or low-wage workers themselves.
"Wage theft is the rule, not the exception, for low-wage workers," Hollander said.
Given that many low-wage American workers can barely afford rent, any amount of money taken from a worker's paycheck can have devastating consequences.
"Advocates for lowest-wage workers describe families facing eviction and experiencing hunger for lack of money that's owed them," Levine writes. "And, nationally, the failure to enforce wage laws exacerbates a level of income inequality that, by many measures, is higher than it's been for the past century."
Levine's "sobering" findings come as overall wage growth in the U.S. remains sluggish, even in the face of soaring corporate profits and CEO pay.
While a growing number of Democrats have signaled support for raising the federal minimum wage to $15 an hour in recent months, the failure of states to ensure that companies adhere to the current $7.25 minimum is an issue labor advocates and lawmakers say must be addressed if nationwide wage hikes are to be effective.
If wage theft isn't combated, "then any efforts to raise the minimum wage, strengthen overtime, or protect workers' tips are ineffectual," argued Rep. Bobby Scott (D-Va.).
"Wages are far too low to begin with, so when money is stolen right out of workers' paychecks, we have to have effective tools in place to get that money back," Sen. Sherrod Brown (D-Ohio) added in an interview with Politico. "But wage theft is just one part of the problem that hard work simply doesn't pay off the way it should. And that's true for all workers—whether they punch a time clock, swipe a badge, make a salary or earns tips—they're working too hard for too little.