Shutdown Paralyzes Crucial U.S. Safety Regulators: Nuclear, Food, Disease Control
This article originally appeared on
Al Jazeera America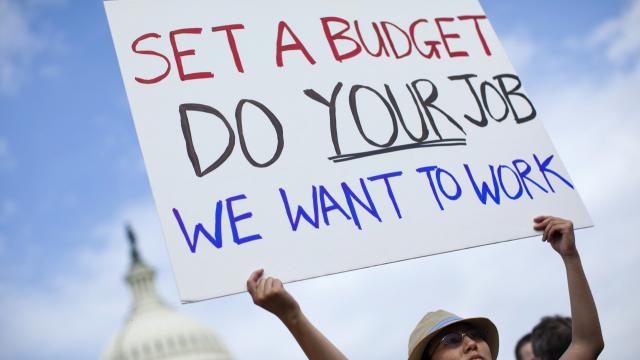 As the partial government shutdown drags into a second week, the furlough of public employees deemed "non-essential" is leaving agencies that monitor nuclear, food and workplace safety badly short-handed.
On Thursday, the Nuclear Regulatory Commission will run out of funds, putting thousands of NRC employees out of work, The Hill reported. Of its 3,900 employees, only 300 will be on the job.
At a panel discussion held by environmental activists in New York City on Tuesday, former NRC Chairman Greg Jazcko assured the audience that emergency response personnel will still be available.
"There will be a number of people who will be there to provide emergency response functions in the event that there would be an accident or something like that," Jackzco said.
However, he added that the NRC would likely furlough some policy-making staff. "Certainly no new regulations will be worked on, things like that," he said.
Former Green Party presidential candidate Ralph Nader, who is also a consumer safety activist and spoke at the conference, told Al Jazeera that the NRC's oversight abilities would likely continue to weaken.
"It depends on how long the shutdown goes on," he said. "After two weeks, they'll stop doing inspections."
Michel Lee, a nuclear industry watchdog who attended the event, said even a lack of policy regulation can lead to problems. "The key risk is the possibility that papers are going to get backlogged," Lee told Al Jazeera.
"People, when they're busy they're overstressed. They're not going to read long memos, and things are going to fall through the cracks," she said.
Also, with the Department of Health and Human Services (HHS) whittled down to 37,826 employees – representing just 48 percent of its normal workforce – the Centers for Disease Control and the Food and Drug Agency were both left short-handed in dealing with recent reports of a salmonella outbreak found in raw chicken in California.
An estimated 278 cases of illness resulting from salmonella were reported Monday by the U.S. Department of Agriculture. But only two of the 80 CDC staffers from Pulsenet – the group charged with analyzing multi-state outbreaks of food poisoning – were working during the shutdown, The Associated Press reported.
The CDC took steps late Tuesday to bring back most food inspectors, plus 30 additional staff to deal with the outbreak.
The USDA's Food Safety Inspection Service is continuing to operate during the shutdown. But the contingency staffing plan of HHS says that the FDA, which is largely responsible for monitoring the country's food supply in the first place, "will be unable to support the majority of its food safety, nutrition and cosmetics activities."
The agency, which monitors at least 80 percent of the country's food supply, will also "have to cease safety activities such as routine establishment inspections," including "monitoring of imports."
An FDA spokesman told NBC News that 976 of its 1,602 investigators — or 60 percent — are currently furloughed, but they "work across the agency portfolio, not just on food products."
Meanwhile, the Department of Labor's Mine Safety and Health Administration (MSHA), which is normally staffed with 2,355 employees, is down to just 966 people with the shutdown in place.
In a statement that lamented the deaths of three miners this week, the United Mine Workers of America slammed the shutdown for creating a lack oversight in mines in the United States.
"The government's watchdog isn't watching," the union said. "Those who are working are either keeping an eye on operators and mines with a history of mine safety and health problems, or responding to special situations. But no regular inspections are taking place, even though they are required by law."
The three deaths happened on three consecutive days over the weekend, raising the number of mining deaths in the U.S. so far this year to 17, according to the Charleston Gazette.
Joe Main, the head of MSHA, said it was a "red flag" that the deaths happened during a weekend, when a government inspection would be less likely, the Gazette reported.
One West Virginia miner supervisor died when chain used to move a drilling machine hit him in the head. A heavy cart ran over another in Illinois, and a third perished when the bulldozer he was driving plummeted 150 feet at a Wyoming mine.
In addition to a winnowed MSHA, just 230 employees are working through the shutdown at the Department of Labor's Occupational Safety and Health Administration, which usually employs 2,235 people.