Swiss Reject Basic Income, But New Economy Still Firmly on Global Agenda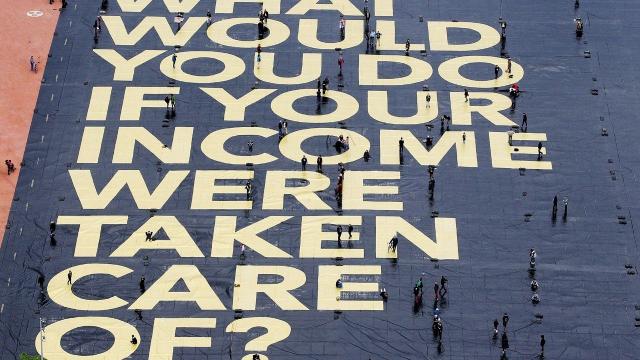 Last week juxtaposed two important stories about economic justice. In the U.S., the Consumer Financial Protection Bureau proposed rules to regulate payday lenders, while in Switzerland, voters decided whether to implement a universal basic income. Both stories illustrate the importance of thinking outside of the box on economics, rather than listening to a dominant narrative that tells us to think small when we should be thinking big.
In Switzerland, a Defeat and Victory
Watch for the mainstream media to spin Switzerland's rejection on Sunday of a basic income initiative into a wholesale, global rejection of the concept. Nothing could be further from the truth. In fact, however small the steps and numerous the setbacks, this is a time of unprecedented global consciousness towards economic and ecological justice. The challenge will be to continue working from the ground up, regardless of what the corporate media calls our work, and how much help we receive from elected officials.
It's true that Swiss voters rejected a proposal to provide all citizens with basic monthly income of about $2,500 for adults and $625 for children. But although the proposal only won about 23% support, there's much more to the story than the defeat. Voters were polledas they voted and the dominant attitude, including among those who voted against the referendum, is that this is only the beginning. Sixty-nine percent believe there will be another basic income referendum in the future, a whopping 72 percent say basic income will eventually be necessary due to job losses from automation, and 70 percent of those who voted No believe the measure will be introduced within the next several decades. Voters also overwhelmingly supported testing basic income in local municipalities.
These survey answers tell us more about the momentum towards basic income than the actual referendum results. A recent survey of members of the European Union showed that 64 percent favored implementing such a guaranteed income. Britain's Labour Party is considering basic income as an official platform policy.
Jason Burke Murphy, a philosophy professor and activist who works on social media for the Basic Income Earth Network, believes the Swiss survey results constitute an important victory. "The Swiss targeted the whole world," he told me. "They often campaigned in English in order to expand their audience." Noting that most Swiss initiatives don't pass when placed on the ballot, Murphy said Swiss leaders "wanted to provoke discussion about what makes a life and a society good. This is an ethically gripping movement."
Murphy pointed out that where there was little to no public discussion about basic income even a couple of years ago, lately "I have never seen so many articles exposing what [it] is and revealing that it is mostly a question of political will. I have never seen so many people testify that their communities would thrive more with a basic income."
He added: "I have never been more certain that I will get to see a world in which most people can count on a share that secures their independence."
A Paradigm Shift
Jason Burke Murphy is right, and not just about basic income. We've crossed a threshold on issues of ecological and economic security. We now know they are linked together, and that addressing them requires restructuring rather than incremental reforms. Over the past month, Occupy.com has featured stories about people looking to redefine, from the ground up, the underlying meaning of value, money, and wealth. From alternative currencies fostering local sustainable development to redefining property ownership, those activists and their endeavors are paradigm-shifters. Their level of commitment to re-thinking and rebuilding our economic institutions stands in stark contrast to the unimaginative tinkering advocated by America's mainstream media and political parties.
These activists' stories emerge from a crisis in financial and ecological security that has sparked worldwide discussion of emerging alternatives. Economic insecurity plagues the planet. Where only a few years ago it was considered merely a regrettable axiom that poor people die earlier, have harder interpersonal relationships, and suffer greater levels of mental and physical anguish than those who are well-off, a growing consensus has declared such insecurity both morally indefensible and solvable through broad changes in policy and practice.
Moreover, economic and ecological insecurity are intimately linked. We are facing climate-induced migration and the collapse of entire communities whose livelihoods were based on the fossil fuel industry. In response, individual cities and states are fighting back, either through the ballot box or by implementing their own methods of hardwired economic and ecological justice. But the corporate media softens and distorts this information because their benefactors want people to accept small, incremental adjustments that leave existing institutions – the shareholder-based finance-capital economy – in the driver's seat.
Weakly Regulated Loan Sharking, or Postal Banking?
The news last week that the Consumer Financial Protection Bureau was proposing new rules for payday lenders – who charge economically vulnerable borrowers as much as 350 or higher percent interest on loans designed to give short-term relief for economic emergencies – has been greeted with a combination of enthusiasm and skepticism from the mainstream media. Center-right banking and financial analysts see the regulations, which will implement ability-to-repay tests but not cap interest rates, as steps in the right direction, even as they admit that poor people need more money for basic necessities regardless of how they might be profiled by creditors.
In contrast, more liberal sources like The New York Times's editorial board and Pew Charitable Trust's small dollar loans project are critical of the proposed rules because they don't go far enough and may result in fewer people getting money when they need it, rather than making it easier for struggling people to repay the loans they get.
What is missing, however, is a robust discussion of alternatives, and the most obvious one is postal banking.
As early as January 2014, in a report issued by the United States Postal Service Inspector General, data demonstrated that the USPS could handle small-dollar payday advances and loans, charging a tiny fraction of the interest rates charged by the payday loan industry, and offer an entire package of low-cost financial services currently unavailable to tens of millions of Americans.
Although Elizabeth Warren and Bernie Sanders championed the idea, postal banking ran smack into the brick wall of the U.S. ruling class's dominant financial paradigm: if it doesn't make shareholders rich, it's not going to make Congress act. That's what far-right, center-right, and even many "liberal" newsmakers and policy analysis assume. When they say something is "unrealistic," they mean rich people don't like it.
But plenty of people like it. Over the past week I have given a half-dozen interviews on radio stations in Boston, San Francisco, Portland, Wisconsin, and other cities, talking about the proposed CFPB regulations, the payday lending industry, and alternatives. In each instance, response to the postal banking idea has been wildly enthusiastic. Perhaps, like the Swiss voters who were reticent to implement basic income but nevertheless saw it as inevitable and desirable in the long run, consciousness in America towards public banking entities and financial democratization will need patient, ground-level strategy and tactics – and acceptance of its desirability will precede its implementation.
Matt Stannard is policy director at Commonomics USA and a member of the Public Banking Institute's board of directors.
If you like what you read and want to see more original reporting on Occupy.com, donate today!